As the Pres­by­ter­ian Church (U.S.A.) begins a process of dis­cern­ment on whether to embrace non­vi­o­lence offi­cially, the Pres­by­ter­ian Peace Fel­low­ship con­venes peace­mak­ers from across the church.

by Matthew Black  

We Pres­by­te­ri­ans know all about mir­a­cles—
they hap­pen in committees.

This par­tic­u­lar mir­a­cle begins a few years ago, when some dream­ers in the Pres­by­ter­ian Peace Fel­low­ship (PPF) began imag­in­ing what it might be like for the Pres­by­ter­ian Church to really dis­cuss the issue of war the­o­log­i­cally. War­fare has dras­ti­cally changed in this cen­tury, and Just War theory—the con­cept that war can be jus­ti­fied if it meets the right criteria—seems less and less help­ful in deter­min­ing how Chris­tians should faith­fully respond to vio­lence in mod­ern times. "What if," these dream­ers thought, "rather than yelling at each other every time our denom­i­na­tion wres­tles with tak­ing posi­tions on par­tic­u­lar wars, we instead took the time as a church to really think about this, talk about this with each other, and dis­cern God's voice?"

Those dream­ers shot for the moon: an over­ture to the Gen­eral Assem­bly ask­ing all of us to con­sider mov­ing away from Just War The­ory and embrac­ing non­vi­o­lence. They thought it was just a dream. In a denom­i­na­tion that has for gen­er­a­tions oper­ated under Just War the­ory, pass­ing an over­ture con­sid­er­ing becom­ing a peace church prob­a­bly would take a mir­a­cle. "It will never pass, but at least the church might talk about it."

But it did pass.

At the 219th Gen­eral Assem­bly in 2010, a mir­a­cle occurred. The over­ture was actu­ally strength­ened by its com­mit­tee, and the Gen­eral Assem­bly voted to under­take a six-year dis­cern­ment process to "seek clar­ity as to God's call to the church to embrace non­vi­o­lence as its fun­da­men­tal response to the chal­lenges of vio­lence, ter­ror, and war."

But there is a lot of work ahead. If the PC(USA) is going to step into the call of this action of the Gen­eral Assem­bly and the pos­si­bil­i­ties it presents, it is going to take a real grass­roots move­ment. That's where the PPF comes in.

On April 26–29, we're host­ing a gath­er­ing of peace­mak­ers from across the church to take up this task. What might the PC(USA) look like as a peace church? How can we help this con­ver­sa­tion hap­pen? This "Con­vo­ca­tion of Peace­mak­ers" is a work­ing meet­ing to pool our gifts, dream big together, and take real action for a more peace­ful world. Experts and sea­soned activists will work along­side rook­ies and peo­ple who aren't sure they iden­tify as "peace­mak­ers" or "activists." You're invited to be part of this (and schol­ar­ships are available)—come ready to work.

This "peace church" con­ver­sa­tion is only part of the pack­age. The PPF—a small orga­ni­za­tion com­posed almost entirely of volunteers—actively works on some of the most crit­i­cal issues of our time, and we'll be  con­tin­u­ing to plan next steps at this event on these issues:
accom­pa­ni­ment and advo­cacy with our part­ners in Colombia,
seek­ing a just peace in Israel/Palestine,
work­ing against racism, and
orga­niz­ing to pre­vent gun violence—particularly ille­gal gun trafficking—in the U.S.
It is an excit­ing time. For every heart­break­ing news story we hear, there are many small groups of com­mit­ted cit­i­zens, thought­ful activists, and peo­ple of faith work­ing together to be the bear­ers of small mir­a­cles. The most amaz­ing things hap­pen when the peo­ple of God gather to work together.
Hope to see you in April.
Learn more and reg­is­ter for the 2012 Con­vo­ca­tion of Peace­mak­ers here.
__________________________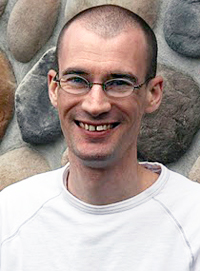 Matthew Black serves as Web­site Devel­op­ment Man­ager for the Pres­by­ter­ian Peace Fel­low­ship and the Coun­cil for a Par­lia­ment of the World's Reli­gions. He is also a singer/songwriter, wor­ship leader, alum­nus of the

PC

(

USA

)'s Young Adult Vol­un­teer Pro­gram, and grad­u­ate of McCormick The­o­log­i­cal Sem­i­nary. He lives in an inten­tional com­mu­nity in Chicago.