My Indigenous heritage comes from the Akimel O'odham (Pima) and the T'hono O'dham (Papago) of southern Arizona through my father and from the Nimiipuu (Nez Perce) of north-central Idaho. Having grown up in Phoenix, Arizona, I can speak to the experience, a bit, about the desert (wilderness).
Contrary to the biblical narrative, the desert is only a wilderness unless you don't know where you are going or what provisions you should take along with you. It therefore strikes me as awkward that the Son of God is being seen as "wandering" or that "fasting" equals somehow starving and about to drop dead.
When one "fasts", it's usually considered a sacred and purifying time preceding a spiritual rebirth for a fasting period. Adolescent young men were expected to venture into a mountainous area today known as Pilot Rock, an ancient vision quest locale for the Nez Perce Tribe which is now a sacred heritage site. They only took water with them. They sought a guardian spirit which would remain with them for life, sometimes their names were changed to pertain to this animal spirit.
In the "desert wilderness" described in the New Testament, Jesus encountered Satan, the evil one, who attempted to catch him at his most vulnerable – to tempt him toward sin. The sins of self-indulgence, arrogance, and greed. Focused upon deception, corruption of human traits; to think, wish and feel. Attributes from within the mind, soul, and heart which Jesus alluded to in the Great Commandment.
Indigenous peoples of the American southwest wouldn't have, nor do they now, see their environment as "wilderness", something to be afraid of or avoided. It is their homeland. It has been for thousands of years. Why couldn't Jesus have gone into the forests of Lebanon, the coastal plains of the Mediterranean? We don't know.
Jesus' confrontation with Satan was necessary for the human nature in Jesus to overcome the temptations and willingly choose humility and sacrifice. Was it the necessary next step after taking upon himself the visible form of God among human beings? He was baptized but didn't have to be.
The Bible connects fasting to prayer, but it is not just sacrificing food; it includes prayer, repentance, and heart-searching. It had to be done for the right reasons and in the right way. Jesus taught that there is a right way to fast and a wrong way. Matthew 6 tells us that fasting can be a form of religious hypocrisy, like giving to the poor and conspicuous praying. He condemns fasting that is done with the intention to be seen as "holier than thou", action done so all may see. The true fasting should be done in silence.
The series of events from Jesus baptism to temptations in the "wilderness" shaped Jesus as a person. He was called by the Spirit in baptism, tempted in the wilderness to betray his calling, then acknowledged God's pathway – he remained faithful to his purpose, his ministry. These events allow us to see how we, too, can answer the call God puts inside each one of us. Jesus, the Son of Man, had to struggle with the same fear and insecurity that we all have. And in the end, his full trust in God, the Father, is our inspiration.
This isn't about temptations, sinfulness, or heavenly strength. Jesus's temptation in the wilderness is told to remind us about our relationship with God, our human relationship with the knowledge that we are never alone and that we don't have to face trouble, fear, heartbreak, and temptation on our own. We admittingly do not have confidence about that. We are not confident in the fact that we never travel the road of life alone. Therein lies the purpose of the "wilderness" of Jesus' temptation. We walk through considerable wilderness at one time or another; pastors, teachers, Sunday school teachers, moms, dads, and teenagers struggling to understand not only themselves but larger issues of faith and relationship with God.
My father comes to mind when I think about faith and relationships with God. He was descended from two tribes and grew up on a reservation just south of Phoenix, Arizona. Life was hard being the youngest of nine-children who were all eventually sent to an Indian boarding school run by the Presbyterian Church in Tucson. A place where their cultures, languages, lifeways, and religions were forbidden. He went on to study for the ministry and was called to Idaho, among the Presbyterian churches on the Nez Perce reservation, to serve as their minister. My parents married, had eight children by 1965 then divorced. He raised eight of us alone.
We were in the church each Sunday, participated in many programs and received a solid Christian upbringing despite my father's endless shifts at the Phoenix Indian School, where he worked for seventeen years in the boy's dormitory system. Two of us younger ones had to live with older cousins and their families until we could attend school. We didn't have much, but we had love, meals (meager as they were) and a roof over our heads.
What temptations to make his life easier did my father have to deal with? What shortcuts could he have taken to provide for us daily? We will never know. But one thing we do know is that he did everything he could to ensure we had a safe, clean, home, attended school, did our homework, and saw six of us graduate from high school and some from college. I think he realized that God was taking care of us and a relationship with God would see him and us through the rough patches and we all saw it happen.
Lent is a challenge, and many of us don't like change. We don't like challenges to our status-quo. My wife and I have used the same cell phone company since 2001, have lived in our home for fifteen-years and though we are on our third and fourth dogs, we continue to make sure they are cocker spaniels. We can be predictable, I suppose, but we like things as they are.
The world is changing. Society is changing. And so have we. New directions for the ministries we are involved with occur regularly and we both adapt and see God's wisdom within it all. We are surprised to see where God shows up.
And so my twenty-second Lenten journeys is upon us. And one thing we are all clear about is that we are challenged to live into the unknown, to continue sitting at the feet of Jesus and to discern his directions in our lives. You see, only God knows what this year's Lenten journey will bring us. But there is a promise he makes: That he will sit with us, walk with us and if need-be, carry us when we just can't seem to go another step.
But God also makes a very important promise too: God will never leave us alone. I have been there, and God has been there too.
Our faith journeys will always be through some kind of "wilderness", but I am always reminded of my father's journey and mine, the good days, and the worse days. God has always been there. Through the voices of others and through his presence in my life.
God's love, presence, and faith in us is true. Our Lenten journey begins. I am thankful for it because once again I am reminded that we never walk alone. Thanks be to God. Amen.
---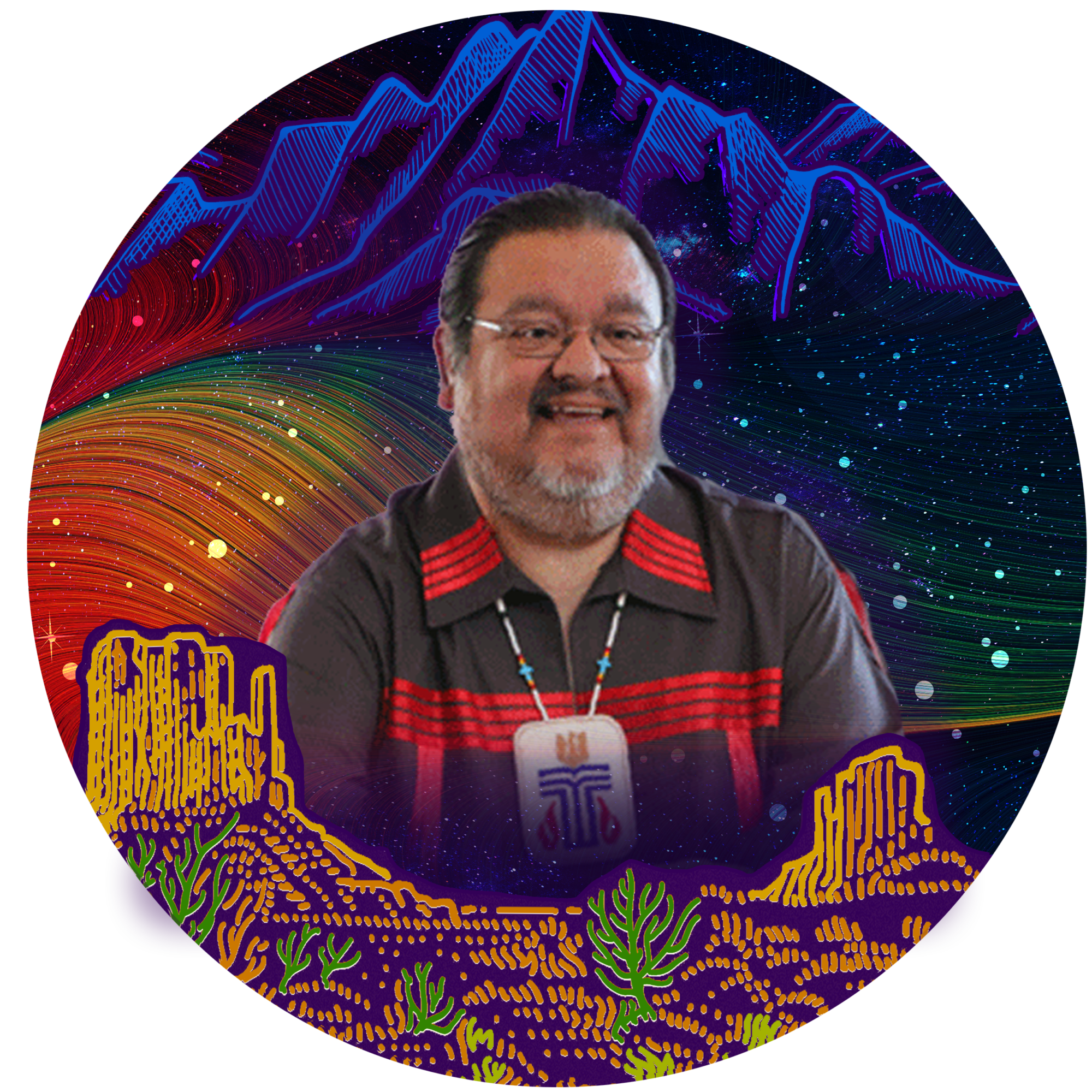 Rev. Irvin Porter is descended from three Native American tribes: Pima, T'hono O'odham, and Nez Perce. He is the seventh of eight children raised by a single father after the divorce of his parents. Irvin is descended from Twisted Hair, the Nez Perce chief who met Lewis and Clark in 1805. Twisted Hair's son, Chief Lawyer, was the first Elder elected by the Nez Perce in 1871 when First Indian Presbyterian Church of Kamiah, Idaho was dedicated. Lawyer's son, Archie, was the 2nd Presbyterian minister ordained among the Nez Perce people. Irvin's ancestors among both the Nez Perce and Pima tribes were some of the first Christian converts among their people and many served the Presbyterian Church as elders or ministers including his father, Lawrence Porter, Pima and T'hono O'odham, who was also ordained as a Presbyterian minister.
Irvin was ordained by Olympia Presbytery in 2003 but began as a Commissioned Lay Leader at Church of the Indian Fellowship in Tacoma, Washington in 2001. The church was founded in 1876, and Irvin is the first Native American pastor.
He became the Associate for Native American Intercultural Congregational Support for the Racial Equity and Women's Intercultural Ministries of the Presbyterian Church, USA, in June of 2013. His responsibilities include working as liaison between the ninety-five Native American congregations within the PC(USA).
He enjoys music, playing the piano, Native American arts, crafts, books, as well as being a history and genealogy enthusiast. He and his wife Anne-Cecile live in Puyallup, Washington's South Hill community.