Raised With Christ
Colossians 3:1-4; Matthew 28:1-10
HE IS RISEN! HE IS RISEN, INDEED! Today, nearly one-third, of 31.2% of the world's population, celebrate the resurrection of our Lord and Savior, Jesus Christ. It is now the most significant world event in all history – God's affirmation of his Son, Jesus Christ – a sign and seal of that affirmation – the evidence through which events in Jesus' life is based.
The Church tells this story in its publications. The amazing events of the first Easter:
how, at first, his closest friends did not believe that he had been raised from the dead
how they needed convincing,
that the empty tomb was much more than a case of grave robbery
and the reports of his being seen were much more than the wishful thinking of people in
deep grief after the brutal death of one whom they loved.
In the end – they were all convinced. Convinced regardless of their unbelief in reports they heard. Convinced regardless of their knowledge that Jesus had died. Convinced despite the very human instinct to consider what is dead to be dead and gone. They were convinced despite the amazement, the skepticism and impossibility of the entire story.
In fact, they were so convinced – that they spent the rest of their lives telling others about Jesus and about how God had anointed him with the Holy Spirit and power, and how he went about proclaiming forgiveness of sin and peace with God, doing good and healing all who were under the power of evil.
Telling about how he was at last killed – though he was innocent of any crime; how, in fact, according to our creed, ". . . was crucified, dead, and buried; he descended into hell; the third day he rose again from the dead; he ascended into heaven, and sits on the right hand of God the Father Almighty . . ."
That was the message we heard Peter proclaim to Cornelius' household and the message, and is still the message of the entire church since that first Easter. Christ is Risen! (He is Risen Indeed).
He grants life – here and now – and in the world to come – to all who believe in him. He forgives the sin of all who trust in his name. "Amazing grace, how sweet the sound that save a wretch like me. . . "
The word, life and teachings of Jesus are confirmed by his resurrection, a resurrection that God
gave to him because of his faithful obedience and his love. The cup did not pass – it was God's
will and it was done.
The teaching of Jesus made true by his resurrection is that we shall also be raised:
raised from sin to righteousness, life with God here upon the earth
raised from a life of anxiety and fear to one of trust and hope in which we share his light to
everyone
raised from a life of suspicion and distrust to a life of belief and faith in which we proclaim
peace and help make peace by the power of God's Spirit but raised from death
raised from death, raised from the grave, from dust and ashes
Christ is Risen.
There are two qualities to the Resurrection life to which we are raised with Christ: life here before our death and life afterwards, life beyond death.
In Paul's letter to the Colossians, he speaks of both. For Paul, the resurrection from death to eternal life begins now as we have died with Christ in the waters of our baptism; as we die with him to all those things that separate us from God and from another; accepting his message, believing in his name, taking up our cross, and following him.
Paul urges us to set our minds on things above, things spiritual, things of God rather than earthly things, material things, being popular or getting attention. To set our minds on what God has done and is even now doing to bring his kingdom, his way, a reality among us rather than upon those things that will fade and disappear like the grass of the fields and the flowers on these plants.
Those who have died with Christ, baptized, and living the Christian life in their hearts, are raised with Him. This is our faith.
Faith that our ancestors embraced for those of us who came after them and we pass on to the next generations. A faith that those descendants must then embrace, each one, for themselves.
Our citizenship is not of this world. With Christ, we also have been given the responsibility to care for this planet we live on and been told to do justice and to love kindness and to walk humbly with our God.
Our citizenship is in the heavenly places – where Christ is seated at the right hand of God, it is eternal where God embraces us, and we embrace God.
The citizenship of God's Kingdom begins now – in this world – when we believe in our hearts that Christ is Risen from the Dead – and when we name him with our lips our Lord and our God.
Today, Easter, is the opposite of death.
Today, Easter, is a day to remember an amazing thing about the tomb.
The tomb of Jesus is not the end.
It is NOT the end of the path,
NOT the end of freedom,
NOT the end of light.
The tomb of Jesus is not a rock barrier. It is a tunnel. Tunnels have some scary qualities. They feel claustrophobic and dark. But it goes somewhere. When you go through a tunnel, you are traveling.
Jesus provides saving companionship to those who thought their way had ended, to those who thought the rocky walls of today's tombs mean the end. He is telling us that there is a way out.
The tomb is not the end! The tomb is a tunnel! There is always a way out, a way through the darkness.
When God leads any of us out of life's tunnels, most of the time, we do not expect, we cannot expect, where we will be when we get out.
Even if we have been praying hard to escape the tunnels of our lives, praying hard to escape the tomb, we have no idea what this new life of resurrection will look like. Often, when we come out of the tunnels of our lives, we don't recognize the holy land that we are standing on. We emerge onto holy ground, but don't know it.
This is what we mean when we call the resurrection something new! It was not the old life that Jesus was resurrected to; it was an entirely new life. It is not the old life we are resurrected to. It is an entirely new life! We mistakenly want resurrection to the old life. We think resurrection magically restores all of the old, great times and places of our memories. If we do, we fail.
If we are looking for the old to be restored in our lives, we will be disappointed. We will miss the true resurrection.
That is why Mary Magdalene, does not recognize Jesus at first. She was expecting a resurrection of the original, restored Jesus. He was resurrected. The land around him was new. And Jesus made the people around him new too.
Today, when we walk out into the world celebrating resurrection, God wants to raise us to something new; God wants us to live into something new. Can we do that? Our tunnels do not lead back to the way we came in.
The tunnels of our lives will always, always, lead us to another place entirely, a new place, a place that we might not recognize at first. The tomb is a tunnel! Death is a tunnel! To walk and journey with Jesus means that we do not, we cannot, avoid death. We don't walk around death, or over death. "Though I walk through the valley of the shadow of death, you are there."
The way of Jesus is down and through death, through that tunnel first, and only then out the other side. On that other side is a place we might not recognize at first; but that's okay. God shows us healing light, open space, bright glory. We call that other side — the other side of the tunnel — we call it Easter!
"This is the day that the Lord has made. Let us rejoice and be glad in it", all of us who have walked with Jesus through the tunnels of life. Happy Easter!
---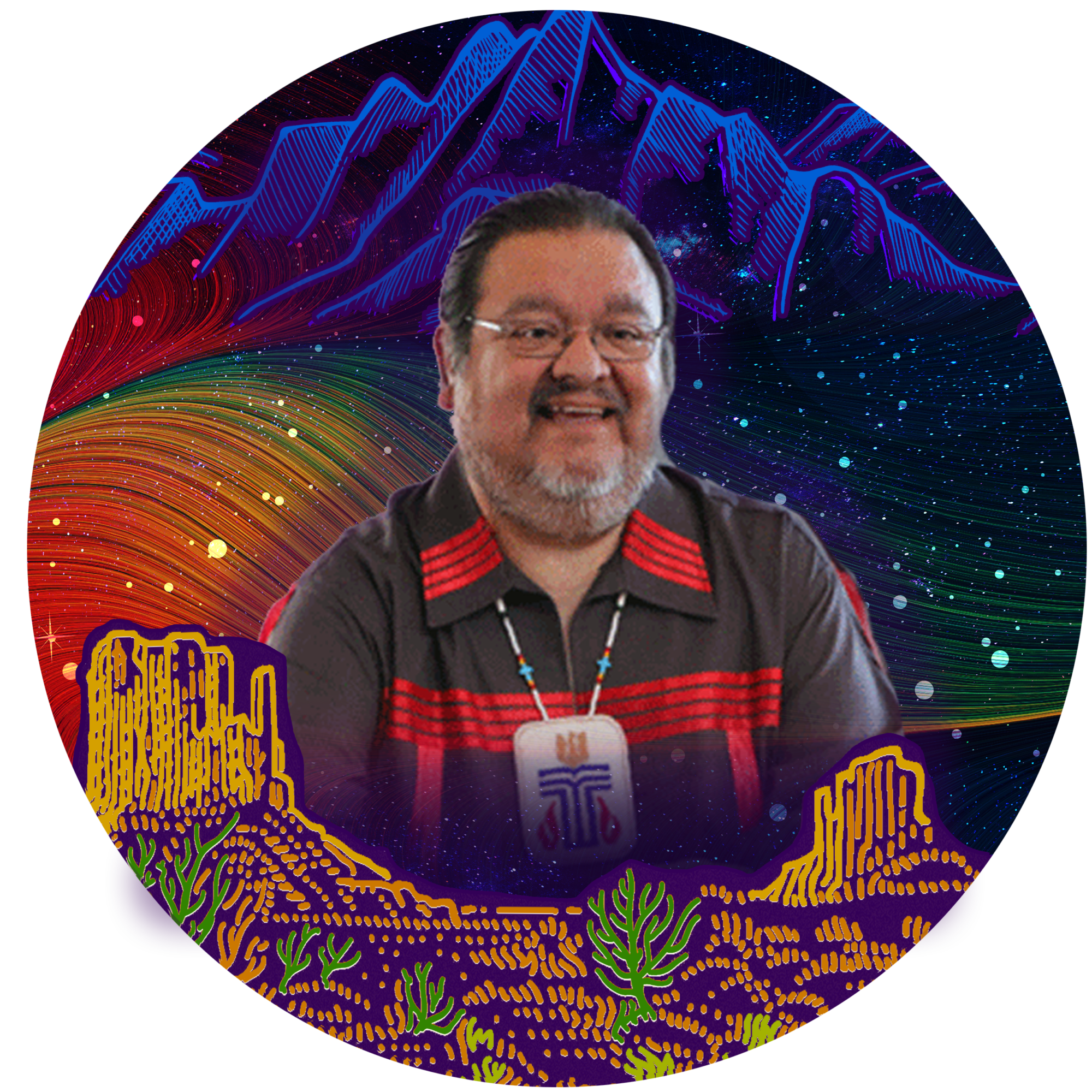 Rev. Irvin Porter is descended from three Native American tribes: Pima, T'hono O'odham, and Nez Perce. He is the seventh of eight children raised by a single father after the divorce of his parents. Irvin is descended from Twisted Hair, the Nez Perce chief who met Lewis and Clark in 1805. Twisted Hair's son, Chief Lawyer, was the first Elder elected by the Nez Perce in 1871 when First Indian Presbyterian Church of Kamiah, Idaho was dedicated. Lawyer's son, Archie, was the 2nd Presbyterian minister ordained among the Nez Perce people. Irvin's ancestors among both the Nez Perce and Pima tribes were some of the first Christian converts among their people and many served the Presbyterian Church as elders or ministers including his father, Lawrence Porter, Pima and T'hono O'odham, who was also ordained as a Presbyterian minister.
Irvin was ordained by Olympia Presbytery in 2003 but began as a Commissioned Lay Leader at Church of the Indian Fellowship in Tacoma, Washington in 2001. The church was founded in 1876, and Irvin is the first Native American pastor.
He became the Associate for Native American Intercultural Congregational Support for the Racial Equity and Women's Intercultural Ministries of the Presbyterian Church, USA, in June of 2013. His responsibilities include working as liaison between the ninety-five Native American congregations within the PC(USA).
He enjoys music, playing the piano, Native American arts, crafts, books, as well as being a history and genealogy enthusiast. He and his wife Anne-Cecile live in Puyallup, Washington's South Hill community.