Feet Washing
For the congregation where I pastor, the Foot Washing ritual was an essential part of Holy Week. When I started pastoring as a young seminarian, I very rarely saw women officiating at the sacrament. So it was a challenge to see myself in the place of Jesus washing feet. Of course, in biblical times and cultures, as in today's, the image of a woman washing feet is not surprising. My mom, while studying cosmetology, used to pamper us with pedicures, which included massages, grooming, and nail polish. Even today, the time of the Cubero sisters' pedicures is a space of sacred love. I would have wanted to pamper Jesus with a pedicure, because for ours he is always invited.
I can easily identify with the woman who anointed the Master's feet with tears and perfume (Luke 7:36-50), risking her life, entering the house of a Pharisee uninvited to answer this irresistible call to her heart. The rumors did not wait. Those who see the scene from the hierarchies and honor and shame, only see a sinful woman touch the feet of Jesus in public. She herself is the offering, inadequate for the religious world that only respects and waits for "a perfect male" (Exodus 12:1-4). Much of that perspective remained within me and as I write these lines I realize some remnants that still remain.

She understood, in theoretical terms, that it is not about taking the place of Jesus, but about answering the call at his feet. Like another woman who anointed Jesus' feet with perfume six days before Easter, in preparation for his burial (John 12). Anoint, separate, consecrate. Mary, sister of Lazarus, the friend of Bethany who sat so many times at his feet, consecrated the Lamb of God: This is His body, which is delivered for humanity. Through these feet will flow the blood of a new covenant (1 Corinthians 11:23-26). Those images of consecration of bread and wine begin to take on a feminine face at the feet of the Master of inclusion.
I can identify with part of Peter's discomfort and part of his resistance: "You will never wash my feet". Internal and external, distant and close voices stopped him from breaking with hierarchies to assume a new paradigm of mutual care in discipleship and apostolate. The voice of the Pharisee, of the Judas and of the Martha who live in me, also struggle with the daring and excessive invitation that Jesus makes us to remain vulnerable; not only in front of him, but others. My heart wanted to have a part with Him (John 13:6-8), so I washed other feet.

That first washing of feet took on a very particular meaning for my spiritual and pastoral life. Like a fulfilled promise of that verse 7 in John 13: "What I am doing you do not understand now; but you will understand later". I could feel the devotion that called people to prepare for that moment of the Washing. Some people got their feet and nails done professionally, others responded to the call spontaneously and unexpectedly with great fervor. The reality is that the congregation was looking for that moment to encounter Jesus, not me. I had the privilege of perceiving in a very concrete and at the same time almost mystical way, that personal and intimate encounter with Jesus. Today it seems wonderful to me that they could see in that young seminarian a means for meeting. Something that I myself could not understand until that moment full of abundance, full of God.

Over the years the Washing has become one of the traditions that has brought the most spiritual satisfaction to my pastoral life. A moment of encounter that gives me the opportunity to be a silent witness of an intimate space. My pastoral eyes have noted the tired feet of those who walk beside me and are worn out in the mission of the Kingdom. I can give momentary relief to the swollen feet of those who have walked a lot and today's mobility is difficult. I have been able to notice how some adults with special needs approach this moment to perceive the grace that fully forms, considering that their other senses do not allow it in the same way as the rest. I have seen children understand and respond to the call to come forward, with as much devotion and seriousness as any adult person.

Like the first disciples, we have received the call to wash each other's feet. Not for one to take the space of Jesus, nor to comply with a ritual that he made and ordered. Behind the traditional, the teaching itself is that we need each other. Humanity needs meeting spaces, tenderness, pampering, pleasant fragrances, rest and preparation before sacrifice. In this century of retouched digital images, the invitation continues to be to wash each other's feet. Now is the time for excesses. To stop holding. To let go of the reins to give, kiss, hug, touch. To jump the borders of your own image. To waste your affection. To do, if you allow it, the ridiculous.
Faced with so much need and suffering, this is not the time to deny worthy space to anyone who surrenders at the feet of the Master. It is not time to live drowning in the appearance of justice and sentimentality that do not result in service or mutual commitment in vulnerability. This is not the time to remember social, ecclesial or academic hierarchies. Washing each other's feet is obeying the call to mutual service, in recognition of our interdependence, so that we can restore dignity to those who have been robbed, perfume the lives of those who cannot see or hear with God's grace. It is touching with mercy those who have lost their taste, but are hungry and thirsty for justice.

Touch the feet of exploited women. Exceed ourselves in mercy and kindness with the children who have been robbed of their childhood. Perfume the feet of enslaved men. Relieve the burden of vulnerable and rejected people. Approach the pain of others with generosity, tenderness and compassion.
Prayer:
I love my God because he listens to my prayers.
All my life I will pray to him because he listens to me.
Psalm 116:1-2 (NIV)

Creative tenderness,
That you wash our tired and aching feet.
Mercy renewed,
That on your knees you approach to show us affection.

We don't deserve so many details.
We are not worthy of your pure and sincere love.
But your grace sees us as we are.
In your grace you see us, you call us, you wash us and you send us.

Empowering tenderness,
That you give us rest in the difficult day.
Omnipotent goodness,
That with the sweetness of your caresses you prepare us.

That you call us to wash the feet of our sisters,
To be an example of those who have no path to follow,
To overcome the internal and external voices of condemnation.
Wash us to wash.
Wash us to walk.
Wash us to serve.
Wash us to teach.
Wash us to proclaim.
Wash us to consecrate and anoint.
Wash us to answer your extravagant call.

In the name of the One who took our place we ask it.
In the name of Jesus. Amen.
---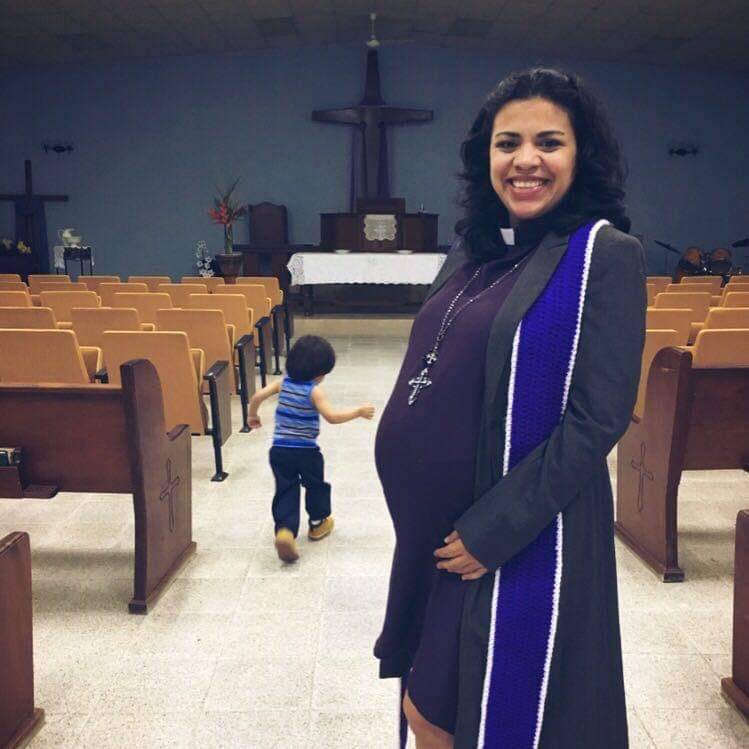 Wilma A. Quiñonez Cubero She is a pastor of la Iglesia Presbiteriana en Country Club, professor of the ministry course with People with Functional Diversity at the Evangelical Seminary of Puerto Rico. She has a Bachelor of Elementary Education, a Master of Divinity and a Doctor of Ministry in Pastoral Counseling to Families.