In Luke 15, the evangelist recounts three parables of Jesus, all with a common theme of finding lost things. The first two are the parables of the lost sheep and the lost coin. In both stories, one sheep/coin is lost, and rather than settling for what remains, the shepherd (15:1-7) and woman (15:8-10) search for the one that is lost until it is found. The third parable in the series (15:11-32) is the parable of the lost son, or as it is commonly known, the prodigal son. In the story, the younger of two sons asks his father for his inheritance, travels to a far country, and wastes his money. In the end, he realizes that he has wasted everything his father gave him and has taken the relationship he had with his father for granted. Finally, the younger son decides to return home and beg his father to take him back, even if only as a servant. When the son gets close to home, however, his father is waiting for him and runs to meet him. The father welcomes the son home with open arms, clothes him, and throws a celebration because his son "was dead and is alive again; he was lost and is found" (15:24).
Before delving into this reading, I must give two disclaimers. First, this story has been read in a myriad of ways, some of which challenge the notion that the younger son sinned by leaving the father or even that the younger son is lost at all.[1] I am not reading against these interpretations but am instead reading against the interpretation I have often heard preached against trans people like myself. Secondly, this story ends with a grand moment of reconciliation between the father and his younger son, but reconciliation is not the goal for every trans person who has been hurt. For some, the healthiest choice is to distance oneself and move on from the one(s) who hurt them – this decision is valid, and my reading is not intended to say that trans people must forgive those who hurt them and forget the hurt itself. This reading is primarily for those who find themselves still waiting and hoping for reconciliation with those who have rejected them.
The story of the lost son is a beautiful story of reconciliation; however, I have heard it weaponized against trans youth and young adults as if we are the prodigal children running from both God and our families. This trans reading offers an alternate interpretation in which it is not the trans person who has run away or been lost, but the parents, family members, or church members who have taken the relationship for granted. In this reading, it is the trans people who have been left behind and are now waiting on the porch for their lost loved ones to return home.
When I came out as transgender, my family's response was denial and rejection. They describe me as the prodigal child who has run off to waste my life, but in truth, they have taken our relationship for granted and made the choice to create distance between us. When parents respond to their trans children's coming out by denying their identities, withdrawing support, or disowning them entirely, the parent is distancing themselves from their child and "going into a far country" (15:13). The translators of the NRSV render the words for the way in which the son wastes his inheritance, ζῶν ἀσώτως, as "dissolute living" (15:13) meaning wasteful or excessive. In an analogous way, by rejecting their transgender child, parents waste their opportunity to meet and appreciate the person their child truly is. This choice of rejection can lead to very real suffering for the parents of trans children: just as the lost son finds himself feeding pigs and considering eating their food, parents can feel incredibly desperate.
In the parable, the son realizes that he need not suffer if he simply returns home (15:17). It is clearly a difficult decision for the son, but as he considers it, he says to himself, "How many of my father's hired hands have bread enough and to spare, but here I am dying of hunger! I will get up and go to my father, and I will say to him, 'Father, I have sinned against heaven and before you;I am no longer worthy to be called your son; treat me like one of your hired hands'" (15:17-19). The son realizes his sin and is ready to humble himself to the role of a servant in his father's house. While it is never easy to humble oneself and admit wrongdoing, it can be even harder for parents to admit when they have wronged their children, as they are supposed to be the ones who know best.
Prior to verse 20, Jesus has not told his listeners what the father has been doing since his son left home. We are not told if the father is angry or sad or misses his son, but in the case of a trans person who has lost their loved ones, the answer is most likely all of the above. When I was first rejected by my parents, I was sad more than anything. Even though I had expected their reaction, it still broke my heart to hear my parents say that they would never accept me as their son. After some time, sadness shifted to anger because I could not understand why they could not see that I was still their child, and they were wasting their opportunity to have a relationship with me as their son. I miss spending time with my parents. I miss feeling that they are proud of me, and I miss feeling at home in their house. I can only imagine that the father in this parable feels all of these things as well, so up to this point it is hard to predict how the father might respond to the return of his son. In verse 20, however, the question is answered. The father sees his son coming from "far off," is "filled with compassion," and "[runs] and put[s] his arms around him and kiss[es] him" (15:20). The son apologizes and asks to be taken back as a servant, but the father does not even entertain the suggestion. Instead, he clothes his son, puts a ring on his finger and shoes on his feet, and prepares for a massive celebration. Even after all of the hurt caused by his son's leaving, the father has been looking down the road and waiting for the chance to run and meet his beloved son.
As I said before, not every trans person is looking to reconcile with the family or community who hurt them. There are many other people who have rejected me because of my trans identity, and I do not wish for reconciliation or even for an apology. I grieved the loss and moved on, and I am not waiting for them to come back. In the case of my parents, however, I do spend every day hoping they will realize their mistake, apologize, and ask to start again.
The father in this story has property and wealth to manage and another son to care for, so even though he misses his son and is waiting for him, he must not spend all of his time staring down the road. This is something that we, as trans folks longing for our lost loved ones' returns, must remind ourselves. Even as I miss my parents and hope they are nearing the point of changing their minds, life goes on, and I have my own goals, relationships, and needs that require me to set those feelings aside and get things done. There are some days, however, when the missing and longing and hoping are too distracting to set aside. On those days, I feel like I am sitting and waiting on the porch, looking down the road, and hoping they are on their way home.
The story of the lost son used to fill me with dread. I have heard it preached to beat down those who have chosen their own paths. Prior to coming out, when I was sitting in church and heard this passage read before the sermon, I was filled with anxiety knowing that as soon as I was honest about my identity, I would be added to this list of prodigals. The younger son was always the selfish child who had left the church or was following wordly ways. Meanwhile, the father was always a representation of God or controlling and intolerant parents and community members. While I do believe that God is patiently waiting for God's children to choose them willing, this story is much more life-giving if read on a purely human level.[2] The son left his father, took his generosity for granted, and wasted so much time he could have spent with his family. Regardless of any extra spiritual allegorizing, this is a hurtful thing for any person to experience. The father has every reason to be angry with the son, just as any trans person who has been rejected by their loved ones has every right to be angry with them. Nevertheless, for the father in Luke 15, for myself, and for many other trans people, that anger does not stop the longing for our loved one's repentance and return.
To my trans siblings who are going about your lives and do not want to reconcile with those who have rejected you – that is valid and okay, and I hope you have found other people to fill those roles in your lives. To my trans siblings who find themselves still waiting on the porch, looking down the road, and hoping for reconciliation – you are also valid, and you are not weak for wanting to rebuild that relationship. But, while you are waiting, do not forget to live your life, take care of yourself, and nurture and build a beautiful chosen family. You are not the prodigal child, and if a day comes when the longing is too strong to ignore, make yourself a cup of coffee and get a good book or a good friend to keep you company while you look down the road and wait on the porch.
---
[1] Amy-Jill Levine and Ben Witherington, The Gospel of Luke, New Cambridge Bible Commentary (Cambridge, UK: Cambridge University Press, 2018), 425.
[2] In their commentary, Levine and Witherington discuss the problems with reading the rather as an image of God including the owning of slaves. They also agree that this parable is not about the kingdom of Heaven or God's relationship with people, but rather a "quite earthly family." Levine and Witherington, The Gospel of Luke, 424.
---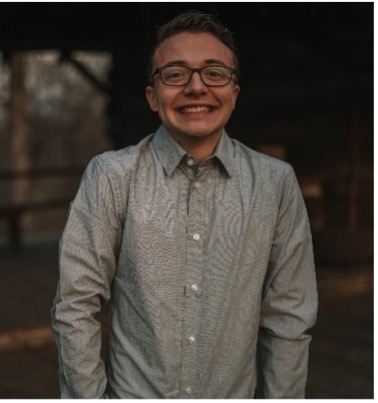 Mack Griffith (he/him/his) is transgender biblical scholar, poet, and 2021 Master of Theological Studies graduate of Vanderbilt Divinity School. After graduating from Vanderbilt Divinity School, he will go on to complete a Ph.D. in New Testament biblical studies through St. Mary's University, Twickenham. Mack's field of interest is transgender biblical studies, and he hopes to progress transgender biblical readings beyond defense of trans identities to readings that offer representation, hope, and empowerment to the transgender community.