Call­ing Chris­tians and churches to con­tinue, if not expand, their sup­port for the Boy Scouts of Amer­ica should it lift the ban on gay scouts. Two min­is­ters argue that their expe­ri­ences and oaths as Eagle Scouts are entirely con­sis­tent with—and will be deep­ened by—this pro­posed pol­icy change. This let­ter will be shared with the

BSA

Exec­u­tive Board as a wit­ness to our sup­port­ive orga­niz­ing. Sign our peti­tion!
  By Chris Iosso and Patrick Heery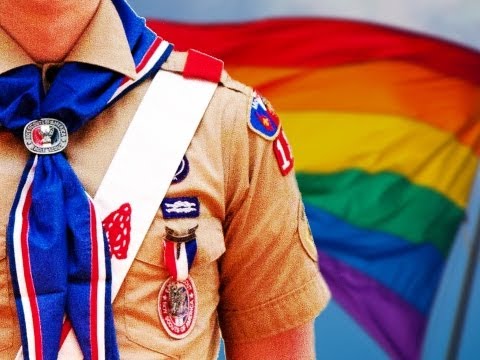 Dear Friends in Churches that Spon­sor Scout Troops:
We write in response to the recent news that the Exec­u­tive Board of the Boy Scouts of Amer­ica is poised to lift the national ban on gay scouts. We, as Eagle Scouts, stand in sup­port of this change in policy.
We know that this change will be dis­turb­ing to some, even though troops will remain able to make their own poli­cies on this mat­ter locally.
We write to urge your con­gre­ga­tions and your troops to con­tinue with Scout­ing (as Girl Scout spon­sors have gen­er­ally done), and encour­age you to con­sider wel­com­ing all respon­si­ble scouts and adult vol­un­teers into the pro­grams you sponsor.
We both remem­ber with plea­sure the adven­ture, learn­ing, and friend­ships that were part of our scout­ing years. But we do think our expe­ri­ence in scout­ing is entirely con­sis­tent with this pro­posed new policy.
Writ­ing first with mem­o­ries from the 1960s and '70s, I (Chris) remem­ber scout­ing as a great oppor­tu­nity to learn about the woods that remained at the edges of our grow­ing New Jer­sey sub­urb. We learned self-reliance along with wood­craft, canoe­ing, camp­ing, hik­ing… and how lead­ers pro­tect those in their charge. I learned to march, to teach, and to orga­nize younger scouts, not to bully or exclude them. I also remem­ber the gen­er­ous men of my church and neigh­bor­hood who vol­un­teered their time, even after their own sons had grad­u­ated high school. It is this under­stand­ing of lead­er­ship as gen­er­a­tive giv­ing that marks my view of scout­ing. On the mat­ter of accept­ing any boy of any race, back­ground, or ori­en­ta­tion, I see this as the Scouts reclaim­ing some of their lead­er­ship role in soci­ety and I wel­come it.
From the years 1996–2003, I (Patrick) joined a hun­dred or so other scouts every Tues­day evening in a Cincin­nati, Ohio, church base­ment: the same church that had bap­tized me. After six years of speech ther­apy and bul­ly­ing, I was extremely quiet when I first started Scout­ing. And yet it was my Scout­mas­ter who encour­aged this shy boy to become the Chaplain's Aide. And it was my Scout­mas­ter who, after I ner­vously gave a pub­lic prayer before Scout campers and their fam­i­lies, told me how well I had spo­ken and what courage it took to speak before so many people—a moment that, unbe­knownst to me, would be the begin­ning of my call­ing to min­istry. No one had ever praised me for speak­ing before. No one had ever called me brave before.
In Scouts, I could hike and be out­doors; I could pray and wor­ship; I could learn and think cre­atively about the con­ser­va­tion of God's earth. Scout­ing for me fused spir­i­tu­al­ity, love of nature, and civic respon­si­bil­ity. Scout­ing was about break­ing free of old con­straints, whether speech imped­i­ments or prej­u­dices. And so, when I went before the com­mit­tee that was to exam­ine my qual­i­fi­ca­tions for becom­ing an Eagle Scout, I told them that I vehe­mently objected to the Boy Scout pol­icy of exclu­sion of gay scouts and that, in becom­ing an Eagle Scout, I would work for the change of that pol­icy. This was not courage on my part; this was just me doing what Boy Scouts do.
So please under­stand this: WE are Eagle Scouts. We are Chris­tians. We are min­is­ters ordained in the Pres­by­ter­ian Church (U.S.A.). And we sup­port the full inclu­sion of gay, bisex­ual, and trans­gen­der boys in the Boy Scouts of Amer­ica. For us, there is no con­tra­dic­tion. There is no way for us to be true to our oath as Eagle Scouts with­out affirm­ing the dig­nity and inclu­sion of all God's chil­dren. We do not set aside our moral­ity in mak­ing this deci­sion; we embrace it. This is a moral choice.
Some have lamented what they believe to be the end of the Boy Scout legacy of cre­at­ing great lead­ers who stand firm in the face of adver­sity. But that is not only a legacy; it is a present real­ity. And while many of us would like to see a stronger pol­icy guar­an­tee­ing pro­tec­tion for gay Scouts, the truth is that the lift­ing of this ban will pro­vide an oppor­tu­nity for Scouts all over this great nation to dis­cuss and wres­tle with these questions—to do so bravely and openly as lead­ers for today.
We wel­come cor­re­spon­dence with oth­ers in our church on this mat­ter, and will share our let­ter with the Exec­u­tive Board as a wit­ness to how some churches are main­tain­ing, even ampli­fy­ing, their sup­port for scout­ing under this new policy.
If you would like to add your name to this let­ter, please con­tact us or sign our peti­tion.
– Rev. Dr. Chris Iosso, Eagle Scout (1972)
– Rev. Patrick Heery, Eagle Scout (2002), Order of the Arrow