Mark 8:31-38
I always like to say that my daughter, who is seven and disabled, is extra-verbal: her actions, her eyes, her smile, her vocalizations, though not words, speak volumes. In fact, over the last seven years of her life, she's patiently ministered to me as a non-disabled person in helping me to become more aware of my ableism.
But is patience really her virtue or is it mine? It's all too easy for me as her mother and the Church as her community to ignore what it's like for her to live her life in world replete with ableism simply because she doesn't speak. Because she also goes through life in a wheelchair, she often can't even get into the sanctuary, she can't get to the bathroom, or come forward up onto the altar for the children's message.
I would never say that the Church is waiting patiently in ministry for her: rather, I worry that they are hindering her from accessing the grace that she needs. And that also speaks volumes.
A few years ago I created a Twitter account and began connecting with a new kind of community online. Because I'm an academic who studies disability, I was instantly connected with a number of my non-disabled and disabled peers. But over time, I also began to follow disabled activists, writers, and artists, like Alice Wong, Andrew Pulrang, Imani Barbarin, Lydia X.Z. Brown, Talila Lewis, Mia Mingus, and Vilissa Thompson.
Especially during the pandemics of 2020, these disabled activists helped me perceive and experience the world in new and important ways. Among these disabled activists on Twitter, ableism wasn't an afterthought or even a question like it still is in the Church. Instead, ableism was a fallen reality against which disabled people resisted and created flourishing lives of protest.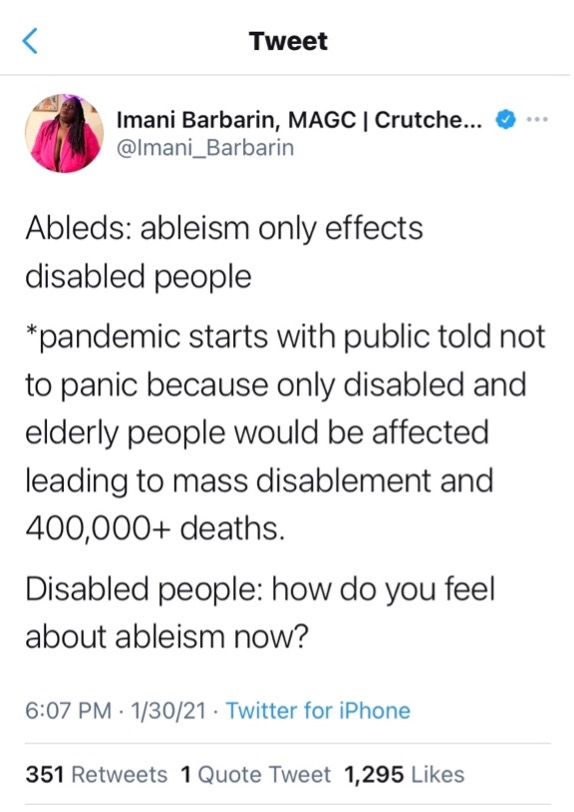 But disabled activists were also pissed off, heartbroken, frustrated, tired, and indignant at the world's obliviousness to their injustices, concerns, and suffering. They were constantly fielding threats against their livelihoods, their employment, their healthcare, their necessary accommodations, and even their dignity. Even though their lives were living proof of the injustices plaguing this country, they were still frequently questioned and scrutinized. Their angry "call outs" definitely didn't make people happy.
But they also sounded kind of like Jesus.
In the eighth chapter of the gospel of Mark, on the way to Cesarea Philippi, Peter emphatically declares that while others call him John the Baptist or a prophet, Peter says to Jesus, "You are the Messiah." But when Jesus begins to teach about his immediate future of suffering and persecution, Peter dissents. The Message version says in Mark 8:32 that Peter "grabbed Jesus in protest." And Jesus's rebuke is sharp. In Mark 8:33 the gospel continues, "Turning and seeing his disciples wavering and wondering what to believe, Jesus confronted Peter. 'Peter, get out of my way! Satan, get lost! You have no idea how God works.'"
No idea? This is Peter, disciple extraordinaire, follower of Jesus, declarer of Jesus's Lordship!
But he doesn't get it.
Peter wants a Gospel that avoids suffering. He wants a Messiah who avoids discomfort. He tells Jesus that he shouldn't talk about his suffering, the cross, or the Christian life in ways that are so extreme. Somehow Peter thinks he knows better than Jesus. He doesn't think Jesus's suffering is real or warranted.
Sound familiar?
In a Church that fetishizes crucifixion, we have surprisingly little tolerance for the injustice, the suffering, and the humanity that comes with it. How often have able-bodied people, like Peter, spoken over our disabled siblings in Christ or purported to know better than them, even though, especially during Covid-19 and police violence against Black and Brown people in 2020, it is their very bodies who are on the line? In a Church that emphasizes truth and speaking truth to power, has it never occurred to us that we are the ones that may need to hear from Jesus?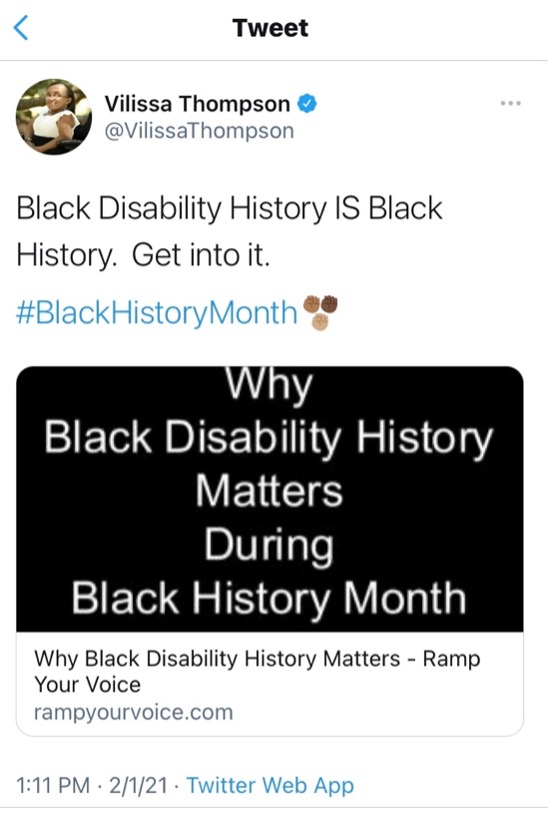 Friends, the rebuke can't come soon enough.
It's easy to listen when we're not being implicated, and it's easy to preach Jesus when that Jesus conveniently doesn't preach back. But the scriptures tell us plainly that our God is not one to shy away from conviction. And if we're not feeling uncomfortable these days, I'd venture to say we're not listening to the Spirit, probably because we're likely too busy trying to plead our own case.
"But there aren't any disabled people in my Church."
"But we don't have the budget for those types of accommodations."
"But it's not like those people can even understand worship, Sunday school, or serve on committees."
"Get behind me, Satan! You have no idea how God works," Jesus says.
One of the unlikely promises of returning to the season of Lent year after year is that we have new opportunities to listen and to follow God differently along the way. Coming to terms with ableism is not a one off moment, but a fluid journey of confession, repentance, and growth that requires that I take up my cross. That comes down to learning to perceive myself and my sins more clearly, and what if rebuke is an invitation to do just that?
It is downright holy that disabled people continue to cry out, when they are beat down, exhausted, sick with COVID, oppressed, and stuck in their homes. That they are willing to engage with able-bodied people by so passionately offering their rebuke, when it would be so much easier to just sever ties with the society, the people, and the Church that have hurt and wronged them over and over and over is nothing short of a miracle.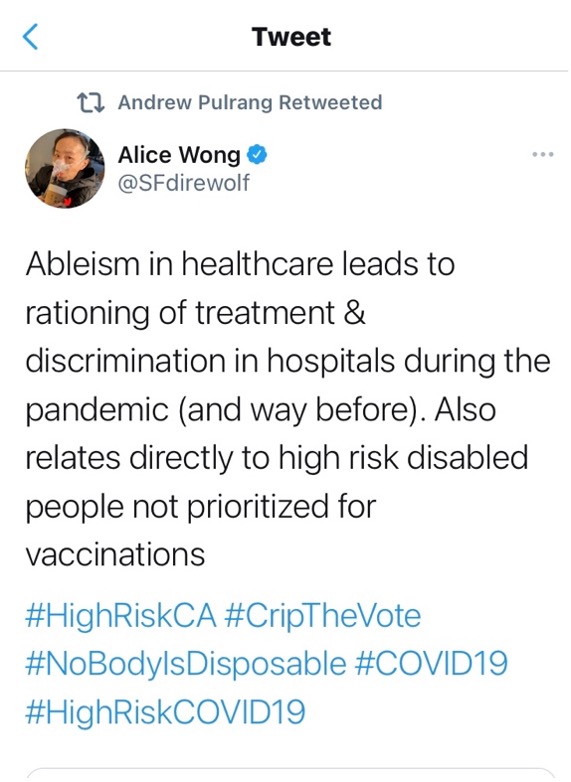 Are you willing to follow Jesus even if it is you who has no idea how God works? Are you willing to follow Jesus if it involves truly listening to those whom the Church has ignored, harmed, and oppressed? Are you willing to listen even when prophecy and conviction comes in the form of holy rebuke?
I confess that I have often mistaken my daughter's silence and the absence of few like her in the pews as evidence that ministry can and should just go on as usual. I confess that I have been unwilling to get out of my church bubble and to receive the cries of my siblings with disabilities for the indictment that they are. I confess that I have been unwilling to name my complicity in the structural sin of ableism in this country and our institutions, including our churches.
But I can think of no better time and no better way to listen up and listen in for the voice of Jesus, even when I don't always particularly like what it is he has to say.
---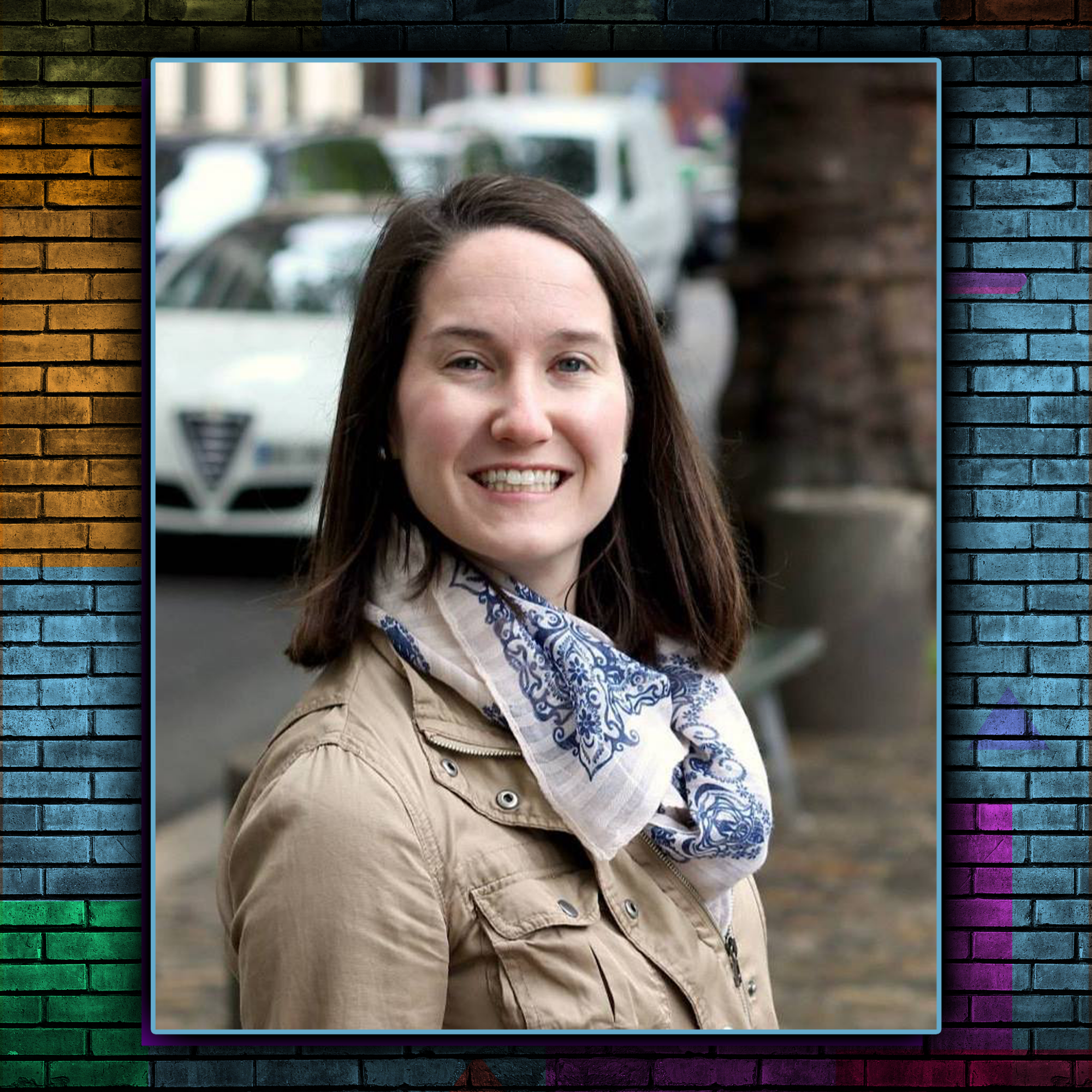 Rev. Dr. Erin Raffety is the Research Fellow in Pastoral Care & Machine Intelligence with the Center of Theological Inquiry and the Empirical Research Consultant for The Imagining Church Project at Princeton Theological Seminary. She is ordained as a Teaching Elder in the Presbyterian Church (U.S.A.), is a cultural anthropologist, and the proud parent to a daughter with disabilities. Raffety has published widely in the areas of disability ministry and congregational leadership and loves consulting with churches on these topics. She is currently working on a book on the importance or nurturing and receiving the ministry and leadership of people with disabilities in the Church.