Come back, God—how long do we have to wait?—
and treat your servants with kindness for a change.
Surprise us with love at daybreak;
then we'll skip and dance all the day long.
Make up for the bad times with some good times;
we've seen enough evil to last a lifetime.
Let your servants see what you're best at—
the ways you rule and bless your children.
And let the loveliness of our Lord, our God, rest on us,
confirming the work that we do.
Oh, yes. Affirm the work that we do!
Psalm 90:13-17; The Message
It was probably just an ordinary day when I looked at the avocado seed in my hand and decided that I would grow it into a tree, or more realistically, a houseplant. I researched – watched Instagram reels, YouTube videos, Googled, "How to Grow an Avocado Plant from Seed," all the necessary due diligence to bring new life from a rather large seed.
As it turns out, that avocado seed, and many that followed, was a hard nut to crack. I gave up. I like to say, "If you keep trying and it's not working, stop rowing." I stopped rowing.
After a while, the desire to grow something from an avocado seed gnawed at me. I tried again. Wrapped in damp paper towels and placed in a food storage bag, the avocado seed was sheltered in the back right corner of a shelf in the cold and dark cellar closet near our kitchen. I checked on the seed every week to make sure the paper towel was still damp, to see if there was any change, however slight, to that hard outer shell, just making sure everything was alright, and conditions were as perfect as could be expected. Each time, the seed looked exactly as it looked when it was placed on that shelf in the closet. Maybe there was a tiny crack, I'm not sure. But there were no obvious signs of life. I put it all back in the same place and left it.
One day I realized I had forgotten about the seed. How the hell long was it in the closet anyway? I wasn't sure. I asked Courtney, who apparently had no clue what I was talking about. I guess I hadn't mentioned it. I think it was weeks, many, many weeks; okay, months since the last progress check.
During that time alone, even though it hadn't been treated with care or kindness, something had happened to the avocado seed. I put some gloves on and peeled away the layers that had protected it from the very beginning of its journey.
There was a crack in the shell! I carefully rewrapped it and put it safely away. Until one day – a sign of life had appeared – a taproot was poking out!
Planted in potting soil, watered with care, and placed in sunny window, the little avocado plant is growing, strong, and proud and loved.
God, it seems you've been our home forever;
long before the mountains were born,
Long before you brought earth itself to birth,
from "once upon a time" to "kindom come"—you are God.
Ps 90:1-2, The Message
One of the benefits of living in this pandemic is that we are always home; always together. Courtney and I are both introverts and homebodies. So, being cocooned in a house with one another and our dogs, Sam and Ruthie, is bliss! The state of bliss is a place of growth for me. There are three beings in this house of ours that love me unconditionally and so I thrive. There is the safety of knowing that I can be wholly me and engage in work and recreation that inspires me, stretches me, deepens me. I love this blissful life. I love my little Queer family who teach me to love more expansively (I never knew I could love animals as much as I do and I really do) and give me the space to soar.
I imagine family as a place of safety and a place where one can grow. I know, firsthand, that not everyone experiences family in this way. Growing up, I believed (with good reason) that I would not live to see another day let alone another year. Beyond all hope I grew, even though my family life was not a place conducive for growth. Sometimes, we grow even in soil that is barren or stony ground.
Come back, God—how long do we have to wait?—
and treat your servants with kindness for a change.
Surprise us with love at daybreak;
then we'll skip and dance all the day long.
Make up for the bad times with some good times;
we've seen enough evil to last a lifetime.
Let your servants see what you're best at—
the ways you rule and bless your children.
Ps. 90:13-16, The Message
It has been over a year since we were with members of our immediate families. Although we keep in touch via Facebook Messenger, text, and by phone with my children and Courtney parents, and our siblings and niblings, we miss being with them. How much have our niblings grown; are they taller than we are now? Are my sisters-in-law still wearing the same fragrances? I don't want to forget their smells. I miss the touch of my youngest daughter's hand on mine and watching my eldest pour twice as much sugar in her coffee than there is beverage in her mug. I am grateful for the technology that keeps us connected as best we can but I feel that my personal growth is stunted in the absence of these touches.
When I came out six years ago it was as if I was emerging from a big old seed with a hard outer shell. My children and my sister, my "text sisters," and my "play cousins" enveloped me with the deepest kind of love and acceptance you can imagine. They held me in warm embrace and helped me take my first steps and supported me as I walked into the new life God called me to claim.
Interestingly though, the family I'm most in touch with is my chosen family – my text sisters, my play cousins and my "shenanigan siblings," especially the one who calls me their mentor. There is no way I could survive without them. I am lifted up and buoyed by their love and support. There's a language we share that no one else would understand but we get it. We have each other's back because we need each other to make it through all the hard times. We push back and hold each to account when we need to because accountability is critical for personal growth. We make jokes that can't be shared in public. Tell stories that can't be shared outside our groups. Share intimacies because we trust and honor that trust.
At the end of the day, I am different because of my queerness and my queerness opens me up to receiving a different kind of love and care. Courtney, my text sisters, my play cousins, and my shenanigan siblings give me life and sustenance each and every day. I grow with them and they with me, like families are supposed to do. I am so grateful for my Queer family.
They are the fertile and loamy soil God has prepared and in which I have planted myself. They are the ones who have broken through the scars of the hard outer covering that allows me to sprout and grow skyward, face to the warmth of the sun. They are the ones who keep me rooted in reality. They are the nutrients that fuel me when I lose hope that justice will be served. They are the ones who recognize my vulnerabilities and stake me up until I am strong enough to stand on my own. They are the ones that celebrate that I am truly my authentic self, living in the fullness of God's love.
Being cocooned in this safe space doesn't mean that we are not aware of the violence, brutality, discrimination, and denial of human rights against communities and individuals of color and LGBTQIA+ siblings and people held in poverty happening just outside our door. These children of God are our family. I continue to grow, not just in the midst of my biological or Courtney's biological family, not just in the midst of my family of text sisters, play cousins, and my shenanigans siblings, but in the queerness of the community of God that exists within the expanded space we call home. The space of safety and nurture that allows me to grow is the catalyst that calls me to challenge and work for changing the systems that maintain injustices in order that all the family may live and love and be loved and valued as God intends.
Because like grass that is renewed in the morning,
In the morning it thrives, and I thrive, renewed
I have not withered nor faded away,
I keep growing stronger, my roots keep reaching deeper; I am alive!
---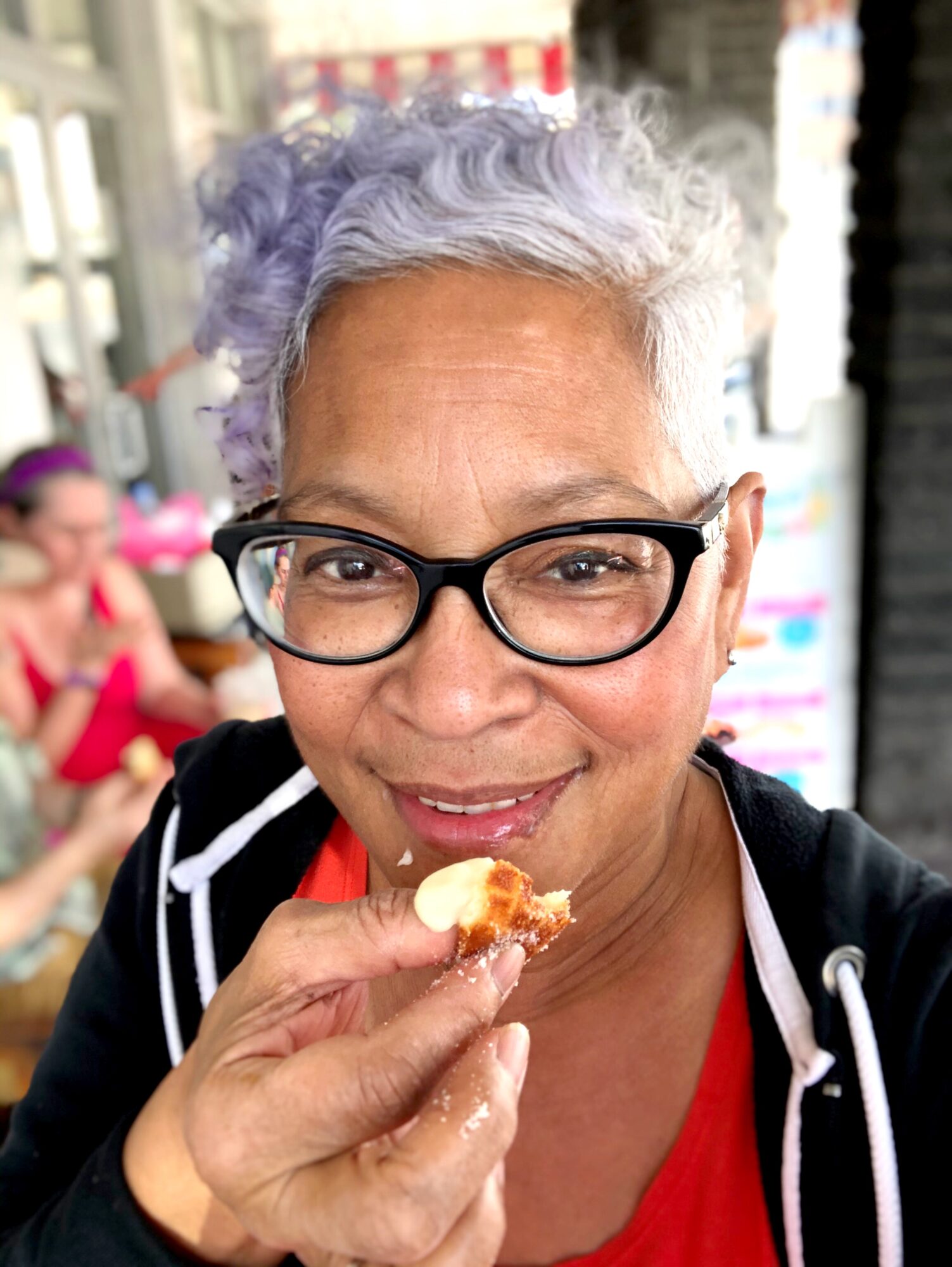 valerie izumi serves the Presbyterian Church (U.S.A.) as an assistant stated clerk in the Office of the General Assembly where she coordinates the General Assembly nominations process for agencies, board, commissions, and committees of the General Assembly, serves as staff to the General Assembly Nominating Committee. Her lifelong commitment to racial and gender justice and racial equity is currently witnessed by her service on the denominational office's Diverse Voices Table and as co-staff to the General Assembly's Special Committee on Racism Truth and Reconciliation.
valerie strives to make her commitments to the intersection of racial and gender justice and racial equity actionable. She is a mentor, connector of people, and has the gift of helping others recognize their gifts and skills for use in innovative ways.