On October 8, 2022, the Earlham School of Religion hosted their annual pastors' conference on Zoom and at their campus in Richmond, IN. With the theme Disability in Ministry, the conference showcased speakers with experience in disability as church members and leaders and gave practical advice for how churches could implement accessibility for their congregations and worship leaders. Phil Baisley, Professor of Pastoral Studies at Earlham, organized the conference and introduced the speakers.
The first speaker was Daniel Aaron Harris. Daniel is the founder of Fallen Walls, an organization that encourages people to pursue their vocations regardless of ability. A Memphis-based author, actor, and activist with cerebral palsy, Daniel is pursuing a Doctor of Ministry degree through Western Theological Seminary.
Daniel spoke about how he had to be vulnerable in pursuing ministry, and that we need to see more people with disabilities in different vocations. "I need your story just as much as you need mine," he said.
Daniel pointed out that churches were against the Americans with Disabilities Act (ADA) when it was first passed in 1990. In the book Disability and the Church, Georgia pastor Lamar Hardwick points out that churches "missed an important opportunity" because they were exempt from ADA guidelines (p. 75). What can communities of faith do now to ensure that congregants and worship leaders with disabilities are able to fully participate in the life of the church?
In addition to thinking about law, theology can be an important framing device in how churches discuss disability. Daniel pointed out the image of God the father and God the son imagines God as creating us to have relationships and mentioned the book The Disabled God: Toward a Liberatory Theology of Disability by Nancy L. Eisland, which illustrates Jesus as a disabled man on the cross.
In the discussion after Daniel's presentation, Jim Higginbotham, Associate Dean and Professor of Pastoral Care and Counseling at Earlham, noted that in stories of disability in the bible, there are some liberatory stories of individuals with disabilities, but disability is also sometimes used as a problematic metaphor. For example, nations might be described as having disabilities as a moral judgment. As ministers, said Jim, these are important things to discuss. The way disability is presented in sermons, hymns, and Christian education should be emancipatory, not judgmental. Jim drew insights from an article he used in a Bible and Pastoral Care class, "Jesus and People with Disabilities: Old Stories, New Approaches" by Mary Ann McColl and Richard S. Ascough.
After a short break, Katherine Bale, a Scotland-based writer of the blog Thoughts of an Autistic Christian, gave an overview of the definitions of autism, their relationship with theology and church, and ways that churches and ministry training can be more inclusive for autistic people.
Katherine pointed out that in some communities, a person's value is measured by their productivity and socializing. However, actually, their value comes from God. We should recognize what autistic people can do but not add or take away value based on what they "can" or "cannot" do. It is important to make sure nonspeaking people are valued. Just because someone processes information or communicates differently doesn't mean they aren't understanding or being inspired by a message.
In addition, studies suggest that a higher percentage of autistic people are LGBTQIA+ than nonautistic people, so if a church is more inclusive for LGBTQIA+ people, it may simultaneously become more inclusive for autistic people, and vice versa.
Katherine's blog post, "Welcoming People with Autism Spectrum Disorder and Learning Differences in the Church," may be a useful resource for faith communities looking to make their worship spaces more accessible.
In the discussion after Katherine's presentation, it was brought up that worship leaders should make sure congregants understand they should never apologize for their children or their disability. Church visitors who might not be able to stay still or be quiet should still feel like welcomed participants in worship.
Jim pointed out that church homogeneity and efficiency act as an agent of control that keeps church populations the same. As churches desire to become liberative, they need to confront the ways they keep everyone the same by always having the same worship and engagement styles.
The last speaker was Summer Kinard, an Orthodox educator and writer of accessibility-based curricula for Christian education and children's ministry. Summer also wrote the book Of Such Is the Kingdom: A Practical Theology of Disability and will soon publish Our Autistic Home: A Handbook for Autistic Thriving, a book about her experience as a mother in an all-autistic family of seven. Summer presented on accessibility in teaching at church.
Drawing on Romans and her own book, Summer expressed that we have faith with disabilities, not in spite of them. Quoting St. John Chrysostom, Summer said that nothing can stop grace from entering the soul. She noted that she did not want to equate disability with suffering, but we may still experience suffering, which, following Romans 8, does not separate us from God. In email correspondence after the conference, Summer expanded, "All suffering is Christ's suffering, so we don't have to wait for God to enter into any suffering that comes with disabilities. Rather, we can ask God to reveal [God's] salvation-giving presence in and with our disabilities and in our suffering."
In addition, Summer pointed out that experiential elements of Christian education and worship can help us recall what we learned later through sense memories. "Teaching through space [is] acknowledging that you're in God," said Summer. The collection of "Resources for Living Faith with Disabilities" on her website may be helpful for making church experiences more accessible for people with disabilities.
In these discussions on how churches can make their spaces available for people with disabilities to lead and participate in worship, the value of being with and listening to people with disabilities was emphasized. If we take steps to make our worship spaces accessible to everyone, as Daniel said at the end of the conference, someday we can be "the true body of Christ."
---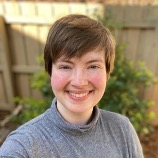 Carson Risser (she/her) is a copy editor in Cary, NC. She is pursuing a Master of Arts in Theopoetics and Writing at the Earlham School of Religion.