On Counting and Being Counted
Luke 2:1-3, 8-14
On the last possible day before Christmas, throngs will join that mad dash to check off those last-minute items: from Christmas gifts, to travel and/or hosting coordination, to meal and party arrangements, not to mention the rehearsals with children's costumes, choir, and candles, for Christmas cantatas and pageants. This year, the long-term effects of the pandemic are still felt in delays in global shipping and record numbers of travelers on the roads and in the air, with time not on our side.
For Filipinos, Christmas begins September 1, as they boast about their record for the longest Christmas season in the world. As early as Christmas begins, the malls also shift to longer and later hours, especially in the month leading up to the actual day. As the only predominantly Christian country in Asia that also experienced over three hundred years of Spanish colonization, Christmas traditions originate from Catholic festivities. Protestant and Evangelical churches have adapted similar customs into their worship life.
Filipino families look forward to gatherings centered around their faith and food. About ten percent of the Filipino population lives or works abroad, and thousands of overseas Filipinos – especially their families whom they support as the primary breadwinners – plan for their long-awaited visits. Simbang gabi is designated as the nine days before Christmas, with worship services beginning as early as four o'clock in the morning. To guide worshippers in those early morning hours, the parol, a five-pointed star light originally made of rice paper or capiz shells, illuminates their way. Today that parol is a popular decoration item outside homes or on Christmas trees – our family version includes flashing lights and music. After this Christmas Eve worship, families and friends gather for Noche Buena, the traditional holiday feast.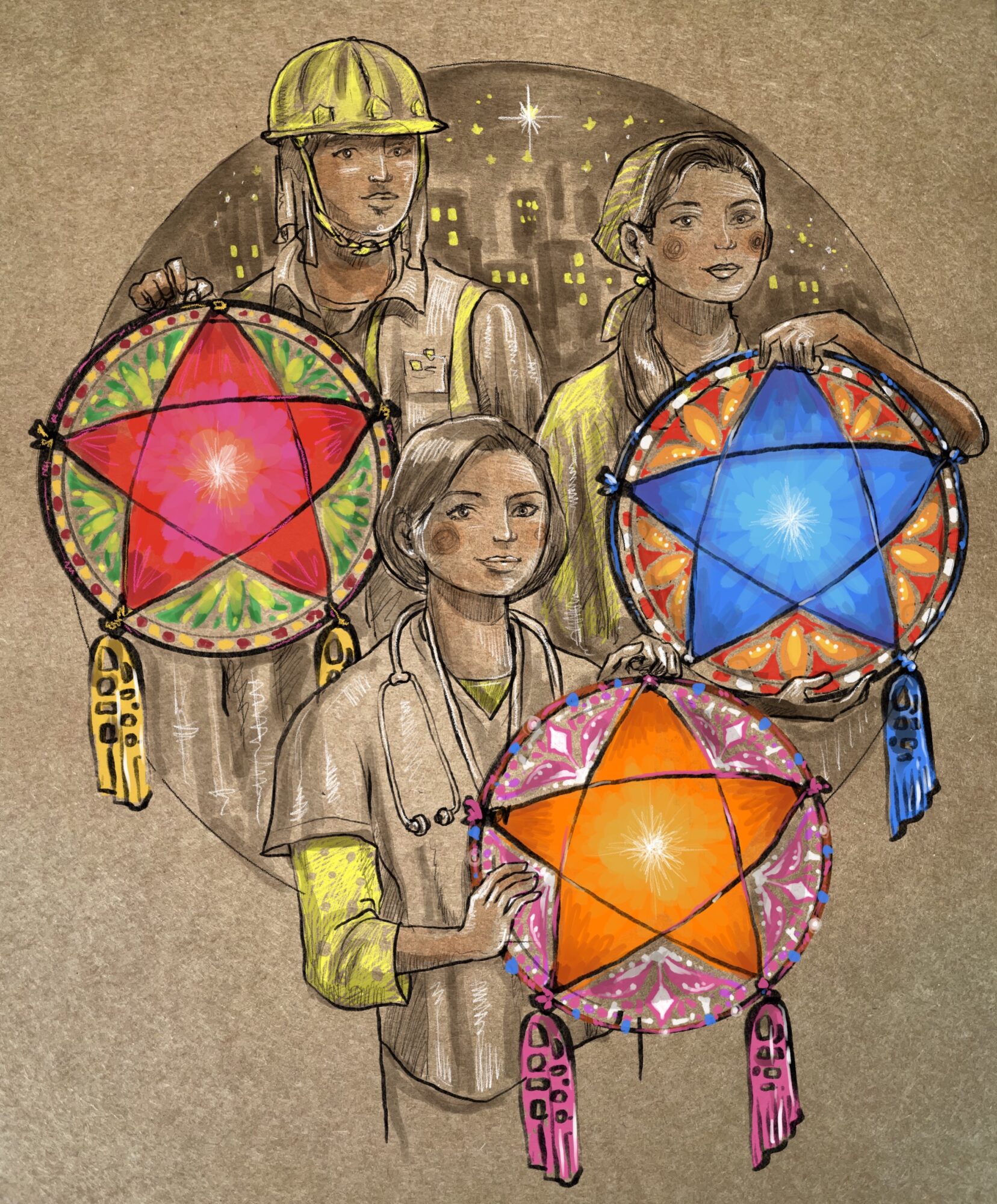 Knowing how much time and energy is devoted to Christmas, one must wonder how the people of this familiar first Christmas story felt about their lives, and their relationship to time. What could they control – what did they have to surrender? How were they counting or being counted? Emperor Augustus was planning to count his subjects for taxation and military purposes. Mary and Joseph were counting down the days until the birth of their firstborn son. The shepherds needed to keep count of their sheep against their wandering ways, wolves and other dangers. All the while God was counting on the fulfillment of a grand promise, right down to the location, timing, and characters.
Tempting as it is to stay in the manger and coo over the baby Jesus, I invite us to pay attention to the conditions surrounding Jesus' birth, which include the livelihoods of the shepherds. Outside is a harsh world, and the manger seems to the refuge that we seek. Yet it is this place and time, this corner of the world under Emperor Augustus and Governor Quirinius, that Jesus has been born to Mary and Joseph. Jesus is both born of this world and of a different kingdom, one that the prophet Isaiah proclaims, upon authority where he will establish and uphold with justice and righteousness forever (9:7). This world that Jesus was born into, is the world that Jesus also makes his presence known, not as a baby, but as the God who took on flesh, who breathes, who suffers, and who loves through life and unto death. Jesus was born into this world that includes migration and disease. Jesus is born into a world that includes Filipino migrants during the covid-19 pandemic.
Like Emperor Augustus who counted and taxed his subjects for their financial and human resources, the Philippine government has also been counting its overseas population, those who were working, studying or living abroad, many of whom send remittances. As Filipinos started working abroad in Hawaii, California and Washington, later in the Middle East, and now in countries around the world, what began as temporary policy of migration has evolved into labor export policy. The Philippines is the human resource agency to the world.
The Philippine government and its economy with private recruiters, manning agencies, recruitment agencies, banks and other financial services, make up this vast network that counts on these migrants. Examples of how the government counts its overseas Filipino workers (OFW) include this September 15, 2021, Philippine Inquirer news article, "Dollar remittances from the country's estimated ten million overseas Filipinos are a pillar of the country's economy, accounting for an average of 10 percent of domestic consumption, according to economists. Of personal remittances from expatriate Filipinos, cash remittances coursed through banks amounted to $2.853 billion in July 2021, up by 2.5 percent year-on-year from $2.783 billion in 2020."
Global partners of Presbyterian World Mission in the Philippines advocate for the rights and welfare of these migrants. They work with and on behalf of Filipino land-based and sea-based migrants whose employers have cut their pay or benefits or refused to pay for their separation pay. As the primary breadwinners for their families, these migrants face uncertain futures on many levels. The likelihood to return abroad, once again, is strong. With immediate needs, not to mention the pre-existing and mounting debts, migrants will make this difficult choice.
According to the IOM Philippines Chief of Mission Kristin Marie Dadey in the "COVID-19 Impact Assessment on Returned Overseas Filipino Workers," hometown statistics report the 75% decrease in deployment of overseas Filipino workers in 2020, the lowest in over three decades. Nearly 800,000 workers were repatriated by the end of December 2020.
These partners understand that remittances are not the only stories. Consider the seafarer who wondered if he would survive the conditions on his vessel until it docked in a port city far away from home. Now he returns to provide for the well-being and survival of his family members. Of his three children, he must decide which one can continue schooling, because he cannot pay for online classes along with the computer and Internet connections. Consider the medical assistant who suffered a stroke and underwent brain and skull surgery. Once able to care for her patients, she returned home and wondered if the government could provide medical assistance and other needs.
Like the shepherds who were "working at night," medical frontliners around the Philippines, as well as OFWs during the pandemic, were doing the same. Although the Philippines can train nurses, not enough well-paying jobs keep them at home. Although the health care system counts them as heroes, with promises of hazard pay and more benefits, when, the fulfillment of said benefits was slow.
Meanwhile abroad in England, Prince Philip understood how much the UK was indebted to Filipinos when he joked, "The Philippines must be half-empty; you're all hear running the NHS [National Health Service]." May Parsons[1], almost 20-year veteran of NHS and of Filipino descent was the nurse to administer the first covid-19 vaccine. She understands well how people of black and minority ethnic backgrounds (BAME) have disproportionately been impacted by covid-19. "I'm hoping that people value the sacrifices we make and the risks we take to keep their families looked after," May says. "Obviously in the Filipino community and BAME communities we've had the highest deaths, but we are still here, we haven't stopped working."
"Nonvisibility does not equate to nonexistence," wrote Filipina nurse-poet Romalyn Ante. This mixed bag of experiences of the Filipino nurses in the United States and United Kingdom, motivated her to take up poetry to humanize their experiences[2]. She released her debut poetry collection Antiemetic for Homesickness, during the early months of covid-19 pandemic. "Half Empty" is the first poem in that collection, based on Prince Philip's remark about Filipino nurses.
In an essay "To My Leaver-Mother," Ante tenderly reminisced about the relationship between her and her mother who also worked abroad as a nurse. As friends enjoyed celebrating milestones and hushed conversations with their mothers, but Ante was limited to international phone calls with her. "Salaam Alaikum" was the first Arab phrase that she learned. Later Ante mused, "Whenever [my mother] greeted me with peace, my reply would always be, Peace unto you too. But sometimes I wonder how much peace really exists in a transnational family like ours?" With more boldness in her voice, Ante confronted her mother, "Tell me, Ma—that left-behinds like us must grow up fast, that we must persevere especially in the absence of peace. To perform what our parents could not. And to tell our parents only the good things about our lives, leaving out the not-so-good so that even if we're far apart, we could give them peace."
Do you hear what I hear? When I listen to Filipino migrants such as Romalyn Ante, I hear how these mother-daughter "Salaam Alaiykum" greetings, resonate with the angel's greetings of "Glory to God in the highest heaven, and on earth peace among those whom he favors!" (Luke 2:14).
This Christmas Eve, I pray that the Filipino migrants and their family members can teach us about the peace that comes from counting and being counted. Not in the ways that the government counts on migrants. Not in the ways that migrants are counting and mounting debts as they face uncertain futures of their lives and their loved ones. Rather we count on the peace that comes from family gatherings filled with food and laughter. Or the peace that looks forward to the day when these migrants can still return home, but not this Christmas. The peace of a daughter's heart nearly bursting because of the yearning to be reunited with her mother. The peace that we can work towards a world where migrants who will no longer return home for Christmas, since they already live, work, and play, for their families 364 more days of the year.
---
[1] https://www.rcn.org.uk/magazines/bulletin/2020/dec/may-parsons-nurse-first-vaccine-covid-19
[2] https://www.worldliteraturetoday.org/blog/interviews/poetry-and-nursing-filipino-diaspora-conversation-romalyn-ante-marianne-chan
---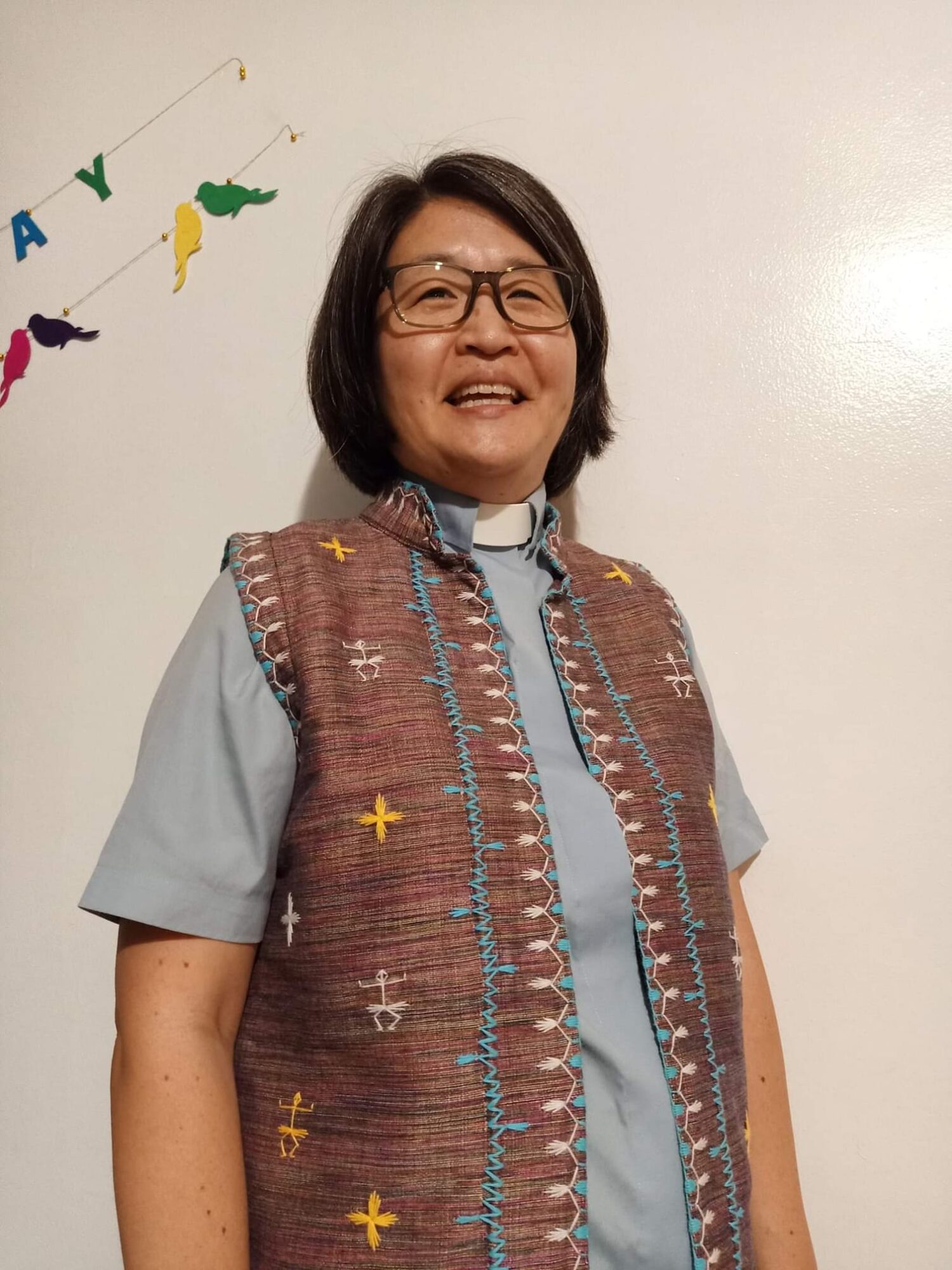 Cathy Chang is a mission co-worker serving as the regional facilitator for addressing migration and human trafficking.  She and her family are based in the Philippines.  She is a Peacebuilding doctoral student at Payap University in Chiang Mai, Thailand.