We have entered a new territory in natural disasters, with fewer resources to prepare and respond. A new model for disaster recovery is needed, in which everyone has a role to play: government, the business sector, individuals and families, education and foundations as well as voluntary organizations. Together, we can move toward a new normal so that the disaster becomes a part of the story of the community and not the defining story of the community.
By John Robinson, President of the National Voluntary Organizations Active in Disaster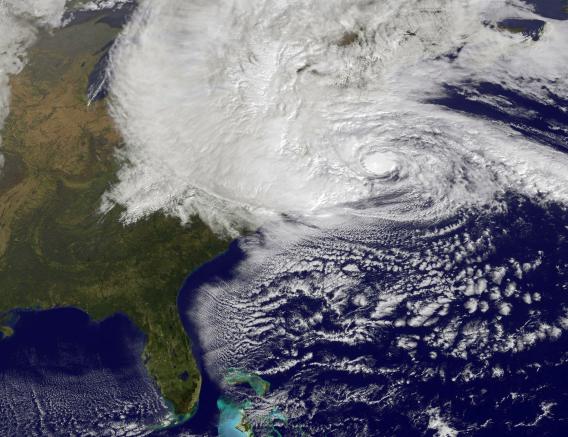 Developing community resiliency in disaster recovery is one of the most important issues that confronts us today. This has become even more apparent in the wake of Hurricane Sandy's devastation. Three concepts can help focus our attention on how important this is:
First: We have entered a new territory in natural disasters. What has changed is not just a shift in cycles or a return to patterns of earlier years. We are in a new space where the only thing we know for sure is that we can no longer rely upon past experience to prepare ourselves for future disasters. It is like the disclaimer at the end of advertisements for financial service providers: Prior experience cannot be used as a predictor of future performance.
Scientists have made incredible advances in predicting the course of storms as they form and move across the globe; however, science will need time and support to understand the trajectory of future systems and understand new and emerging weather patterns that have not been seen before.
___________________________________________
We are in a new space where the only thing we know for sure is that we can no longer rely upon past expe­ri­ence to pre­pare our­selves for future dis­as­ters.
___________________________________________
We are experiencing new patterns that are not entirely clear. Hurricane Sandy and the drought and wildfires and the tornadoes in new places are not just freak storms; but may be the first of many new patterns that we have not experienced before.
A good example of this new pattern is the naming of Sandy. Technically Sandy was not a hurricane when it made landfall in New Jersey and New York as it was no longer within the boundary of tropical storms. Some have called it a Superstorm; but there is no scientific description for Superstorm. By default people either refer to it as just Sandy, or Hurricane Sandy.
What this means for the disaster response and recovery community is that we cannot assume anything about weather seasons, hurricane patterns, or potential disasters that might strike our communities.
Those assessing community disaster risk have traditionally asked three questions:
How likely?
How devastating?
How preventable?
That pattern for disaster mitigation and preparedness may not give us the kind of lessening of impact that we expect for the funds, time, and energy expended in their development. We don't know how likely anymore. All we know is that the likelihood of a disaster happening in our community is much more than it was in the last century. We cannot predict how devastating, because in many places our infrastructure and vulnerabilities have never been tested. But the sad truth is that the trend is toward greater impact rather than less. We have failed to take the same attitude toward developing disaster resilient communities as we did toward developing safer cars… we now all agree that safety belts and crumple zone engineering save lives every day. We do know more about prevention or mitigation; sadly much of that comes after a disaster and focuses on mitigating hazards from the last disaster. New Orleans has a much better levee system now than it had in 2005.
Following Katrina, one magazine editor wrote that prior to Katrina, if disaster response programs had asked for the funds, personnel, and material necessary for an adequate response they would have been laughed out of the room.
The problem is that we are eight years after Katrina, and not only is New Orleans not back to its pre-Katrina economic and housing levels, we have not changed our fundamental attitudes about coping with disaster as the catastrophic events that challenge communities to achieve a new and viable normal. Sadly, disaster response and recovery are still seen as primarily an emergency response function guided and directed by professionals who work for the government.
That will not work for the future we will experience.
Second, we will be challenged to prepare and respond to events with fewer resources.
My own program, Presbyterian Disaster Assistance, received over 24 million dollars in donations to the recovery efforts following Katrina, and that was only about half of what Presbyterians gave to the effort if one includes direct donations to local congregations and Mid Councils and the expenses of volunteer work teams.
Giving for Hurricane Ike response and recovery, a devastating storm three years later, and just prior to the economic crisis, received less than 2% of the giving to the 2005 Hurricane Response fund.
Only two disasters since the 2005 Hurricane season have had more than $1 million in support, the Haiti Earthquake and Japan Earthquake and Tsunami… both international disasters with catastrophic consequences. So far just a little more than $2 million has been donated for the international and domestic response to Hurricane Sandy.
All of us are being pressed to do more with fewer resources. That is unlikely to change. Even with a change in the economic sector, giving to voluntary organizations will not likely rebound, even in the face of a storm the size of Sandy. We need to make every resource have the maximum impact, including dollars, expertise, and time.
___________________________________________
The prob­lem is that we are eight years after Kat­rina, and not only is New Orleans not back to its pre-Katrina eco­nomic and hous­ing lev­els, we have not changed our fun­da­men­tal atti­tudes about cop­ing with dis­as­ter as the cat­a­strophic events that chal­lenge com­mu­ni­ties to achieve a new and viable nor­mal.
___________________________________________
Government and the rest of the private sector face the same challenge. With dwindling paychecks and declining property values, there is less revenue to provide support for disasters. At the same time, the business community can only make contributions to disaster response when they are actually making a profit. For small community based businesses, that means they are being called upon to help with recovery at the very time they are struggling to keep their own businesses from failing.
Presbyterian Disaster Assistance has learned this lesson well. While we could afford free-standing Nationally managed Volunteer Villages in the Gulf after Katrina, we now have a Volunteer Village program that uses local churches or community facilities managed at the local level and supported by National Volunteers, equipment built by volunteers and tool trailers… one of which was built at last year's National VOAD Conference. This trend will continue and strengthen in the wake of Sandy. PDA is being asked by other response organizations to assist in assessing and supporting the development of volunteer team hosting sites across the whole region in churches, synagogues, and community facilities in order to support the thousands of volunteers needed to move the long term recovery forward.
There is still a place for infrastructure and focused centralized work; we learned that with our National PDA Call Center at Ferncliff Camp and Conference Center outside Little Rock, AR. The one place that local management frequently needs assistance is in registering and communicating with volunteer work teams. We now provide registration for volunteer work teams for over a dozen sites, many of them not in Presbyterian Churches. Minot, ND, is a good example of using skills and expertise strategically and managing scarce resources for maximum impact. The Lutheran Church provides the facility and part of the community leadership; the Southern Baptist Men provided cooks and food; PDA provided registration services and communications; and the Methodist Church provided case management. No one organization could have put that effort together by itself.
The third big idea grows out of the first two: We all have to work together… together.
This summer I attended the Natural Hazards Center's Summer Workshops outside Denver. In one of the workshops I was startled to hear a city planner say: "We are not going to NGO (non-governmental organization) ourselves out of the problem of disaster response." His meaning was clear: while our large national voluntary organizations provide both immediate and long term support for community recovery following a disaster, they can no longer be seen as the lead in this effort. Everyone has a role to play: government, the business sector, individuals and families, education and foundations as well as voluntary organizations. And the problems presented by these new disasters make it impossible for any one entity to be the lead agency for the whole disaster cycle. Not only do we all have a role to play, we each have a responsibility for being engaged with disaster response and recovery, which brings us squarely to the subject of this article: community resiliency.
This same city planner was urging that the disaster response and recovery community take the lead in encouraging local communities to begin making plans now to look at the vulnerable parts of their community and making plans NOW about how the community will respond to a disaster that might impact that area.
This only makes sense. Local community land use planning takes years. If there is going to be a discussion about how community resources are to be used if an area of the community is impacted by a disaster, the time for that discussion to take place is BEFORE the disaster. After a disaster the pressure to make decisions quickly can overrun the need for including all the stakeholders in the decision. At the same time, some opportunities will be lost because the process of making good decisions about where to locate temporary housing will take too long.
___________________________________________
Devel­op­ing com­mu­nity resiliency in dis­as­ter can only be done when all the stake­hold­ers are around the table mak­ing deci­sions.
___________________________________________
Developing community resiliency in disaster can only be done when all the stakeholders are around the table making decisions. When one group is excluded for one reason or another, even if it is because they are not vocal participants in community decision-making, even the best designed plans can run aground after the disaster.
Without resiliency planning and the reduction of risks before a disaster, communities are frequently left learning new skills or attempting to apply previously applied skills in a new setting. They are too often asked to 'build the plane while they are learning to fly it.'
We all need one another.
The volunteer community has vast knowledge about disasters and long-term recovery; but we frequently don't understand the political landscape for getting community cooperation in moving the recovery forward.
Governments and the private sector frequently have supplemental funds available following a disaster; but can often have little experience about how long-term recovery can be done with an eye to serving the neediest first and providing for the unusual needs that probably were not considered when the rules were written.
But together… together; meaning that we not only work together after the disaster, but know one another prior to the disaster. With plans for how the long-term recovery will move forward following the disaster, we can together move toward that new normal so that the disaster becomes a part of the story of the community and not the defining story of the community.
I would like to challenge anyone who reads this article to take a first step: Make a phone call. If you are in a church, call your pastor and ask what the disaster plan is for your church and how your church is connected to the larger recovery.
If you are not in a church, call the State Office of Emergency Management and ask who is the chair of the state Voluntary Organizations Active in Disaster (VOAD). Call that person and ask how you might be able to be connected to the development of resiliency in your area.
If you are a community leader or work in local government, reach out. Call voluntary organizations in your area and invite them into your planning process for the community. They have experience and insight… and they are free.
Resiliency following disaster doesn't happen by itself; but it can potentially keep your community from facing overwhelming challenges following a disaster.
The Rev. John A. Robinson, Jr. is the President of the National Voluntary Organizations Active in Disaster. He is Associate for Disaster Response in the U.S. for Presbyterian Disaster Assistance (PDA), the disaster response ministry of the Presbyterian Mission Agency of the Presbyterian Church, U.S.A. He is the author of the Spiritual Care section of the web-based International Disaster Psychosocial Support Manual and was on the writing team for
Light Our Way, A Guide to Spiritual Care in Times of Disaster
published by National VOAD. Rev. Robinson's introduction to disaster ministry came following the 1984 tornadoes in Southeastern North Carolina, when he formed the Interfaith Disaster Assistance Corporation that rebuilt 155 homes and built 38 new homes for survivors of the disaster.