Luke 1:46-55
As we round out the Advent season, we are again reminded that in the birth of Jesus The Christ, we find the embodiment of God's liberative promise. This Christmas Eve, we have an invitation to ponder this glorious liberation through a womanist exploration of the Magnificat, Mary's song of praise and prophetic proclamation in the gospel of Luke.
Womanist theology, as we have seen, is rooted in the experiences and perspectives of Black women. In this Black woman's body, the energy of womanist thought provides a holy intimacy and powerful vantage point to understand the embodied message of liberation in the Gospel. I assert that there is something in how Mary sings her way through a time of deep disorientation and reorientation to be fully present for what God is up to that speaks to the Womanist disposition. Mary offers to God a coordinated groove composed of spirit, lyric, and movement. As we ruminate on Mary's Magnificat and how it reflects the theme of glorious liberation, it feels faithful to bring it in conversation with phrases from The Color Purple author Alice Walker's original definition of the word "womanist" from In Search of Our Mothers' Gardens: Womanist Prose.
Mary and her "outrageous, audacious, courageous or willful behavior."
v.46: "And Mary said, 'My soul magnifies the Lord,'"
Mary's soul-searching song signifies, signals, extols, and expands the divine liberation made possible with God. Her declaration sets the timbre and tone for the transformative power of God about to be birthed into the world through Jesus. Furthermore, in the lifting of her own voice in a space of patriarchy, I hear echoes of the womanist call to center the experiences of the marginalized and oppressed, including our very own.
Mary the "Responsible. In charge. Serious."
v.47: "and my spirit rejoices in God my Savior," v. 48: "for he has looked on the humble estate of God's servant. For behold, from now on all generations will call me blessed…" v. 49: "for he who is mighty has done great things for me, and holy is God's name."
In acknowledging God as her Savior, Mary is not playing around as she recognizes the source of her liberation. She is grounded and clear about who is the center of her joy. Womanist theology affirms that liberation is intertwined with authentic spirituality and faith, and Mary's rejoicing underscores this connection.
God's regard for Mary's humble state exemplifies the womanist principle of recognizing the marginalized and their potential for greatness. Mary's song reflects the idea that God chooses the overlooked and oppressed to be agents of transformation.
Mary was open to know more and in greater depth than is considered "good" for one.
Mary's declaration highlights the might and holiness of God, underscoring the divine source of liberation. Womanist theology often emphasizes God's power in the face of adversity, and Mary's words affirm this truth.
v. 50: "And God's mercy is for those who fear him from generation to generation." v. 51: "God has shown strength with God's arm; God has scattered the proud in the thoughts of their hearts;" v. 52: "God has brought down the mighty from their thrones and exalted those of humble estate;"
Mary's wise words holler out that God's mercy is not a limited resource; it extends to all generations. Mary's words belt out womanist thought, the promise of liberation that is a deep and enduring one, providing hope for the oppressed across time and space.
Mary's song is an anthem for faithful folk "committed to survival and wholeness of entire people, male and female."
God's strength is evident in God's glorious acts of liberation. The Holy One makes the proud run like roaches and disrupts their oppressive intentions. Mary's musical musings emphasized the reversal of oppressive power dynamics reflective of yet another blessed central theme in womanist thought. Mary's words affirm the theme of liberation through divine justice while emphasizing the divine intervention that uplifts the marginalized and humbles the powerful.
Mary's hype song for the baby in her womb invites us over and over to love the God who teaches us how to "love love" and "love the folk."
v. 53: "God has filled the hungry with good things, and the rich God has sent away empty." v. 54: "God has helped God's servant Israel, in remembrance of God's mercy," v. 55: "as God spoke to our fathers, to Abraham and to God's offspring forever."
In these stanzas, we see God's justice in providing for the hungry and challenging the excess of the rich. It echoes the womanist commitment to addressing economic disparities and ensuring justice for the oppressed. Mary's acknowledgment of God's help to Israel reminds us of the collective liberation experienced by communities. Womanist theology emphasizes the communal aspect of liberation, addressing systemic oppression. God's promise of liberation is rooted in God's covenant with the ancestors. Womanist theology recognizes the continuity of God's liberating work throughout history.
Mary's soulful magnification of the Holy One projects in ways big and wide the kind of wondrous work God is up to in, through and beyond her. As we consider the Magnificat from a womanist perspective, I find it resonates deeply with the experiences and struggles of Black women and marginalized communities. Mary's song hums in the hearts of many as a call to action for all believers, encouraging us to align ourselves with God's liberating mission.
Might we prepare to enter the light of Christmas joy like Mother Mary in touch with the glorious liberation of spontaneous creativity and hope. Might the annual reminder of miraculous new birth made present in the Christ-Child inspire us to find new words and rhythms, ways that center the marginalized and yield to the voice long silenced like that of the young, marginalized woman sent as a vessel of divine liberation in Mary.
Mary's recognition of God as her Savior highlights the interconnection between spirituality and liberation. In womanist theology, faith is not separated from the fight for justice; it is a powerful catalyst for liberation. Furthermore, Mary's acknowledgment of God's might in the face of adversity is a womanist reminder that divine power is a source of strength for those experiencing oppression.
Mary's healing hymn emphasizes the subversion of oppressive structures and the exaltation of the humble. Womanist theology calls us to confront systems of oppression and work toward justice. Mary's proclamation of filling the hungry and emptying the rich underscores the call to address economic disparities. In womanist thought, economic justice is a crucial aspect of liberation. There is a care for the WHOLE of the FOLK through community-centered Liberation evident in Mary's recognition of God's help to the people of Israel as community.
Mary's song reminds us that God's promise of liberation extends across generations and that we are all called to be agents of transformation in a world in need of liberation and justice.
Viewing The Magnificat through a womanist lens feels like an invitation for all of us to celebrate the divine promise of collective dignity and to actively participate in God's redemptive work made possible through joining Mary in bearing Christ within us. As we close this Advent season, let us lift up our life-songs to magnify the Lord like Whitney, rejoice in our Savior like Aretha and embrace the communal call to work for justice and liberation for all, especially the marginalized and oppressed like Ella Baker.
---
Reflection:
In what ways does the Magnificat speak to you in this moment?
How are you working toward liberation for all? What are you doing in your own communities to bring about the care for the "WHOLE of the FOLK"?
---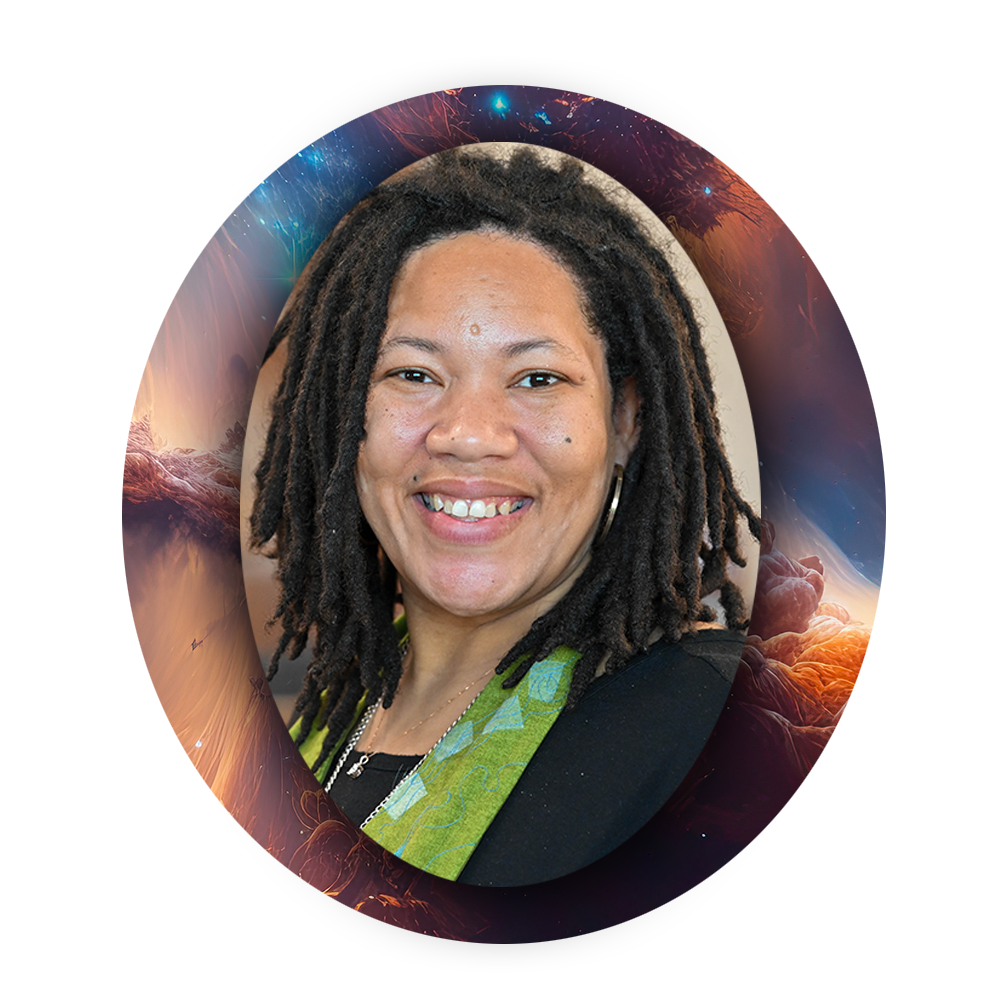 The Rev. Shavon Starling-Louis was born and raised in St. Petersburg, Florida, and is the daughter of Trinity and Lakeview Presbyterian Churches. She graduated from St. Leo University with a degree in Psychology.
Shavon discovered her call to ministry while working as a church office administrator, campus ministry intern and ecumenical community organizing office administrator. She received her Master of Divinity from Columbia Theological Seminary with Honors in Practical Theology.
She has served as a pastor or co-pastor of several churches, including First Presbyterian Church in Midwest City, Oklahoma, Meadowlake Presbyterian Church in North Carolina and Providence Presbyterian Church in Rhode Island. Shavon is currently serving as senior pastor at Memorial Presbyterian Church in Charlotte, North Carolina.
Shavon organized the establishment of The SPACE (Sanctuary for Prayer and Creative Expression) and has been active in national leadership roles in the denomination. She served on the Leadership Innovation Team for the Presbyterian Mission Agency – NEXT Church, the National Committee for the Self-Development of People and as co-creative director for GA225 Worship.
She has written numerous articles and faith formation curriculum for Christian publications, served as church leadership consultant, facilitated workshops and collaborative learning spaces, and is a certified antiracism facilitator. Shavon is also in demand as a conference preacher, having participated in Montreat's Youth Conference as well as MoRanch Women's Conference.
She is married to Kirk Louis and shares two children, Sariah and Kamden.