Weeping with Those Who Weep
"Rejoice with those who rejoice, weep with those who weep." Romans 12:15 NASB
"Dance with the ones who dance for joy, and shed tears with the ones whose hearts have fallen to the ground." Romans 12:15 FNV
"Creator's blessing rests on the ones who walk a trail of tears, for he will wipe the tears from their eyes and comfort them." Matthew 5:4 FNV
Lent can be a time to lament, not just our own sorrows, and not only for what our Native people have lost—but what Creator has lost. And in the end, what all of the Western World has lost in the ravaging of hundreds of cultures with their languages, dances, arts, and worldviews.
In my Christian tradition, I was not raised to participate in Lent, or in many of the other worldwide faith traditions based on the Christian calendar. So I find it humbling to write a few thoughts on this ancient practice.
Like many First Nations people, I was not raised in my culture and have had to reconnect with the help of mentors and elders over the past 25 years. This experience has helped me to appreciate ceremonies and rituals. I am now beginning to engage with long-established Church ceremonies and rituals such as Lent.
Ceremonies and rituals help us remember our spiritual roots. In my understanding, the most important Christian ceremony is Holy Communion. In the words of Jesus, "do this in remembrance of me." In our Native cultures ceremony and ritual serve the same purpose, they help us remember our spiritual ways and reinforce our sacred teachings.
Lent provides us with a shared time of repentance, of rethinking our lives in the light of Jesus' teachings and example, with a focus on the 40 days he spent in the desert wilderness of Judea fasting and praying. In our Ojibwe teachings, this would be similar to what is sometimes called a vision quest; a time to fast, pray, and seek one's life purpose. Through this, we learn what our gifts are and how to lay down personal desires to serve the community.
I like how Lent inspires us as a worldwide body of believers in Jesus to participate yearly in this kind of remembrance. We remember what Jesus did and follow in his footsteps in personal ways.
Lent inspires a strong focus on repentance. When we read the story of how John the Baptist called Israel to repentance, we see that people came confessing their sins. I always thought they focused on their individual sins, perhaps lying, stealing, or cheating. I would like to suggest that in the spirit of Daniel, they were also confessing the sins of their Nation and the effect those sins had on all the people—and how they misrepresented God (See Daniel 9).
So, as valuable as it is to focus on our own spirituality and repent of personal sin, we should consider a larger way to understand what we "repent of" during Lent.
I have heard Lent called "The Great Fast." Fasting is an integral aspect of the Lenten journey. Fasting sets the stage for repentance.
So why does Creator call us to fast? It appears that just the act of fasting, humbling ourselves, and going without is not the primary purpose. It doesn't seem to be about us.
Creator speaks through the prophet Isaiah and clarifies Israel's misunderstanding of the call to fast: "Is not this the kind of fasting I have chosen: to loose the chains of injustice and untie the cords of the yoke, to set the oppressed free and break every yoke? Is it not to share your food with the hungry and to provide the poor wanderer with shelter—when you see the naked, to clothe them, and not to turn away from your own flesh and blood?"- Isaiah 58:6-7 NIV
I hear Creator saying that fasting, literally going without food or some other kind of privilege, helps us to identify with those who do not have the privilege and advantages some of us enjoy. Through fasting we can begin to identify with the pain of others, the grief of others; to spur us to pray for the oppressed and do something to help.
John in his Gospel story tells of the time that Lazarus, a close friend of Jesus, was sick and died. When Jesus arrives and sees the family grieving, he identifies with their sorrow and loss. Then we read, "Jesus wept." (John 11:35).
Jesus was weeping with those who weep.

I would like to share a personal story where I and my wife experienced something similar.
On Wednesday, June 6th, 2012 my wife Darlene and I attended a yearly ceremony hosted by the Saginaw Chippewa Tribe in Mt. Pleasant, Michigan called Honoring, Healing, and Remembering. The purpose was to honor and lament the memory of the Indian children of the Mt. Pleasant Indian Industrial School—those who were abused and died there, and the families affected, even to this very day. And to acknowledge the pain and suffering—so that healing can take place. In the tribe's own words: "We recognize the suffering, strength and resilience of the children through a day of memoriam and fellowship." 

As we listened to the Elders share the memory of the abuse and pain inflicted on the innocent children incarcerated there—we could only silently weep. The boarding school ran for 42 years—1892 to 1934. The Elders told us of the time Native parents would come to pick up their child only to discover, upon arrival, that their child had died earlier in the year.
On the day we were there they announced the names of 158 Native children who had died at that boarding school. During the ceremony they called out the name of each child followed by a single honor beat on a large Native drum. In between each beat you could hear the elders weeping.

I was born and raised in Michigan, the land of the Anishanabeg: the Ojibwe, Odawa, and Potawatomi. I could hardly believe my ears as we listened, learned, and looked into the faces of the Elders as they choked out their memories. It was a time to "weep with those who weep."

"We are forgiving the unforgivable" one Native Spokesperson announced.

In the American church today there is a lot of hype and triumphalism preached from  pulpits and televisions every Sunday. A lot of talk of rejoicing and overcoming but little about tragedy, grief, weeping, and sorrow—a very real part of our humanity.

Jesus wept as he stood before the grave of Lazarus and listened to the expressions of sorrow from the family. It moved and troubled him as he felt the very real pain of our human existence. Their sorrowful faith moved him to action.

There is a time to weep.

America and its churches need to take time to confess, repent and mourn the loss of thousands of Indian children who died in the over 500 boarding schools. And lament the emotional, physical, sexual and cultural abuse that brought devastation on our Indigenous Peoples disrupting family structures and nearly wiping out languages, traditions, and way of life. These government authorized schools were often run by churches. Mt. Pleasant school was run by Methodists. The Catholics run Holy Childhood of Jesus boarding school in Harbor Springs which was the longest running school closing in 1983. American Indian Boarding schools became a template for Canada and Australia.

I know that Jesus, the man of sorrows, was there on that Wednesday weeping with us all at the devastating misrepresentation of his love. The only solace I can find is that when he suffered on the cross it was to expose and absorb the injustice and pain of sins like this, and show us how to forgive and make sure this never happens again. This gives me the hope of restoration, where Creator will give "beauty for ashes."

Lent can be a time to lament, not just our own sorrows, and not only for what our Native people have lost—but what Creator has lost. And in the end, what all of the Western World has lost in the ravaging of hundreds of cultures with their languages, dances, arts, and worldviews.

            I am one who weeps.
            I cannot stop the tears that are falling from my eyes.
            Will no one come near to comfort me?
            Is there anyone to lift up and restore my spirit?
            My children are undone.
            My heart is on the ground.
            For the enemy has come and he has walked over us.
– Lamentations 1:16 First Nations Version

Miigwech Bizindowiyeg (thank you for listening).
Gitchi Animiki Meno Mashkiki Manido (Voice of Great Thunder with a Good Medicine Spirit)
---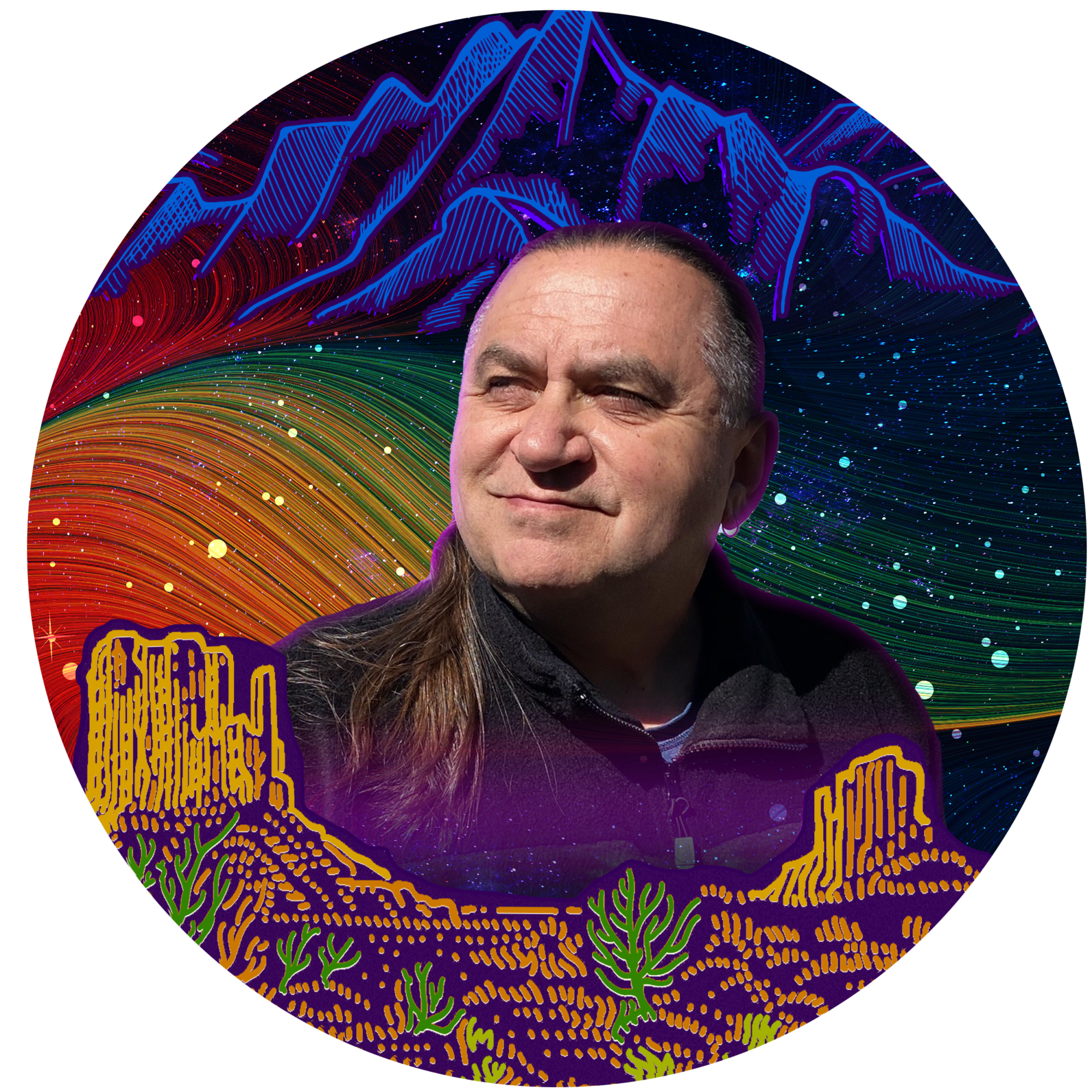 Terry M. Wildman, of Ojibwe and Yaqui ancestry, is the Lead Translator and Project Manager of the First Nations Version. He serves as the Director of Spiritual Growth and Leadership Development for Native InterVarsity. He's also the founder of Rain Ministries and has previously served as a pastor and worship leader. Terry and his wife live in Maricopa, Arizona, on the traditional lands of the Pima and Tohono O'odham. Together they are the GRAMMY-nominated and Nammy award-winning musical duo and recording artists known as RainSong.