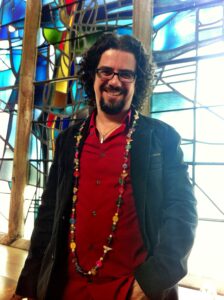 Claudio Carvalhaes, theologian, liturgist, performer, writer and activist, teaches at Lutheran Theological Seminary in Philadelphia, PA.
I believe that this is one of the most important racial events that happened in this country recently, and that we must deal with it. This excerpt from a sermon I preached at Big Tent reflects my perspective.
Since we are caught up together in this new tragedy, no maps for faithful trajectories, we must continue to press on to bring about "The Beloved Community," a term created by the philosopher-theologian Josiah Royce, and developed by Dr. Martin Luther King, Jr. The beloved community is an ample metaphor to be used as a spring board, an outlet, a conduit, a symbol, and also a concrete place of arrival for our society, a place where love, peace and justice could live together.  
If we are to be the beloved community, we must put Trayvon Martin right next to Martin Luther King Jr.
[Editor: Dr. Carvalhaes put on a white hoodie and gave out Skittles candy and ice tea to people.]
No theologies should be done without the hood on our heads anymore! From now on, I will only write about God if I wear a white hood, and eat skittles and drink ice tea! That will be my Eucharist from time to time in memory of Trayvon Martin and the precious building of the beloved community!
If we are to build the beloved community and break with the systems of injustice, we must acknowledge our blatant and hidden racism! All of us!
Further editorial note: Carvalhaes' sermon to the Youth Triennium also used the symbolism of the hoodie, as have other preachers.