On Saturday morning, August 10, I woke up to the sound of eviction: the thunder of bedroom furniture and family possessions ejected into a metal container parked in our driveway, the rattle of a chainsaw through the walls tearing carpet from floors. As neighbors, we shared a wall with Charles and Ryda and their three children. We heard them run up and down the steps in the morning; we baked them brownies and they knocked on our door when we left our headlights on. As white gentrifiers, we knew that our relationship with our Black neighbors was precarious. Our purchase of a flipped condo added one more straw to the hay fire of rising property taxes in South Nashville. We have seen our neighbors transition between housing rentals, searching for the elusive promise of affordable housing. Yet nothing prepared me for the moment of hearing the evictor call my neighbors "filthy" like a "crack house." They were evicted overnight, and then, racially disparaged. I felt outraged.
One month later, Nashville elected a new mayor, John Cooper, following his campaign for neighborhood prosperity. Prosperity looks different in my neighborhood than other parts of Nashville. Black couples who have lived here for twenty years own one-story ranchers. Latino families hold front-yard barbecues on Saturday afternoons. Recently arrived refugee youth ride their bikes outside their apartment complexes after school. It is only a matter of time before my neighbors, like Charles and Ryda, can no longer afford to live here. Once the neighborhood changes, more of our neighbors will look like us.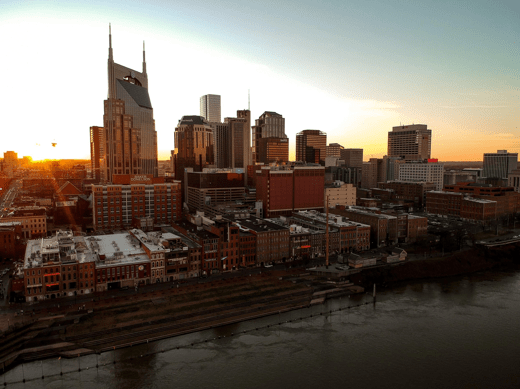 Nashville, like many cities across the nation, has undergone the recurring cycle of gentrification, the reversal of white-flight that has left low-income workers and people of color to seek housing elsewhere. At the Spanish-speaking Presbyterian church in our neighborhood, members travel forty five minutes from the suburbs of Nashville to worship with a Latino congregation. The shortage of affordable housing is a crisis in Nashville. Following the new mayoral election this September, it remains to be seen how development will fare for the majority of Nashvillians who are cost-burdened by rising rent prices while the Amazon towers promise to rise on the skyline.
Just miles from the promised development surrounding the new Major League Soccer stadium at the Fairgrounds, my neighborhood is the new "hot spot." Rising home prices will spread like dye down the veins of Nolensville Pike. Our neighborhood will see the hurricane of demolition bulldozers, the flock of cranes building nests of luxury apartment buildings and the implantation of tall and skinny houses like an invasive species. The generational wealth and white privilege that I have inherited and the master's degree from Vanderbilt University that I will receive will protect me from these changes. As a homeowner, I am part of this system of gentrification and erasure.
As a student at Vanderbilt Divinity School, a theological institution dedicated to social justice, I have learned that gentrification is systemic racism. Black neighborhoods that were redlined in the 1930s under Jim Crow are now considered "ripe" for development. Displacement is not race-neutral. Migration in Nashville is pushing out people of color for white people to move in. As a Presbyterian, I am called by my faith to be part of creating a different system — a neighborhood with hospitality not greed — as its cornerstone (1 Timothy 6:10).
On the morning after the election, I drove to my field education internship site at Conexión Américas, a Latino non-profit in South Nashville. Conexión Américas serves 9,000 individuals each year through its educational programs and advocacy work. In 2012, Conexión Américas established Casa Azafrán, a community center on Nolensville Pike, to create a space for hospitality and services to support refugee and immigrant communities. On any given day at Casa Azafrán, immigrant entrepreneurs convene to learn financial and technological skills, members of the Mesa Komal culinary incubator prepare for catering events, and parents make a family plan for protection in case of detention or deportation. The community members who enter Casa Azafrán learn the counter-cultural narrative that immigrants belong, contribute and succeed in Tennessee. I chose to work at Conexión Américas to contribute to the wellbeing of the Latino community: to show up for my neighbors as a white Christian in our state plagued by violent ICE apprehensions and raids.
Because Nolensville Pike has been coined the "international corridor" of Nashville, Conexión Américas, along with its partners in the Envision Nolensville Pike collaborative, are advocating for equitable development. As I drove to work that morning, I saw a new apartment complex being raised adjacent to Nolensville Pike just across the fence from the construction site of the new soccer stadium.
The site will be home to the construction of 83 affordable shipping container apartments to attract service workers, millennials and those who can't afford a half-million dollar condo. It resembles the compound of shipping containers in West Nashville that was converted into a Crossfit gym and vegan ice cream shop surrounded by a hip volleyball court.
The apartments, rust-red and grey and box-shaped, were made of shipping containers, the same material used for a prototype of an "eco-friendly border wall." At a time when immigrants and asylum seekers are being forced to remain in Mexico, when President Trump wants to open fire at people crossing the border, the border wall has become the hyper-focus of American racism.
Meanwhile, in Nashville, the border wall looks like a construction fence in a gentrifying neighborhood built by the people who cannot afford the homes they are constructing. Latino construction workers work to meld the shipping containers together in 98-degree heat. The "for sale" sign outside the apartments will call for the city's "newcomers" with resources: Border wall closed. Shipping container apartments built by Latino immigrants for sale. The people who will gentrify the Wedgewood-Houston neighborhood will not be called immigrants, but new tenants and homeowners. White young creatives like myself will live in the steel boxes as minimalists and struggle to make it in Nashville, the It City.
Signs of the border pervaded the neighborhood: Black neighbors talked across the yard of their one-story ranchers with tall-and-skinny duplex homes hovering over them. The new shipping container apartments were surrounded by a fence installed by Río Grande Fence Company. The American flag blew in the wind attached to the extended crane, the new "official bird of Nashville."
The people building Nashville will not inherit the riches of this city. The cost of gentrification is high and creates a border wall around the city. In the words of Luis Alberto Urrea: "The border is everywhere, everywhere."
Who will be my neighbor?

---
Elizabeth Welliver is a writer, social activist and graduate student at Vanderbilt Divinity School. Elizabeth is an alumna of the Young Adult Volunteer program and a member of the Presbyterian Peace Fellowship Activist Council. She most enjoys going for walks on Nashville greenways and learning from our collective stories.