Decem­ber 20, 2011, by Chris Iosso, A Christ­mas Editorial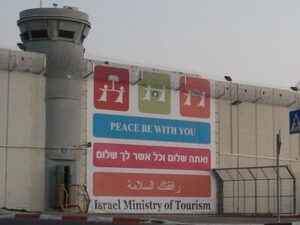 When we pray for the peace of Jerusalem, we should also pray for Beth­le­hem. Most read­ers will know that the city is largely sur­rounded by a high cement wall. Israeli sol­diers and sur­veil­lance devices con­trol who gets in and out; tourists can come and go, set­tlers can come and go, Pales­tini­ans are effec­tively locked in except for rare per­mits.
Beth­le­hem Besieged is the title of a book by the pas­tor of the Beth­le­hem Lutheran Church, Mitri Raheb, who describes the evo­lu­tion of this grim real­ity since the Israeli mil­i­tary occu­pa­tion began in 1967. With con­stant Israeli set­tle­ment con­struc­tion on Pales­tin­ian land—here is a cur­rent attempt to take land belong­ing to the Cremisan Chris­t­ian Monastery in Beit Jala near Bethlehem—the siege con­tin­ues to tighten and the chances of a two-state solu­tion diminish.
This Decem­ber, a brave and non-violent group of Chris­t­ian Pales­tini­ans have built on a two-year old "Kairos Pales­tine" doc­u­ment with a "Beth­le­hem Call."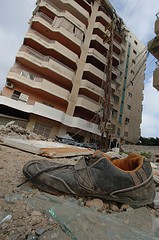 The Kairos sign­ers resisted Israeli gov­ern­ment pres­sure in sign­ing; their res­i­dence per­mits, per­mis­sion to travel, all mobil­ity is con­trolled by Israeli secu­rity forces. The same courage was required of the Beth­le­hem group for men­tion­ing eco­nomic pres­sure strategies—such as used in South Africa's cam­paign against apartheid. Warn­ing: defend­ers of Israeli occu­pa­tion pol­icy have crit­i­cized the Lutheran, Dis­ci­ples, and United Church of Christ for post­ing this doc­u­ment and urg­ing peo­ple to read it. We also give links below to their cri­tiques, but we stand with our Chris­t­ian broth­ers and sis­ters in lift­ing up these non-violent voices. After all, our basic Pres­by­ter­ian pol­icy is called "Break­ing Down the Walls." And in fact we do chal­lenge the legit­i­macy of Israel's occu­pa­tion which vio­lates the Geneva Con­ven­tions and costs the United States dearly in rep­u­ta­tion around the world.
In focus­ing, at Christmas-time and Christmas-tide, on the plight of the Chris­t­ian rem­nant in occu­pied Pales­tine, we do not mean dis­re­spect to the Mus­lim major­ity. The U.S. State Department's annual Human Rights report on Israel-Palestine doc­u­ments the dis­crim­i­na­tion against all non-Jewish faiths, and to some degree against non-Orthodox Jews. The State Depart­ment focuses on gov­ern­ment pol­icy, such as the pro­tec­tion given only to Jew­ish his­tor­i­cal sites, and not, for exam­ple, the increas­ing prac­tice of set­tlers spit­ting on Chris­t­ian clergy in Jerusalem. Chris­tians trav­el­ing to Israel and Pales­tine are encour­aged to read the doc­u­ment Come & See so that they see an accu­rate pic­ture of the occu­pa­tion and do not add inad­ver­tently to the oppres­sion of other Chris­tians or Pales­tini­ans generally.
We also link below to the elo­quent let­ters from the Lutheran and Epis­co­pal bish­ops of the area, which reveal the great strug­gle for hope among peo­ple under steady pres­sure by an Israeli gov­ern­ment com­mit­ted to a "Greater Israel." But to pro­vide a broad con­text for those efforts to main­tain hope we quote (with per­mis­sion) from the per­sonal Dec 17 let­ter of our mis­sion co-worker in the region, Doug Dicks:
Dear Fam­ily and Friends:
Dur­ing this sea­son of Advent, and only days before Christ­mas, who can read Isa­iah 9 and not recall the events that have unfolded, not only in the Mid­dle East, but around the entire world, this past year? "The peo­ple who have walked in dark­ness have seen a great light…"
The Arab Awak­en­ing, known locally as the Arab "Spring"—which nei­ther began in the Spring nor was con­fined to just one season—has turned the Mid­dle East both upside down, and inside out.
And it's not over yet!
From Tahrir Square in Cairo, Egypt, to St. Paul's Cathe­dral in Lon­don, Eng­land, and Occupy Wall Street in New York City, it appears as though peo­ple have awak­ened from a deep sleep, to a new sense of peo­ple power, and are risk­ing both lives and limbs to exert pres­sure on their respec­tive gov­ern­ments in call­ing for sig­nif­i­cant change and gov­ern­ment account­abil­ity: an end to cor­rup­tion, eco­nomic dis­par­ity, job­less­ness, hunger, and cor­po­rate greed. As stock mar­kets rise and fall, and coun­tries in Europe teeter on eco­nomic col­lapse, our world seems to move from cri­sis to cri­sis, with no real lead­er­ship on the world scene to address, once and for all, these global issues. The over­ar­ch­ing ques­tion remains: will all of these street protests and anger lead to good gov­er­nance on the part of world lead­ers, or sim­ply unend­ing dis­con­tent and chaos?
One year ago today, a young Tunisian man by the name of Mohamed Bouaz­izi set him­self alight, after police humil­i­ated him, and con­fis­cated his push cart and wares. He was sim­ply try­ing to make a hum­ble liv­ing, in a city, in a coun­try, in a world that was unwill­ing to allow him to do so. This one sin­gle act, though tragic in both its scope and its con­se­quences, lit a spark that spread through­out the Arab world—and beyond.
One can almost hear the ancient plea from Psalm 13 of "How Long, O' Lord?"
"…But I trusted in YOUR stead­fast love; my heart shall rejoice in YOUR salvation."
On a recent visit to Beth­le­hem, Pales­tine, I heard hope expressed, over and over again. Sev­eral peo­ple said to me that they were not "opti­mistic"; how­ever, they did say, they had "hope". Yet how does one pro­vide "hope" to the younger gen­er­a­tion, in sit­u­a­tions that appear to be hope­less? How does one dis­tin­guish between opti­mism and hope? It is liv­ing into HOPE that is per­haps the great­est chal­lenge for the church in the Mid­dle East—and I sus­pect, for the entire world—in these times of uncer­tainty, doubt, fear, want, and despair.
Yet, the Christ­mas story found in Luke pro­vides us all with the assur­ance of God's love for us, and God's will that we live lives that are worth living.
In a bro­ken, rest­less world, full of bro­ken peo­ple, just like us, All redeemed by God's grace, the child of Beth­le­hem con­tin­ues to pro­vide us with, and instill in us, hope. Jesus Christ is both our hope and our peace.
"For HE is our peace; in his flesh he has made both groups into one and has bro­ken down the divid­ing wall, that is, the hos­til­ity between us." (Eph­esians 2:14)
As we make our spir­i­tual jour­ney towards the manger of Beth­le­hem in these wan­ing days of Advent, we take comfort—and hope—in the child of Beth­le­hem, born into a rest­less world that, though cen­turies apart, was prob­a­bly not unlike our own…
The Chris­tians, and indeed, all peo­ples of the Mid­dle East, are long­ing for jus­tice in the Holy Land today. But fol­low­ing Christ demands unequiv­o­cally "Love your ene­mies; do good to those who hate you." And from the words of the Beth­le­hem Call, issued last week from the Kairos Pales­tine group, "…vic­tims and per­pe­tra­tors can­not be put on equal foot­ing in efforts to cre­ate illu­sions of bal­ance… In love, we rage against injus­tice and yet refuse to be destroyed by our anger."
"In this world you will have trou­ble, but take heart; I have over­come the world." (John 16:33)
In an age of empire, over­com­ing the world is what we as Chris­tians are called to do. Not to con­form to the world, but to over­come it…
In this sea­son of giv­ing, and of "peace on earth, good­will to all," may we have a greater aware­ness of those around us—in our church, in our com­mu­ni­ties, in our soci­eties, and in our world—and respond when­ever pos­si­ble with com­pas­sion to those in need, keep­ing in mind that YOUR face might very well be the only image of Christ that they see.
Wish­ing you the peace and joy of this sea­son,  Doug
_______________________________________
For Action
_______________________________________
For Fur­ther Study
 

The Rev. Chris­t­ian Iosso, Ph.D., is the Senior Edi­tor of Unbound and Coor­di­na­tor of the Advi­sory Com­mit­tee on Social Wit­ness Policy.