Inter­faith Worker Jus­tice is call­ing on clergy and peo­ple of faith to make a stand: to pub­licly demon­strate their desire for Wal-Mart to do what is best for the com­pany, its work­ers, and the sur­round­ing com­mu­nity via prayer vig­ils at their local store. Wal-Mart's intim­i­da­tion tac­tics, poor pay, and worker mis­treat­ment must change. Let's make "Black Fri­day mem­o­rable for them."
By Rev. Michael Liv­ingston and Mr. Blake Valenta of Inter­faith Worker Justice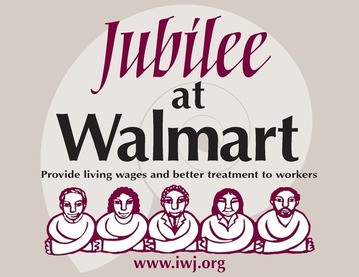 This Novem­ber 23rd, at pre­cisely 12:01 AM, mil­lions of Amer­i­cans will surge into their local Wal-Mart. They will go eagerly search­ing for the rock bot­tom prices Wal-Mart stakes its rep­u­ta­tion on. But this focus on low prices comes at a cost—a cost felt in the daily lives of the work­ers directly and indi­rectly employed by Wal-Mart. In response, Wal-Mart work­ers in recent months coura­geously went on strike over wages and safety con­cerns. This Black Fri­day, Inter­faith Worker Jus­tice asks peo­ple of faith to stand in sup­port of the work­ers of Wal-Mart, by orga­niz­ing or join­ing prayer vig­ils at their local Wal-Mart. Doing so will be an act of faith in con­cert with the sacred texts of many reli­gious tra­di­tions, Chris­tian­ity among them.[1] For many of you this may be your first prayer vigil. So we would like to take a few min­utes to com­ment on the work­ing con­di­tions of Wal-Mart work­ers, the effects of these con­di­tions, what the work­ers are doing to change these cir­cum­stances, and what you can do to sup­port them.
THE
WORKERS
The largest pri­vate employer in the United States, Wal-Mart employs 1.4 mil­lion Amer­i­cans. It is uniquely posi­tioned to be on the van­guard of fair wages and just labor prac­tices, yet the risks involved in tak­ing full advan­tage of this oppor­tu­nity have proven an effec­tive deter­rent to change. You have heard Wal-Mart's claim that the aver­age employee wage is $11.70. How­ever, the inde­pen­dent mar­ket­ing com­pany IBIS­World puts the start­ing wage at $8.81,[2] a fig­ure cor­rob­o­rated by actual Wal-Mart employ­ees. As you can see in this video, when con­fronted, Wal-Mart is less than forth­com­ing.[3]
To make mat­ters worse Wal-Mart keeps a tight restric­tion on hours, forc­ing many employ­ees into part-time sta­tus.[4] This makes it dif­fi­cult, if not impos­si­ble, for its employ­ees to find other work to sup­ple­ment their income. It also deprives those who work fewer than 24 hours a week of health ben­e­fits. So it comes as no sur­prise that a report found that, in Cal­i­for­nia, Wal-Mart employ­ees uti­lize 40% more tax­payer funded health­care than other large retail employ­ees.[5] Wal-Mart saved mil­lions, you the tax­payer made up the difference.
Of those lucky enough to get full­time work, Wal-Mart has a track record of deny­ing over­time by ille­gally "shav­ing hours" off employee's timesheets. In fact in 2008, the com­pany was busted on wage and hour vio­la­tions total­ing over ½ bil­lion dollars—the largest wage vio­la­tion set­tle­ment in his­tory.[6] We leave it to you to decide if work­ers will be fully com­pen­sated for those extra hours put into Black Friday's mid­night opening.
The com­bi­na­tion of low pay and poor ben­e­fits cre­ates a per­fect storm of finan­cial chaos for under­paid work­ers. The fam­i­lies of Wal-Mart employ­ees use an esti­mated 38% more in pub­lic assis­tance pro­grams (food stamps, sub­si­dized school lunches, sub­si­dized hous­ing, earned income tax credit) than the aver­age fam­i­lies of other large retail employ­ers.[7] But Wal-Mart's abuse extends beyond the work­ers in the store.
The rows and rows of mer­chan­dise in Wal-Mart's mas­sive stores get from load­ing dock to ware­house to store shelf by a com­plex chain of eco­nomic rela­tion­ships that insu­late the com­pany from respon­si­bil­ity for the toll exacted upon the work­ers who han­dle these goods. Main­tain­ing Wal-Mart's enor­mous logis­tics sys­tem involves poorly paid, extremely dan­ger­ous ware­house work. There is a ver­i­ta­ble army of ware­house work­ers engaged in deliv­er­ing the items shop­pers will see on Wal-Mart shelves this Black Fri­day. Wal-Mart is noto­ri­ous for its role in out­sourc­ing man­u­fac­tur­ing jobs to China,[8] but with ware­house work­ers Wal-Mart engages in what some have called 'domes­tic out­sourc­ing'. Wal-Mart out­sources these jobs to other com­pa­nies in order to export the blame while demand­ing even more ruth­less cost cut­ting mea­sures at the expense of the work­ers. In Wal-Mart's many logis­tic hubs around the U.S., work­ers expe­ri­ence unpaid wages, health and safety vio­la­tions, and other labor vio­la­tions.[9] When­ever a scan­dal breaks, Wal-Mart just fires the "one bad apple" com­pany and con­tin­ues busi­ness as usual.
THE
CAUSE
But why does the 3rd largest employer in the planet (behind only the Depart­ment of Defense and the People's Lib­er­a­tion Army of China) "need" to do this? Wal-Mart is already the largest sup­plier of gro­ceries in Amer­ica, cap­tur­ing one out of every four U.S. dol­lars spent on gro­ceries;[10] its CEO makes, in one hour, what the aver­age employee makes in a year;[11] and each week nearly one-third of the U.S. pop­u­la­tion walks its aisles.[12] Wal-Mart sup­port­ers claim that low pay is the only way to keep prices low for the con­sumer and the only way for Wal-Mart to stay com­pet­i­tive and prof­itable. This does not with­stand scrutiny.
Wal-Mart claims to save house­holds an aver­age of $2,300 per year (a more accu­rate analy­sis puts it at $920[13]), yet a report out of UC Berkley shows that rais­ing the min­i­mum wage of their hourly employ­ees to $12 an hour would only raise the yearly shop­ping bill of con­sumers by about $12 ($.42 a trip)[14]. Wouldn't you be will­ing this Black Fri­day to pay an extra $.42 so those who stock the shelves and check out your pur­chases can make a decent wage? Regard­ing com­pet­i­tive­ness, the Eco­nomic Pol­icy Insti­tute has shown Wal-Mart could raise wages for non-managers by 17% and still remain com­pet­i­tive with Costco, their major big box com­peti­tor. [15]
Only one answer truly explains this con­sis­tent dis­re­gard for the worker and com­mu­nity. Wal-Mart holds to a ruth­less cost cut­ting motto, where sav­ing a buck trumps all other social and civic respon­si­bil­i­ties. What does your faith say to you about this?
THE
FIGHT
Despite the risks and chal­lenges, work­ers are fight­ing back. Groups such as Orga­ni­za­tion United for Respect at Wal-Mart (OUR­Wal­mart), Ware­house Work­ers United, and Ware­house Work­ers for Jus­tice have formed in the last few years to give voice to the work­ers of Wal-Mart. OUR­Wal­mart is a group of Wal-Mart work­ers sup­ported by the UFCW (United Food and Com­mer­cial Work­ers Inter­na­tional Union) who have come together to fight for fairer pay, ben­e­fits, and sched­ul­ing. These are the brave men and women you read about recently who went on strike in Illi­nois and Cal­i­for­nia. Far from being iso­lated blips, these strikes quickly spread to twelve other states.[16] The risks these men and women took can­not be under­stated. They went on strike with­out the pro­tec­tion of a union con­tract and with the knowl­edge of Wal-Mart's his­tory of retal­ia­tory action against work­ers who stand up for their rights (watch this video to hear one such story).[17]
Much like OUR­Wal­mart, the Ware­house Work­ers for Jus­tice (sup­ported by the United Elec­tri­cal Work­ers) and Ware­house Work­ers United (sup­ported by Change to Win) are groups that edu­cate ware­house work­ers of their rights, bring together work­ers to defend these rights on the job, and advo­cate for changes to improve the lives of ware­house work­ers. They helped work­ers at Wal-Mart ware­houses in Elwood, IL, and the Inland Empire area of Cal­i­for­nia to suc­cess­fully strike against ille­gal retal­i­a­tion against work­ers who spoke out about labor vio­la­tions (and they won!).[18]
HOW

YOU

CAN

HELP

:

EXERCISE

YOUR

FAITH




As you may have read, OUR­Wal­mart issued a warn­ing to Wal-Mart that their intim­i­da­tion tac­tics, poor pay, and worker mis­treat­ment must change or they "will make sure that Black Fri­day is mem­o­rable for them."[19] Inter­faith Worker Jus­tice is call­ing on clergy and peo­ple of faith to make a stand: to pub­licly demon­strate their desire for Wal-Mart to do what is best for the com­pany, its work­ers, and the sur­round­ing com­mu­nity via prayer vig­ils at their local store. It is not known which Wal-Marts will be affected by the threat­ened walk offs, but the issues out­lined above affect all Wal-Mart workers.

You are not being asked to attack Wal-Mart (leave the pitch­fork and torches at home!). We are sim­ply invit­ing you to ask an extremely prof­itable com­pany to ensure their work­ers are paid a liv­ing wage and have decent ben­e­fits. It is not a boy­cott. You are not being asked to block shop­pers or shout at man­age­ment. Instead, you are, through your prayers, edu­cat­ing Wal-Mart and Black Fri­day shop­pers of the human cost of these low prices. You are telling them that, for a mere $.42 more, they could pur­chase that heav­ily dis­counted TV from a well-paid employee instead of a poverty wage part-time worker. You are ask­ing Wal-Mart to expand its vision beyond its myopic cost cut­ting focus and out to the wider com­mu­nity where its employ­ees and shop­pers live. In addi­tion, your pres­ence will act as a bea­con of sup­port to the employ­ees who may be walk­ing off in protest, con­sid­er­ing walk­ing off, or just unhappy with how they are treated.

To learn more and get involved visit the IWJ web­site to see if a prayer vigil is already started in your area.[20] If not, start one. "But I've never done one before!!" Don't worry. Inter­faith Worker Jus­tice has pro­duced a guide specif­i­cally for host­ing a Black Fri­day prayer vigil at Wal-Mart. You can down­load it by vis­it­ing the IWJ web­site.

Yes. Wal-Mart is a giant. It is dis­con­cert­ing to face a giant. But Goliath was also a giant. In the past, Wal-Mart has bent to con­certed com­mu­nity pres­sure. Ear­lier this year, civil rights orga­ni­za­tions got Wal-Mart to divest in the far right think tank ALEC. In other coun­tries, Wal-Mart rou­tinely nego­ti­ates with worker orga­ni­za­tions and unions over wages and ben­e­fits. You can even watch this video to see the U.S. Pres­i­dent voic­ing the same demands as OUR­Wal­mart.[21] But more impor­tantly, as peo­ple of faith it is the right thing to do. This Black Fri­day Inter­faith Worker Jus­tice will be at Wal-Mart not for the deals, but for jus­tice. We hope you will adopt a Wal-Mart in your neigh­bor­hood, pray­ing and stand­ing for justice.
---
Notes
[1] http://www.iwj.org/resources/what-faith-groups-say-about-worker-justice
[2] http://old.gothamgazette.com/article/searchlight/20110214/203/3463
[3] http://www.youtube.com/watch?v=jxNibCcfsXU
[4] http://faculty.coloradomtn.edu/jtroeger/business/assignments/week_08/readings/NYT-Wal-Mart%20to%20Add%20Wage%20Caps%20and%20Part-Timers.pdf
[5] http://laborcenter.berkeley.edu/retail/walmart.pdf
[6] http://www.huffingtonpost.com/2008/12/24/walmart-agrees-to-pay-wor_n_153287.html
[7] http://laborcenter.berkeley.edu/retail/walmart.pdf
[8] http://www.fastcompany.com/47593/wal-mart-you-dont-know
[9] http://www.huffingtonpost.com/2012/10/19/walmart-warehouse-workers_n_1989121.html
[10] http://www.otherwords.org/articles/50_years_of_gutting_americas_middle_class
[11] http://www.guernicamag.com/daily/sarah_jaffe_ceo_of_walmart_mak/
[12] http://www.businessinsider.com/16-walmart-facts?op=1
[13] http://www.dollarsandsense.org/archives/2011/0211harrison.html
[14]http://laborcenter.berkeley.edu/retail/bigbox_livingwage_policies11.pdf
[15] http://www.epi.org/publication/ib223/
[16] http://www.rawstory.com/rs/2012/10/10/walmart-worker-strikes-go-viral-hitting-28-stores-in-12-states/
[17] http://www.youtube.com/watch?v=LhCtDI2pOLs&t=2m29s
[18] http://progressillinois.com/quick-hits/content/2012/10/09/chicago-area-walmart-supply-workers-end-strike-win-back-pay; http://www.warehouseworkersunited.org/striking-warehouse-workers-return-to-work/
[19] http://www.salon.com/2012/10/10/walmart_strikers_raise_the_stakes_with_black_friday_ultimatum/
[20] http://www.iwj.org/take-action/jubilee-take-action
[21] http://www.youtube.com/watch?v=DnoqshSANd8&feature=related
              The Rev. Michael Liv­ingston is Direc­tor of Pub­lic Pol­icy at
Inter­faith Worker Jus­tice
. Pre­vi­ously he worked as the Direc­tor of the
Poverty Ini­tia­tive of the National Coun­cil of Churches
and as the Exec­u­tive Direc­tor of the Inter­na­tional Coun­cil of Com­mu­nity Churches. The Rev. Liv­ingston is a grad­u­ate of the Uni­ver­sity of Cal­i­for­nia at Los Ange­les and received his Mas­ter of Divin­ity and Mas­ter of The­ol­ogy degrees from Prince­ton The­o­log­i­cal Seminary.