One of my earliest memories is of traveling to the U.S. Embassy in Addis Ababa, Ethiopia where my father received a Diversity Visa. I vividly remember the Consular Officer congratulating him warmly, welcoming my family and handing over the manila envelope embossed with the State Department seal. That was my first impression of America and the vast opportunities it offered.
A few days later my family and I were on a plane for the first time, immigrating to the United States from Ethiopia. At best we knew two or three families in the US. We were fortunate because we thought we had a community we could rely on in our new life. It turned out that it was the church community that had more to offer us in getting adjusted. We had no clue what the journey ahead encompassed and what we would be met with on the other side. We had to take a massive leap of faith as we left everything we have known behind, headed to our new home with a rare second shot at life. A couple days later in the middle of winter we landed in Cedar Rapids, Iowa, where we have called home for two decades. We had to adjust quickly to a very different pace of life, make lifelong new connections and learn that the white stuff in our front lawn was not sugar, it is called snow!
Every immigrant has a unique "coming to America" story. Each journey and path taken to get here deserves to be heard and celebrated. Imagine for a moment leaving everything you know, with little to no warning, improvising to find your way through the wilderness, seeking safety and shelter. Finally, you end up in a country you have only heard of, speaking not a single word of the local language, in some cases, after spending ten, fifteen, sometimes twenty years in a refugee camp. One day, your name gets called off a list, you're given travel documents, a blue bag embossed with a seal of some intergovernmental agency, instructed to gather up your belongings and provided a couple of plane tickets. How would you feel? This is the reality of many people who get resettled as refugees in America. The opportunity to be resettled is the proverbial needle in a haystack. There are over 60 million refugees worldwide, fleeing from conflict, climate change, and various other man-made crises. Since 1980, only a little over 1.3 million people have been resettled in the United States as refugees.
Over the last four years, I have been working in the field of refugee resettlement, liaising with well-endowed local social service organizations, state and municipal governments, learning to be an advocate and a strategic partner in preparing my city, county and state to be exceptional receiving communities. I have participated as enthusiastic volunteers who have generously equipped full apartments and homes for incoming refugees, prepared meals, planned parties and mounted airport greetings for arriving families. Once the families are physically settled, I have taught civic courses as a volunteer, tutored English language to new learners. Once the job of staging the living spaces was completed, I have worked in my official capacity to reunify families who were separated by conflict or had encountered setbacks or barriers. All this experience from both sides has brought me to reflect on both the arriving and the receiving communities. It has made me think about the special role that the church can play – and often does play – in moving people from the role of immigrant outsiders to partners themselves participating in the process of welcoming.
The Lectionary for this period (Luke 2:41-52) draws attention to the family that raised Jesus as a son of refugees in Egypt to a fully-functioning community leader. After desperately searching for a missing teenager, Jesus' parents find him in the house of faith. He confidently tells them that they should not be surprised that he feels safe and at home in his father's house. He was protected there, fully engaged in discussing matters of substance, of scripture with the elders in that sacred space. There are of course, many interpretations to this essential window into Jesus' development, but one that I wish to underscore is that the house of faith was a safe haven for the young Jesus.  He was not regarded as an outsider; he was treated with dignity and respect by those older than him. It was a place, a social, intellectual and physical environment where the son of refugees was thriving, developing his talents and being nurtured to join the community as a fully equipped participant and leader in his own right. That role was not assigned to his parents alone. It was a community responsibility as well as a credit to His parents for instilling the strong foundation of faith that He knew where to seek refuge and belonging. That is the kind of place of comfort, support and nurturance that the church should be for our incoming refugees.
Many refugees arrive with singular skills and keen intellect. They are the survivors; they have great potential and should be regarded in that light from the first encounters. This part of receiving immigrants is not as easy as cooking welcoming meals or donating a dresser that provides physical comfort. But the preparation we make to open up space in our community for people to thrive and move into full partnership with us as members of the receiving community is even more important. Creating and valuing these skills among ourselves – in providing the full welcome of integration on equal terms – should be our growing edge.

Once we all acknowledge that resettling in a new country, in a new community, with a whole separate culture and norms can be traumatizing, we can be creative in finding more sophisticated ways to receive new arrivals. Oftentimes, this aspect of resettlement has gone unnoticed because what gets the attention, and where we turn the cameras, is the heartwarming human interest side of the story. While it is incredibly gracious for communities to receive immigrants and refugees in the first days, the reality is there is a glaring lack of infrastructure and competency to address the disparities, inequities, and systemic gaps that prevent them from thriving. Receiving communities have an enormous responsibility on their shoulders for understanding and dealing with lived trauma, shortages of affordable housing, finding gainful employment and more among those who land in our midst. It is amazing and inspiring to see a community turnout and welcome folks who have endured a lot. While that attitude of open arms is certainly worthy of celebration, it is not enough.
The healing, integration, and community building begins after the airport pick-ups, the welcome parties or even the staging and furnishing of an apartment. The real work begins, when receiving communities understand whom we are welcoming into our communities as neighbors, how we can become an integral part of removing barriers and adopting restorative practices. We in the US need to go to the second and third stages of addressing these challenges.  The churches have led the way for logistical arrangements with staggering generosity.  The will and the attitude are there.  Now we can prayerfully and intentionally rely on that goodwill and those spiritual connections to deepen the process.
In this season of Christmas, it is important to reflect on all that we possess materially and socially and then to recognize that the many comforts we enjoy, and choices we have, come with cost and sacrifice. Therefore, we should slow down, be reflective together, see the world around us through the lens and experience of our newest members and then be good neighbors, change makers, and community builders who look out for those most vulnerable seeking refuge and belonging. Let all God's children feel at home and as confident in the presence of our faith community as was the young Jesus two millennia ago. 
---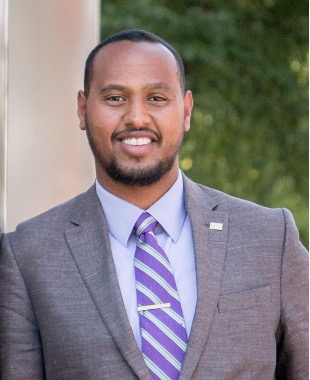 Lemi Tilahun, is a community organizer and a proud member and Ruling Elder of Westminster Presbyterian Church in Cedar Rapids, Iowa. Lemi holds various roles in his community where he serves on select task forces that address many emerging issues including food insecurity, equitable housing and access to social services.  Lemi is an advocate for families and youth who come from culturally, economically and socially disadvantaged backgrounds.  His hope and stated mission is to create safe, equitable and thriving communities where all are treated with dignity and honor and are able to thrive.