We Shall See It, Together
Baruch 5:1-9
Take off the garment of your sorrow and affliction, O Jerusalem,
   and put on for ever the beauty of the glory from God.
Put on the robe of the righteousness that comes from God;
   put on your head the diadem of the glory of the Everlasting;
for God will show your splendor everywhere under heaven.
For God will give you evermore the name,
   'Righteous Peace, Godly Glory'.
Arise, O Jerusalem, stand upon the height;
   look towards the east,
and see your children gathered from west and east
   at the word of the Holy One,
   rejoicing that God has remembered them.
For they went out from you on foot,
   led away by their enemies;
but God will bring them back to you,
   carried in glory, as on a royal throne.
For God has ordered that every high mountain and the everlasting hills be made low
   and the valleys filled up, to make level ground,
   so that Israel may walk safely in the glory of God.
The woods and every fragrant tree
   have shaded Israel at God's command.
For God will lead Israel with joy,
   in the light of his glory,
   with the mercy and righteousness that come from him.
Luke 3:1-6
In the fifteenth year of the reign of Emperor Tiberius, when Pontius Pilate was governor of Judea, and Herod was ruler* of Galilee, and his brother Philip ruler* of the region of Ituraea and Trachonitis, and Lysanias ruler* of Abilene, during the high-priesthood of Annas and Caiaphas, the word of God came to John son of Zechariah in the wilderness. He went into all the region around the Jordan, proclaiming a baptism of repentance for the forgiveness of sins, as it is written in the book of the words of the prophet Isaiah,
'The voice of one crying out in the wilderness:
"Prepare the way of the Lord,
   make his paths straight.
Every valley shall be filled,
   and every mountain and hill shall be made low,
and the crooked shall be made straight,
   and the rough ways made smooth;
and all flesh shall see the salvation of God."
In October of 2019, a small group of mostly-white, affluent Presbyterians from Calvary Presbyterian Church flew from San Francisco to San Diego to join the 63,000 per day who walk across the U.S.-Mexico border. The mere act of crossing the border is an education every citizen should undertake. Crossing as a pedestrian is especially elucidating. Walking into Mexico, we were greeted by smiling border guards who looked through random pieces of luggage and waved us in with a hearty Bienvenido. From our place inside the Mexican entry point, we could see the ICE facilities of our country, the razor wire and the dystopian throng of people queued up to walk into the U.S. It made me of think of the Left Behind series.
While in Tijuana, our mission group visited shelters. Most of the the shelters were from Central American, Haitian and Jamaican migrants. One shelter, Casa de Luz, was intended for LGBTQ refugees. That's where we met. He was one of three young people who told their story, and the only one who wanted to enter into the United States. The other had heard about the mistreatment they would receive in the for-profit ICE detention centers. But he wanted to come anyway. Only in the United States, he said, would he be able to do what Baruch urged the ancient Jerusalemites:
Take off the garment of your sorrow and affliction, O Jerusalem,
   and put on forever the beauty of the glory from God.

To take off the garment of sorrow and affliction, this young man, Pedro (now known as Peter) needed a safe changing area, a refuge—a new home.
He told us how he had come out at the age of 13. Once they knew he was gay, his 14 brothers and sisters had rejected him. His father, an officer in the Guatemalan army, had beaten him while his mother stood by. He left home as a teenager, rejected and bruised, and he lived with random people or on the street in Guatemala City.
A few years passed.
While Peter walks outside on a sweltering afternoon, a car pulls alongside him. Peter's brothers tell him about their change of heart, their awakening. After all, it's Peter's birthday, and they say how they love him. A brother tells him that his sisters have prepared his favorite pastel de tres leches. At last, Peter is invited home.
Once in the car, Peter senses that something is wrong. His brothers turn down an alley, take him out of the car and beat him. They stab him. They try to kill him. Like Joseph's brothers in Genesis, he is left bleeding. Peter flees Guatemala.
He heads north to a land of California, known for inclusion. Along the way, he sleeps in the wilderness with others in caravans heading toward the U.S.-Mexico border. At last he finds respite at Casa de Luz. All he needs now, he says, is a sponsor to offer him food and shelter in the U.S. until he can complete the asylum process.
By the end of Peter's story, the Holy Spirit had me in goosebumps. What's left of my hair—I'm almost sixty and balding—stood on end.
Once home in San Francisco, I told my husband about Peter's story, and before I could finish he interrupted. "Do you think we could help him? I'm willing for us to figure it out as we go."
Thank you, God, for sending the right man to me as my husband.
Opening our home to Peter was the best decision we ever made. I thank God for poking me at Casa de Luz, for waking me up and making it somehow possible that we have enough resources to share. Friends, it is in giving that we receive. Believe me on this one.
Our dog has left us for Peter. She sits outside his door every morning until he wakes. I swear she understands Spanish now.
The first thing we did, after picking him up from the airport, was to drive Peter directly to the Castro District in San Francisco. We stopped in front of the gigantic rainbow flag always blowing in the Pacific breeze. I saw it on his face. He was breathing again. But the road to Jerusalem is always a long one.
Since then, the former president dismantled the asylum process, destroying what little organization was left. The eight-month process will now take four years. The San Francisco ICE office keeps paper records, loose pages on each immigrant and has no file cabinets. Each time we go there, we are amazed by their brazen swagger.
Immigration and Customs Enforcement (ICE) is one of our country's versions of ancient Rome's Imperial Centurions. They're all about intimidation, toxic bravado as sport. There is no welcome for the "alien."
Heck, there's no welcome for the citizen.
When our mission group walked through the pedestrian entry point back home into the U.S., I was detained in a dark room for questioning. While wearing my clergy collar, I was interrogated about our mission work. I am not a badass, but ICE confiscated my passport. They returned it by mail only after I had contacted my Representative's office.
A month earlier, ICE called tow trucks on the entourage led by Senator Kamala Harris. While Harris and her group toured one of ICE's detention center, ICE had their cars impounded. Next-level toxicity.
The Way of the Lord is not being prepared at our southern border. Perhaps asylum-seekers like Peter embody the prophecy most vividly. He lived like John the Baptist while on his way here. He walked, like an ancient Jerusalemite, across wilderness wanting for home. Now, he sings the Lord's songs in a strange land.
The line of 63,000 people on foot in the desert, coming into Jerusalem, are the ones who are following the empire's rules. There are just as many migrants who are unable to follow those rules, and they need help. They are the ones for whom the rules shift daily.
The border already consists of mountains and hills and rough places. The Wall is meant to make it even more unwelcoming. John says to make those places accessible, navigable, a plain. This the Way each child of God treads, hoping for Jerusalem, crying out with the voice of John the Baptist.
They come on foot under the desert sun. Bandits and gangs like Peter's brothers—like Joseph's brothers—could strike them at any time. And all that separates them from Jerusalem is an imaginary line. It's all for a pretend line.
Christ comes to break down the walls that divide us from one another. His Body deserves to be reunited with its parts. May intimidation no longer substitute for strength, and may all God's children have a shot at shalom.
Then all flesh shall see it. Together.
---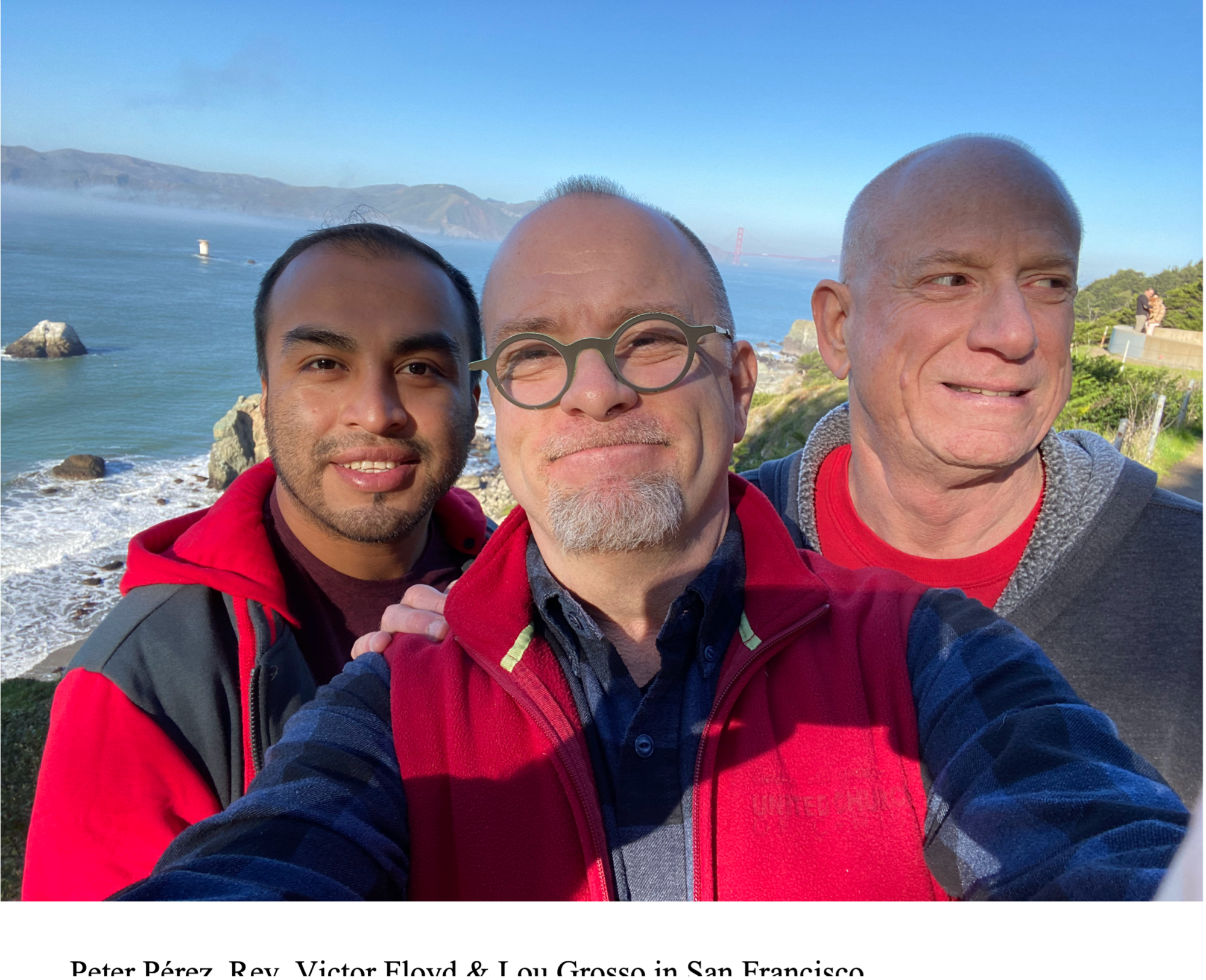 Although he has worked in the PC(USA) most of his life, Rev. Victor H. Floyd was ordained by the Metropolitan Community Church and the United Church of Christ during the period the PC(USA) was still figuring out whether to like gay people. Today, he offers pastoral care for Calvary Presbyterian Church (USA) in San Francisco. He is the former pastor of the historic Metropolitan Community Church of San Francisco and has served on the staffs of Many Journeys MCC, College Heights Church UCC, First Presbyterian Church of Palo Alto and North Decatur Presbyterian Church in Atlanta. An authorized minister of the United Church of Christ, Victor holds an M.Div. from the Pacific School of Religion, a certificate in Integrative Medicine & Chaplaincy from the Institute for Health & Healing and a Master of Music degree from Indiana University School of Music. In 2007, he received the first Marcella Althaus-Reid Award in Queer Theology from the Center for Lesbian & Gay Studies of the Graduate Theological Union. Victor grew up in NW Georgia. He is married to Lou Grosso. They consider Peter Pérez their long-lost son. They all live in San Francisco's Japantown are are grateful houseguests of an Australian Cattle Dog mix named Cassiopeia, but you can call her Cassie.