Mitakuyapi, Wicahpi Yamni emaciapi.
Greetings, my relatives, my name is Lenore Three Stars. I am Oglala Lakota, one of the seven bands of the Oceti Sakowin or the Seven Council Fires, also known as the Great Sioux Nation. I was born on Pine Ridge Reservation in S.D., where my father was born. My mother is Minnecoujou Lakota, also one of the 7 bands, from the Cheyenne River Reservation in S.D. Our ancestral lands include He Sapa, the Black Hills, sacred land where our creation story lives. Psalm 121:1,2, reminds me of our homelands, "I lift up my eyes to the hills– from where will my help come? My help comes from the Lord, who made heaven and earth."
When I meet other Native people, they ask, "where are you from?" What they are really asking is, "who are your people?" My answer also tells them how I am connected to the land. I take time to properly introduce myself in the context of kinship because the Lakota family system, the tiospaye, is foundational. It teaches us to practice relationships of respect and it shapes our kinship roles and responsibilities.
May I note here that although I am Lakota, I cannot speak for the Lakota, or for any of the 574 federally recognized tribes in the U.S.
WORLDVIEW
Worldviews are important. You have one. When I call you mitakuyapi, "my relatives," I am sharing a Lakota worldview of kinship.
Mitakuye Oyasin is a Lakota worldview. The words translate to "all my relations," meaning that we are all related. We are related to Creator, to each other and to all parts of creation. In this kinship paradigm, no one form of life is above the other and there is no hierarchy of importance. We are interrelated, interdependent and responsible to the other for balance and harmony.
In the Lakota way, we are related to all creation, not just to humans. For example, we are related to the Buffalo Nation, the Winged Nations, The Water Nations, the Star Nation and even to some elements of weather. When we hear the first spring thunderstorms, we say wakinyan agli, the thunder beings are coming back, bringing the water needed for new life. When we call all parts of creation our relatives, we draw respect and harmony into the relationship. To live into the worldview of Mitakuye Oyasin, we do all we can to be "a good relative," which dovetails with "Love your neighbor as yourself." (Matthew 22:39)
This relational worldview is biblical. In Genesis 12:1-3 and in 28:14, God made a promise to Abraham and his sons: your offspring shall be like the dust of the earth, and you shall spread abroad to the west and to the east and to the north and to the south, and all the families of the earth shall be blessed in you and in your offspring. Romans 8 tells us that the Spirit of God brought about our adoption as children of God and that creation is waiting alongside us for healing and restoration. We are all related.
There is no such thing as a culture-free gospel because we all come from somewhere that shapes our worldview and forms the lens through which we see and experience life. I make this point because most of the misunderstandings I've had in culture and theology stemmed from a difference between an integrated indigenous worldview and a dualistic Euro-western worldview that colonized this country. I bring an indigenous perspective to Creator's relationship to us and the earth.
CREATOR JESUS
Native believers who follow the Jesus Way often speak of Creator. To me, Jesus is Creator because of the agency of Jesus in the act of creation. John 1:3 says, "Through him all things were made; without him nothing was made that has been made." Colossians 1:16 says, "For in him all things were created: things in heaven and on earth, visible and invisible … all things have been created through him and for him. Scripture describes the presence of the trinity at creation when the spirit hovered over the waters. This speaks to the inherent community of the triune God, which is the design for how we in creation live best.
THEOLOGY OF THE LAND
A recurring spiritual theme is our relationship to the land. Walter Brueggmann, Old Testament scholar, writes that our first questions as a human being are, "who are we, where do we come from?" He says that the Hebrew creation story in the Old Testament "affirms a peculiar relation between God and the world." This speaks to a worldview about one's place in the world and one's relationship to God.
Genesis 2 offers a theology of the land in the second Hebrew creation story. Adam was created from "adamah," the land, and Genesis 3:19 tells us, 'You are dust and to dust you shall return." Our Lakota word, "Oglala" translates as "scatter one's own." To pantomime an understanding of this, a Lakota elder made the motions of sprinkling herself with earth to indicate that we are people who come from the land. The Lakota often refer to earth as Unci Maka, "grandmother earth," a kinship term of deep respect.
Indigenous peoples have long held a theology of the land that connects them to their ancestral lands in a reciprocal relationship. Reciprocal means that we don't take from the land without giving something back and we don't take more than we need.
Each creation story for Native peoples places them in a particular geographical place; it is not portable. This sense of place is foundational to Native identity. The land is their spiritual connection to place. The historical removal of Indigenous peoples from their ancestral lands devastated this spiritual and cultural connection. I imagine that at one time, in their own homelands, the settlers had a deep connection to their ancestral lands. But that relationship was severed when they left their homelands for whatever reason, and I suspect it caused an unresolved land trauma for them. They tried to fill that void with a quest for property by taking our ancestral lands, but only a relationship to the land will satisfy the spirit. We still need a holistic healing of land trauma for all peoples on Unci Maka.
Indigenous people see a further correlation between how the earth is treated and how women are treated. Since the Doctrine of Discovery, the ideology of dehumanization and extraction has devalued Indigenous bodies, cultures, and the land. The ongoing epidemic of Missing and Murdered Indigenous Women screams injustice. Scripture relates that the land can become defiled by the actions of peoples and the land can vomit them out. (Leviticus 18:24-30).
GOOD NEWS
The good news in John 3:16 (Message) says, "This is how much God loved the world: He gave his Son, his one and only Son. And this is why: so that no one need be destroyed; by believing in him, anyone can have a whole and lasting life. God didn't go to all the trouble of sending his Son merely to point an accusing finger, telling the world how bad it was. He came to help, to put the world right again."
Creator, incarnated as a manifestation of love (God is Love), came to put the cosmos right again. The cosmos includes the whole of creation, not just humans. In Genesis 1:31, the maker of the universe, who holds all power in heaven and on earth, looked upon a completed creation and deemed it wholly and profoundly good.
Creator Jesus so loved all creation that Jesus died for all creation. We saw the response of creation when Jesus died – the sky went black in the middle of the day, the earth shook, and the rocks split. Jesus will put the cosmos right again. Creator uses love to heal and restore, and we can choose to cooperate with that plan. We were created in Shalom and to Shalom we shall return – to a profoundly good creation.
The Spirit of God goes where it wills, always working out a healing purpose. We can be what one of our elder calls, "hollow bones," a conduit for the power of love. Mitakuyapi, we can choose to be good relatives and restore places of harmony with the land. That's one way you can love your neighbor as your relatives. We can also call, write, and work towards just structures, like fair housing, equity in education, food security, and sustainability in creation care. Love works hard.
From a Lakota perspective, life is a sacred circle. Living the good news is not about a linear orthodoxy of waiting for a restoration at the end. It's about a continuous orthopraxy of being a good relative now.
Prayer: Creator, wopila tanka eciciye – Creator Jesus, we give you all our gratitude. Thank you for the love you have embedded in creation: Love above us, Love below us, Love all around us. May we be compelled to do justice with you, love mercy with you, and walk humbly with you.
---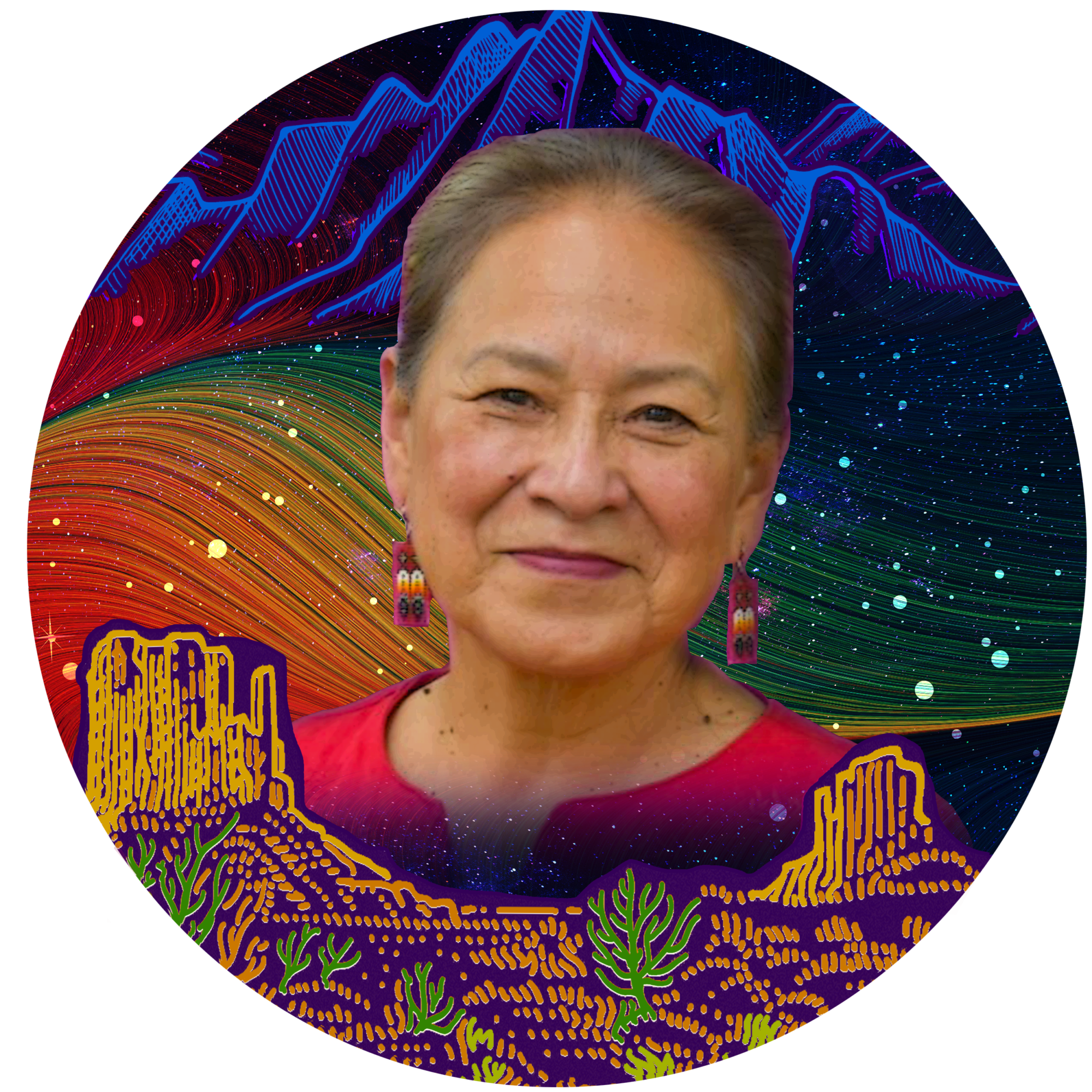 Lenore Three Stars (Oglala Lakota) retired from a federal civil rights career in Seattle, moved across Washington state to be Unci (grandmother) to her (takojas) grandchildren, and began a journey to decolonize her theology. She earned an M.A. from Portland Seminary in Oregon in conjunction with the North American Institute of Indigenous Theological Studies.
Lenore facilitated Journey to Mosaic trips with the ECC Pacific Northwest Conference, served as a Commissioner for the Washington State Human Rights Commission, and sits on boards related to her interests in indigenous issues, justice, and creation care. She speaks, writes and teaches from a Native perspective on decolonizing theology and racial justice. One of her favorite roles is cohort leader for "Decolonize with Badass Indigenous Grandmas" (liberatedtogether.com/cohort).