Joyful Resistance: The Power of Hope
Isaiah 61:10-62:3
I will greatly rejoice in the Lord,
my whole being shall exult in my God;
For God has clothed me with the garments of salvation,
the Holy One has covered me with the robe of righteousness,
As a bridegroom decks themselves with a garland,
and as a bride adorns themselves with their jewels.
For as the earth brings forth its shoots,
and as a garden causes what is sown in it to spring up,
so the Lord God will cause righteousness and praise
to spring up before all the nations.
For Zion's sake I will not keep silent,
and for Jerusalem's sake I will not rest,
until her vindication shines out like the dawn,
and her salvation like a burning torch.
The nations shall see your vindication,
and all the kings your glory;
And you shall be called by a new name
that the mouth of the LORD will give.
You shall be a crown of beauty in the hand of the LORD,
and a royal diadem in the hand of your God.
I can still recall the horror and shock that engulfed me when I first heard the news of the 16th Street Baptist Church bombing, where four innocent young Black girls lost their lives and over 20 others were wounded. The sheer magnitude of such unthinkable evil was beyond my comprehension, leaving me overwhelmed with a deep sadness and fear. The abrupt end to these young girls' lives, their unfulfilled dreams extinguished in an act of unimaginable hatred, was a harsh reality too bitter to swallow. Though I didn't have the language then to ask God to dismantle systemic racism, the naïve little girl I was prayed to God to enter our world and re-create it so love, not hate, would reign.
It soon became clear to me that I could not keep silent. Although I didn't know the verbiage, I was very young, I possessed the motivation and commitment to work for the eradication of systemic racism and to advocate for racial justice. That commitment remains an important part of my life and ministry.
While the following decades have shown some meaningful forward movement, increasing violence, both domestic and state-sanctioned, against Black and Brown women, trans women, and girls remains concerning.
There have been substantial improvements in health, yet Black and Brown women, girls, and trans women continue to face health disparities.
The loss of generational wealth in the Black community through systemic racism is a profound issue that has had lasting impacts. Systemic barriers to wealth accumulation, such as discriminatory housing policies and unequal access to quality education, continue to result in significant wealth disparities. These disparities, in turn, have far-reaching implications, affecting everything from homeownership rates to opportunities for higher education. It's a cycle that perpetuates inequality and inhibits social mobility.
Despite some progress over the decades, the predicament of Black and Brown women and girls continues to be unsatisfactory. Vanderbilt University Intersectional Study of Black Women and Girls in Society tells us that, "Black women and girls are invisible. Invisible in society, invisible in research, invisible in discourse, policies, practice, and praxis. They are invisible in large part because of the tendency in our society to treat race, gender, and other socially constructed identities as mutually exclusive categories of experiences."
The impacts are particularly pronounced for Black girls and women. In addition to the systemic barriers faced by the Black community as a whole, Black women also face gender-based discrimination. This intersection of racial and gender discrimination often results in lower wages and fewer opportunities for advancement, further exacerbating the wealth gap.
We continue to pray, O Holy One, when will we be restored?
Although not included in this day's lectionary, without the first two verses of Chapter 61, it's difficult to fully appreciate the First Sunday after Christmas Day.
The spirit of the Lord God is upon me;
The Holy One has sent me to bring good news to the oppressed,
to bind up the broken-hearted,
to proclaim liberty to the captives, and release to the prisoners.
to proclaim the year of the Lord's favor and the day of vengeance of our God; to comfort all who
mourn.
From generation to generation, the Black community has held on to this promise of liberation and restoration expressed through joyfulness and celebration intrinsic to our community. Black joy embodying a range of emotions, experiences, and expressions illustrative of the Black experience – a potent form of "resistance, resilience, and reclamation of Black Humanity."
Our inherent joy, our celebration, as our lectionary text begins at Isaiah 61:10-11, is deeply tied to the profound joy we feel towards the Holy One. We exult with our whole being for the numerous blessings God has bestowed upon us. We are confident in God's promise that the path before us leads to liberation and restoration. James Cone declares that the role of Christian theology is to interpret the meaning of hope in God in such a manner that the oppressed community in any given society will risk everything for earthly freedom. This freedom is made possible through the resurrection of Christ.
We exult in God with our whole selves, because in Jesus Christ, the Holy One comes near to us and clothes us with the garment of salvation and covers us with the robe of righteousness (Isaiah 61:10). We respond to these profound acts of faithfulness, love, and hope with the full measure of our joy because these are not passive acts; our God acts with nurture, intention, and purpose.
During this Advent and into the Christmas season, I invite you to embrace joy; sing and dance with your whole body, spirit, and heart. Find yourself some of what Dr. Chanequa Walker-Barnes calls "cultural safe space [i]" and sink into the freedom of it all. You are a joyful blessing!
Prayer
"How can there be rebuilding, hope, or joy amidst so much pain and destruction, the devastation of many generations?
"And yet, the current of black joy is not dissolved. Rather, it emerges all the more insistently. It serves as a holy incarnation among us, the embodiment of God's vision that blesses us into new ways of being.
"During this season of Advent as we yearn for and look forward to God's arrival among us, let us not forget to look at the flesh and blood already surrounding us. Jesus isn't born somewhere back there or beyond us, but within and by us. Amen. [ii]"
---
Reflection:
Where are you finding joy in your life?
What new ways of being are you discovering for yourself?
---
[i] For Women Of Color Who Have Considered Quitting When The Isolation is Enuf, Dr. Chanequa Walker-Barnes, July 27, 2015
[ii] Kindred Ministry, Evangelical Lutheran Church in America, The Gospel of Black Joy, December 16, 2020
---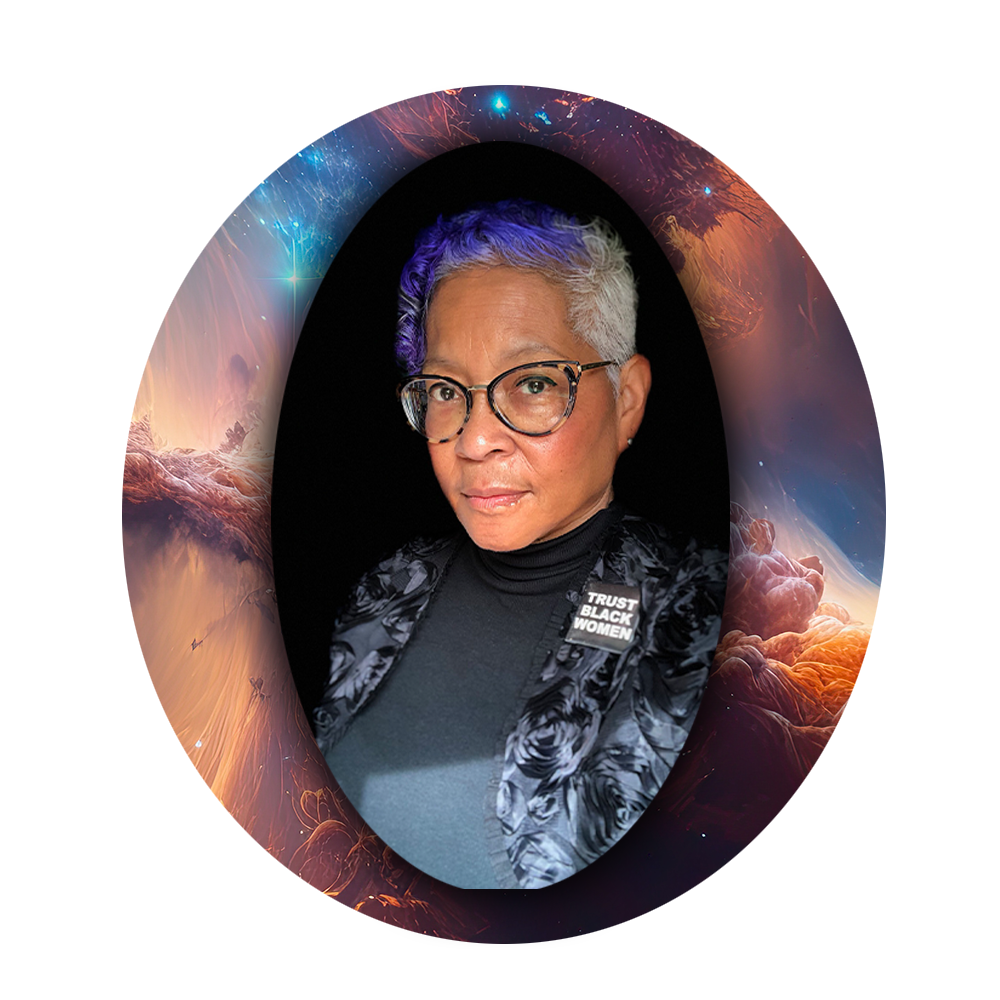 valerie izumi serves the Presbyterian Church (U.S.A.) as an assistant stated clerk in the Office of the General Assembly coordinating the General Assembly nominations process. Her longtime commitment to racial and gender justice, and to promoting racial equity is widely recognized.

Her passion and commitments to exploring the intersectionality of race, gender, sexuality, and class in justice and advocacy work is not just rhetoric; she puts her words into action to promote racial equity. More than a mentor, valerie works to foster community and collaboration.

Why I say I am a womanist:

I am a womanist – authentically and audaciously myself. I exist not because of others' wishes or expectations, but because I am a child of God, created in God's image. I am unapologetically woman, bi-racial and Queer. Despite my lived experiences and struggles with brutality and oppression, I embody Black joy; I am Black joy! I live in the real world doing the real work to create a better world for Black people. I am fierce!