Consider your Call
Isaiah 49:1-7, Psalm 71:1-14, 1 Corinthians 1:18-31; John 12:20-36
Recently, a friend of mine, Dr. Casey Church (Pokagon Band of Potawatomi) shared on social media that he was feeling down as he reflected upon the challenges he was facing in ministry. In his post, he expressed his frustration and dissatisfaction with just how many obstacles he faced throughout his decades of labor in contextualized Indigenous ministry. His post surprised me, because I consider this friend an accomplished scholar and a practitioner of Indigenous missiology. Casey has trail-blazed numerous inspired and creative paths for Indigenous Christians to follow who want to follow Jesus and maintain and/or revitalize their Indigenous ceremonies and rituals (see especially his book, Holy Smoke: The Contextual Use of Native American Ritual and Ceremony, Cherohala Press, 2017). Currently, Casey leads a new church plant that serves both Natives and non-Natives in Albuquerque, New Mexico, called "Good Medicine Way." Each Monday evening, inspiring services are held in-person and stream over Zoom and Facebook, worshiping the Creator through drum-led singing, reflections on creation, and messages that speak to the Indigenous experience. And yet, here was a social media post naming a frustration that anyone in ministry can relate to, especially those in Indigenous ministry.
In my travels interviewing Indigenous ministers and researching Indigenous interpretations of the Bible, I have encountered many disheartening stories of non-Indigenous Christians undervaluing and undermining the work of contextual ministry as a heretical and syncretistic threat to the "purity" of the Gospel (or I should say, a modern Euro-American expression of the Gospel). For example, in the opening chapter of his book, Rescuing the Gospel from the Cowboys (IVP Books, 2015), Richard Twiss (Sicangu Lakota) copies emails he received from a representative of a Christian outdoor facility who canceled his reservation to use their grounds to host Wiconi Family Camp, an Indigenous, Christian retreat that Casey now runs. The Christian owners of the facility worried that Richard and Casey were "taking the indigenous people back to paganism, shamanism, false gods, and the occult" (p. 18). For some Indigenous ministers, the emotional scars from Christians telling them that their ancestral ceremonies and rituals do not glorify God are still tender.
But this wasn't all that Casey shared. Casey also posted a picture that someone shared with him of a silhouette of a strong, Indigenous warrior. Imposed on this picture was an encouragement to continue to fight, especially when it is hard, because that is what warriors do. Casey's honest and vulnerable post about the difficulty of ministry, especially when its sacrificial service and results are ingloriously lambasted, questioned, and even threatened, resonates deeply with the lectionary today that asks us to "consider our call" to glorify God (1 Cor 1:26).
The prophetic voices in today's lectionary give voice to the timeless and universal frustration servants of God have felt in the face of what often seems to be insurmountable odds. In Isaiah 49:4, the suffering servant, Israel, groans: "I have labored in vain, I have spent my strength for nothing and vanity" (Isaiah 49:4). The Psalmist bemoans: "For my enemies speak concerning me, and those who watch for my life consult together. They say, "Pursue and seize that person whom God has forsaken, for there is no one to deliver" (Psalm 71:10-11). The Corinthians, to whom the apostle Paul writes, seem to have been pelted with messages that their understanding of Jesus and his work on the cross is foolish and should be abandoned (1 Cor 1:18-31). And Jesus himself, having just been welcomed into Jerusalem like a triumphant military leader (John 12:12-19), identifies the stark opposition he faces and the disturbing fate that awaits him at the culmination of this Passover festival. "Now my soul is troubled," Jesus sighs, "And what should I say—'Father, save me from this hour'?" In such dark moments, our troubled souls are in good company.
But this is not all that Scripture shares. The suffering servant announces, "surely my cause is with the LORD, and my reward with my God" (Isa 49:4). This representative of Israel finds strength in the poetic recognition that he was formed, even in the womb, for his present task (Isa 49:5) and from this mindset, refocuses his attention on his mission "to raise up the tribes of Jacob and to restore the survivors of Israel…[to be] as a light to the nations" so that God's salvation and healing harmony might bless every nation (Isa 49:6). Reading this passage from an Indigenous lens, I can't help but call to mind the life-giving ministry of Casey Church and the legacy of Richard Twiss to raise up and revitalize tribal communities and practice such that they might experience a restored shalom and harmony of the Creator. The Psalmist echoes Isaiah's servant poetic recognition that the Creator knows and has known us deeply, even from the womb (Isa 49:5; Ps 71:6), to call to mind the Lord's long care and provision in their lives. Despite their trouble and amid pleas to not be forgotten or forsaken, the Psalmist doubles down in their prayers of gratitude and glorification of God (Ps 71:8). Paul seeks to embolden the Corinthians' faith and self-worth by admonishing them to "consider [their] own call" (1 Cor 1:26). Paul effectively coaches his audience to set aside any feelings that they are imposters, inadequate, or are foolishly laboring in vain. Rather they should rest in the knowledge that they have been chosen by God (1 Cor 1:27) for a mission that is incomprehensible to people who think they have the monopoly of piety, power, and wisdom. Again, I can't help but read Paul's admonitions here and not recall Richard's email correspondence and how many Christians have long criticized the "foolishness" of Indigenous glorification of God. And lastly, Jesus, upon reflecting on whether he should shudder and ask to be relieved from the difficult task set before him, boldly declares: "No, it is for this reason that I have come to this hour. Father, glorify your name" (John 12:27–28). And suddenly then, as if to add an exclamation point to this dramatic scene, a thunderous voice breaks in from the heavens, "I have glorified it, and I will glorify it again" (John 12:28). We are not alone in our calling to glorify God and the fruit of our labor are not simply ours to nurture or harvest alone. God is powerful enough to glorify God's own name and to tend to the fruit, it is our task to be dutiful to the call.
I return to my friend Casey's social media post which touches on a timeless and universal feelings of despondency and doubt that we all face in the face of hardship and struggle—doubt in ourselves, doubt in the meaning of our mission, doubt in the significance of our labor, doubt in our safety, doubt in wisdom of our teachings. As we journey through Holy Week and enter into the story of Jesus and the tremendous hardship that awaited him in his coming crucifixion, we are invited to find strength both in Jesus' confident courage as well as in the resilience, faith, hope, and courage that resounds through the echoes of witnesses to the Creator's glory that reverberate throughout Scripture.
Fellow journeyers, know that your doubt and despondency is seen, know that your calling is dignified, and continue in your duty to glorify God in the manner that you have been called. Remain faithful in your duty, being strengthened in the knowledge that you have been chosen for precisely this task. Continue to fight, even when it's hard, because that is what you have been called to do.
---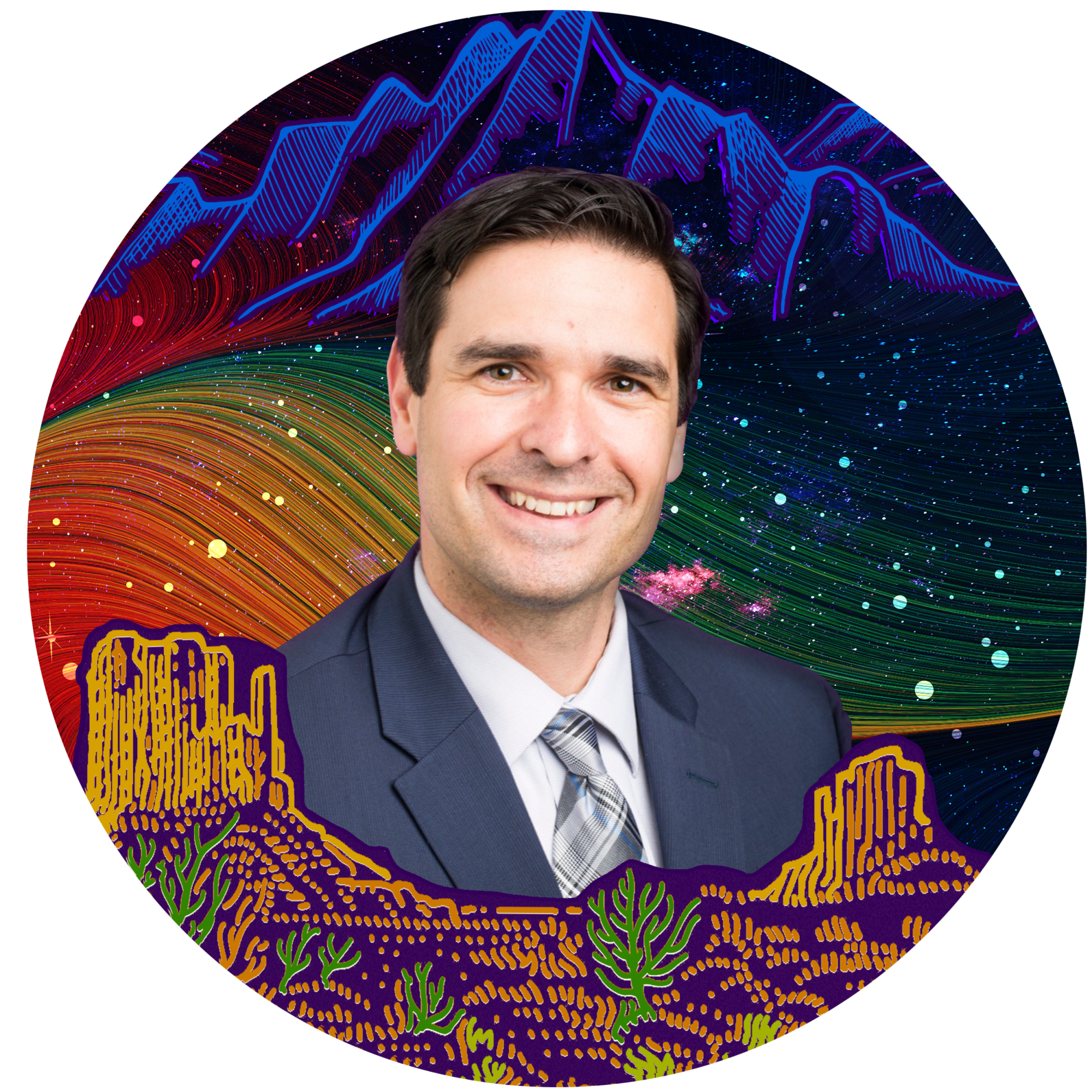 T. Christopher Hoklotubbe (Th.D. New Testament and Early Christianity, Harvard University, Divinity School) is Director of Graduate Studies at NAIITS: An Indigenous Learning Community and Assistant Professor of Classics at Cornell College in Mount Vernon, Iowa. Chris is of mixed-Indigenous and settler ancestry, and a proud member of the Choctaw Nation. He is the author of Civilized Piety: The Rhetoric of Pietas in the Pastoral Epistles and the Roman Empire (Baylor University Press, 2017)and is currently co-writing a book  with Cree First Nation New Testament scholar Danny Zacharias, entitled, Reading the Bible on Turtle Island: North American Indigenous Interpretations of the Bible (InterVarsity Press). He has served as an elder in the PC(USA) (Fourth Presbyterian, Boston) and finds joy in his family, including his wife Stephanie and two young daughters, Claire and Emily.