When I heard the reports and then saw the video of Eric Garner's arrest, something deep inside me clicked. I've been involved in interreligious social justice movements for more than 25 years and thought that nothing could surprise me. However, in those moments I didn't just see the injustice of the violent treatment of an unarmed black man accused of a nonviolent crime; I saw a child of God whose cries went unheard.
In recent years the media has made the names of victims of police brutality known to us. Michael Brown, Trayvon Martin, Tamir Rice, and Eric Garner have become the public faces illustrating a deeper issue. Our response in the church, if there is one, tends to center around prayers for the family and sometimes the people in the town where they lived. And then we go back to our day-to-day activities, never really taking any action or asking how could it be different.
The progressive movement has done a remarkable job educating about white privilege, providing resources on dismantling racism, and in raising awareness that it's up to the white community to educate ourselves about the plight of our dark skinned brothers and sisters, not the other way around. What's missing on a personal level is the tools for recognizing and understanding our own biases about others. We do not grow up in a vacuum. We grow up in a family culture, a city or town culture, and perhaps a religious or ethnic culture that shape not only our own identity but also our understanding of others.
___________________________________________
The church is called to be God's love in the world. Part of that call is to ensure that everyone's cries are heard.
___________________________________________
Bias is the lens through which we see others. Our ideas and values about one another are shaped by these lenses, which may be unknowingly filled with prejudice and racism. If we all grow up in a cultural context, then it is vital that we understand where our ideas about others come from – and the implications of those views.
I confess that until the riots in Baltimore, I did not know that redlining was still occurring outside of Portland. I'm embarrassed by that reality, but it's true. The economic gap in the post-World War II United States between whites and people of color has created a two-class system of oppression that is reinforced institutionally and systemically by policies and practices in our governments, police forces, and schools. The racial divide in America isn't only a matter of attitude, it's a matter of systemic racism, which can only be dismantled if we understand how it was created and are willing to do the personal work of changing it.
In Portland, a number of our social justice organizations have begun racial justice programs. The culture here is beginning to shift among our activists and social justice warriors. In many ways, this movement of being a strong ally is led by the LGBTQ community. Organizations that have been strong on LGBTQ equality (Basic Rights Oregon, the Western States Center, and Pflag, to name a few) have all developed programs to educate the community about white privilege, understanding racism in the workplace, and how to be a good ally. Portland is also home to the first African-American Chapter of Pflag (Parents and Friends of Lesbians and Gays).
___________________________________________
In Portland, this movement of being a strong ally is led by the LGBTQ community.
___________________________________________
But it is not enough. In arguably the least-churched state in the country, activities of the many organizations addressing economic and social issues, such as gentrification, the school to prison pipeline, and police brutality are not necessarily being translated into the language of faith. The church's model of adult education insulates us from experiencing the true plight of an Eric Garner. It allows us to keep our existing bias about others, even institutionalizing them.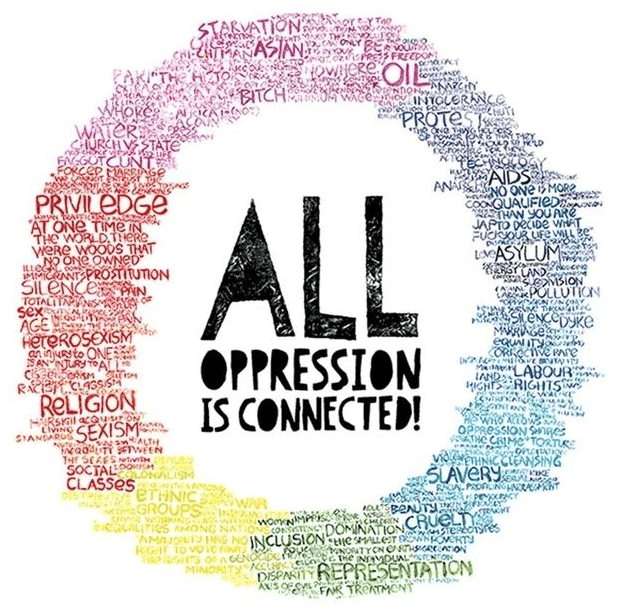 The Community of Welcoming Congregations, Oregon's statewide interfaith nonprofit working for full inclusion and equality of LGBTQ people, began developing a Black Lives Matter program to advocate for people of color and to challenge Open & Affirming faith communities to do the deeper work of inclusion. We've learned some things in the Freedom to Marry movement, and now it's time to use that knowledge to create the changes we need in our institutions and in our communities.
The church is called to be God's love in the world. Part of that call is to ensure that everyone's cries are heard. It is our own individual and collective biases that keep us from hearing. People of color have been crying out for so long, they are hoarse and exhausted. White brothers and sisters, it is up to us to create change.
___________________________________________
In arguably the least-churched state in the country, activities of the many organizations addressing economic and social issues are not necessarily being translated into the language of faith.
___________________________________________
Last weekend, a shooting in Orlando at a gay club left a death toll of 49, with at least as many wounded. Gay and lesbian men and women gathered at this venue for sanctuary from a community and culture that doesn't accept them. The shooter took their lives, but he also took the emotional safety of many more LGBTQ people around the country.
How we talk about events like this matters. How we talk about Eric Garner's death matters.
In order to hear the cries for help that happen every day, we must do more than watch the news and study an issue. We must move outside the four walls of the church to be the church in the world. The media will sensationalize the events surrounding the shooting, providing one framework of understanding. It's vital that, as people of faith, we see beyond that frame and look at all those who were involved through God's lens.
What factors left the troubled soul who committed this heinous act was vulnerable to being radicalized? The anti-gay movement in the United States is fueled by religious voices, giving complicit permission for violent acts against the LGBTQ community. The anti-Muslim bias that falsely links Islam to terrorism (also fueled by 'Christian' voices) will be heard loud and clear. Where can we make a difference?
By telling a different story.
___________________________________________
Where can we make a difference? By telling a different story.
___________________________________________
We begin by examining ourselves and our own views. Then we must take action. God created the diversity of humanity, and Jesus, the ultimate Advocate, has compassion for those whom the system has left out. He expressed that compassion by meeting them where they were, by breaking bread and offering love and healing. Are we willing to go and do likewise?
The dominate Christian religious voice in America today is largely anti-gay, anti-Muslim, and anti-immigrant. These are the voices that are being heard, that are influencing our institutions, and that are shaping public opinion. How can the mainline Protestant church make a difference? By showing up for racial justice, by being present at your local Pride celebration, by coming out as people of faith and shouting loudly, "I hear you, I see you, you matter to me!" Only then will we topple systems of injustice and begin to bring about God's kin-dom.
*****
AUTHOR BIO: The Rev. Tara Wilkins is pastor of Bridgeport United Church of Christ and the Executive Director of the Community of Welcoming Congregations. An activist, writer, guest lecturer, preacher, and community organizer, Rev. Tara has been engaged in interfaith social justice movements for over 25 years. Of all the hats she wears, her favorite role is being Gram to 9 grandchildren.
Read more articles in this issue "A Year for Confessions: Issues of Social Justice Coming before the 222nd General Assembly."