He aliʻi ka ʻāina; he kauwa ke kanaka.
Land is a chief; man its servant. – ʻŌlelo Noʻeau
O LORD, I am your servant; I am your servant, the child of your serving girl. You have loosed my bonds. 
–Psalm 116: 16 
My name is Mari Elia Kianikaimalino o Hanalei, and my ancestors were forged in the fires of the Pacific Ocean. I am Hawaiian or, Kanaka Maoli, a "Keiki o ka aina" (child of the land). 
My identity as Kanaka is inseparable from my spiritual identity. Imprinted upon me before I was born, I was named "Kianikaimalino o Hanalei." Following the Hawaiian tradition of imbuing a child's name with their past, present, and future, my name roughly translates to "the calm and gentle waters of Hanalei." My father says that the name evokes gracefully surfing across the peaceful waves at Hanalei Bay, where I was born and raised. With that, Hanalei Bay became a part of my DNA, just as it was a part of my name. 
 Love of land (or Aloha Aina) is ingrained in Hawaiian values and culture. My ancestors drew their strength (or mana) from the land and environment around them. When we say "land" or "aina," we refer to all aspects of the environment, from the volcanic soil beneath our feet to the ocean and air around us and all the living creatures. Our relationship to the land is profoundly reciprocal; as a life-giver, our aina was to be revered and protected.  
What shall I return to the LORD for all his bounty to me? –Psalm 116:12 
Aloha Aina in action takes work. It involves shouldering challenges collectively and prioritizing doing what is right over what is easy. It requires sacrifice and vulnerability. Modern property ownership concepts would have been totally foreign to ancient Hawaiians. Land could not be bought or sold by mere men. The land was beyond men. How do you purchase or sell something that gave you life? 
My birth marked a time in my parents' life when both were largely disinterested in organized religion. I was never baptized, and my earliest memories of brick-and-mortar churches were terrifyingly funereal. Yet, belief and spirituality permeated my every waking moment. My ancestors were my teachers and were always right beneath my feet (sometimes literally). And while I will always have a somewhat tenuous relationship with Christianity because of the colonization of my people, it's also no wonder why the lessons of Jesus were so resonant to Hawaiians of the 18th century.
 I will offer to you a thanksgiving sacrifice and call on the name of the LORD. —Psalm 116:17 
 For a long time, the relatives who elected an open casket in their last wishes were my primary associations with the thing we call "church." I had friends and other family members that regularly went to church; I even went occasionally. Yet, I never questioned why we woke up at 5am for dawn patrol on Sunday instead of waking up for mass. 
 I will pay my vows to the LORD in the presence of all his people, in the courts of the house of the LORD, in your midst, O Jerusalem. Praise the LORD! —Psalm 116:18-19 
 Paddling out with my dad or brothers into the middle of Hanalei Bay was church. It was in the ocean, swimming, surfing, and thrashing in the waves, that I connected to the divine. The Pacific Ocean was my teacher, giving me warnings in the form of strong winds or shifts in currents or encouragement in the form of steady surf and high tides to catch me when I fell. The love I was infused with at birth for Hanalei Bay was just another manifestation of my spirituality.  
 Now before the festival of the Passover, Jesus knew that his hour had come to depart from this world and go to the Father. Having loved his own who were in the world, he loved them to the end. —John 13:1 
 Conventionally unchurched, my first exposure to the tradition of Holy Week did not occur until I began serving the national offices of the Presbyterian Church U.S.A in March of 2016. Accordingly, one of my first tasks was to create compelling social media content for Holy Week. Equipped with the Book of Common Worship, the Presbyterian Mission Yearbook, and the wisdom of kind colleagues like Revs. Emily Odom and Charles Wiley, I began creating content. Little did I know God would push me out of my comfort zone and deeper into the waters of Holy Week. 
 In near-perfect synchronicity, my partner had started serving a local catholic church as their music director around the same time. Desperate to fill his choir for Holy Week Masses, I was convinced to join his five-person choir as the lead alto.  
 Jesus, knowing that the Father had given all things into his hands, and that he had come from God and was going to God, got up from the table, took off his outer robe, and tied a towel around himself. Then he poured water into a basin and began to wash the disciples' feet and to wipe them with the towel that was tied around him. .—John 13:3-5 
On Maundy Thursday, after dazzling the congregation with my choral acumen, I tucked into my seat to listen to the Homily. Not expecting anything special, my mind went to dinner plans. As Father Lou spoke, he evoked some of his first memories of Pope Francis –how the Pope spent his day washing and kissing the feet of 12 prisoners. This profound demonstration of kindness, mercy, and love was jarring to me. That the top-ranked leader of the Catholic Church would spend his Holy Thursday in the care of others ran counter to my preconceived notions of what church leadership was. Yet again, God had something else in store.  
As Fr. Lou continued to expand on the act of Jesus washing his disciples' feet, I became entranced. Feet are, let's face it, gross. Feet during the time of Jesus, especially the feet of humans traveling all over the Middle East in Jesus' service, were (probably) super gnarly. Caked with dirt, sand, and callouses from the miles of walking from city to city, Jesus got on his hands and knees and washed these seemingly gross feet. This is probably why the congregation began to squirm when Fr. Lou announced that we would be washing each other's feet. At Mass. That night. 
Fr. Lou explained that this would likely be gross, smelly, and at the very least, uncomfortable. However, that is precisely what genuine service to God and each other is. 
For I have set you an example, that you also should do as I have done to you. .—John 13:15
Service to others, service to our aina involves vulnerability, accountability, and sometimes it involves getting a little muddy. In washing his disciples' feet, Jesus provided a model and roadmap of how he expected us to treat others. I was entranced, inspired, and, unbeknownst to me, made new. 
It was in this version of Christianity that I finally saw my ancestors and myself. This missing link between Aloha Aina and Jesus' message of service was finally found. 
It is in this spirit that I continue to ground myself, both to my ancestors and my own developing theology. This Maundy Thursday, I encourage you to identify ways to be vulnerable, uncomfortable, and maybe a little grimy in service to others. Or, identify ways to demonstrate reciprocity with the aina around you.
Ua Mau ke Ea o ka ʻĀina i ka Pono
The life of the land is perpetuated in righteousness. 
---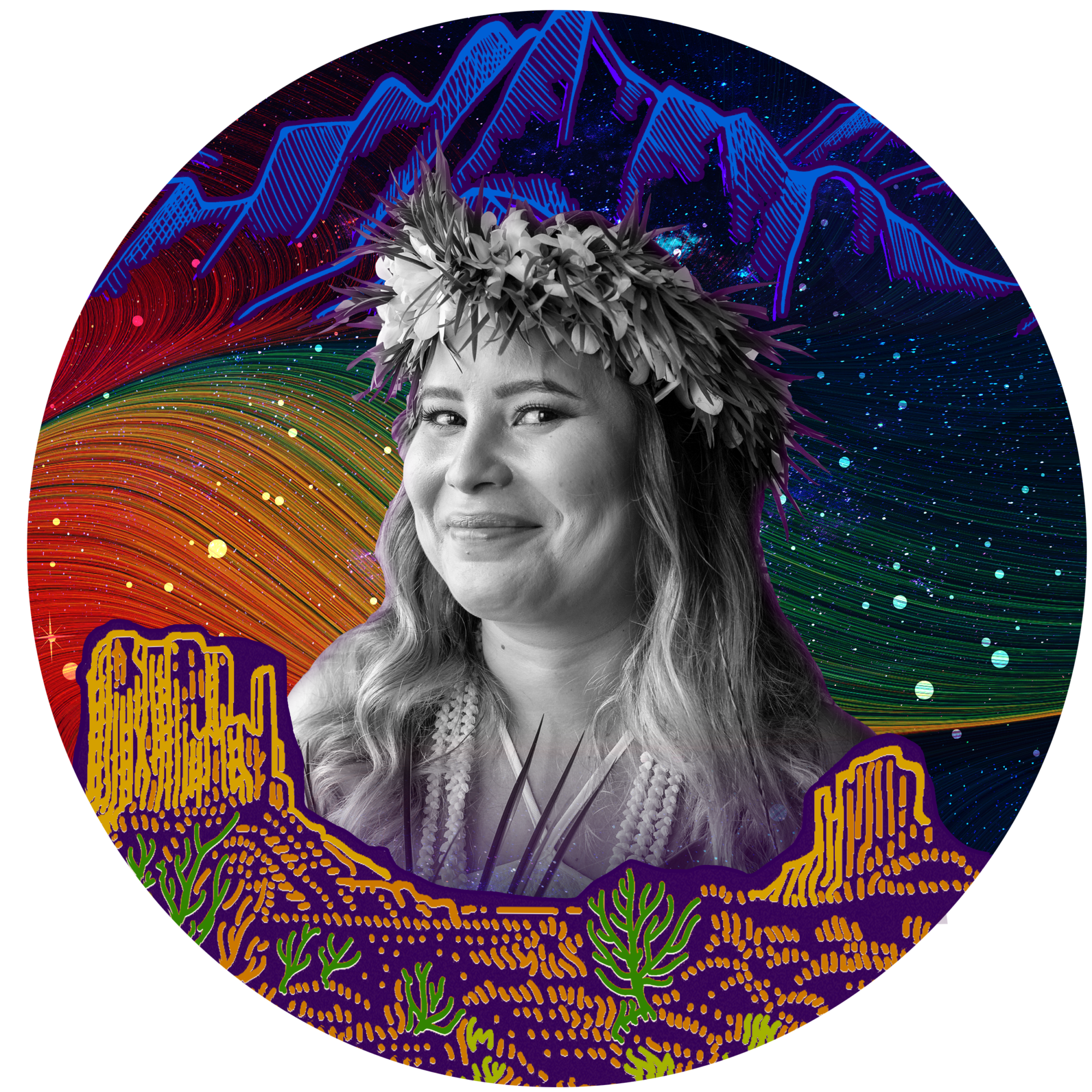 A Native Hawaiian from Kauai, Hawaii, Mari's passion for marketing and communications first ignited while slinging snorkel gear and Na Pali Coast sunset tours in high school and college. College brought Mari to Louisville, where she attended Bellarmine University. A stellar community of friends and family has kept her settled in the Bluegrass State.
With more than ten years in the digital marketing and advertising space, Mari continues to expand her expertise in digital media, social media and content strategy, as well as data analytics and web design. Over the years, Mari has lent her talents and skills to everything from financial institutions to governmental agencies and large religious organizations.
When she is not passionately advocating for strategic consistency across digital platforms, Mari moonlights as a mixed-media artist and pet parent to two cats, three dogs and hopefully chickens one day.