Lessons form a Personal Paradigm Shift
I have a confession to make.
I used to cringe at the word "activist." I looked at them, and all I saw were loudmouths who wanted attention.
And you know what bothered me more than activists in general? White activists. I found them overly critical of others, self-indulgent in their "white person's burden" and guilt, and basically just in serious need of a hug. Their hurt was so tangible that it annoyed me: "If they are so upset about the world all the time, why don't they do anything?"
Because I had thoroughly placed activists into this category of "the other," it took me a long time – until quite recently, in fact – to recognize my own transformation into the role of a "white activist". Now, as a post-college young adult, I am beginning to realize that through the past 2 years of countless faith-based vigils and protests with the Presbyterian Church (U.S.A.), I have transformed into "one of them."
Of course, the reality is that I have always been an activist. While I may not always be compassionately outspoken or the first one to initiate a social justice movement, actions like diffusing and minimizing conflict and seeking out and inviting in the outsider are part of my very core. Turns out what I needed to do was take a journey inward, reframe my original impressions, and get past the label.
___________________________________________
I used to cringe at the word "activist." I looked at them, and all I saw were loudmouths who wanted attention.
___________________________________________
My year as a Young Adult Volunteer (YAV) in Tucson, Arizona, introduced me to activism at its best. As I met real live activists at work on the ground in Tucson, I experienced friction between my own preconceived ideas of activism and my current context of working alongside a whole spectrum of social justice activists. Through each protest and vigil, I began to witness that friction fostering productive conversation and sparking change within myself and within my community. Tension and conflict in our self-understanding and our understanding of the work we were doing actively reminded us to seek out new ways of approaching activism. As a community, we each had something to bring to the table: a potluck of gifts and skills for the sake of our collective cause of social justice.
In the end, I learned that activism, and activists, are far from a unified picture. There is no single poster-child for activism. There are those who are compassionately and eloquently outspoken. There are those who, sometimes, just sound like hot air. There are those who barely say a thing but who faithfully hold up a sign every Friday morning in your downtown, nonviolently speaking out against the dominant narrative and asserting that #BlackLivesMatter. There are those who say the wrong thing at the wrong time. There are those who know how to soothe a crowd with their confident yet gentle voice for peace. There are those who get the facts wrong. There are those who seamlessly create educational materials and design a movement's website. There are those who know when to bring along the snacks and refuel their fellow activists.
And why wouldn't we be this diverse array of people?After all, as Christian activists, we believe that we are the created in the image of God. Jesus' character is constantly challenging our incomplete, "black and white" understanding of humanity. The same Jesus who shows us radical hospitality and invites us into conversation is also the Jesus who confronts us, who unapologetically challenges us to ask better questions of ourselves and our neighbors. Christ is more than any preconceived understanding of "one" or "the other", and in being so invites us to see ourselves and others in this same, non-binary way.
Activism, "The Other" and the 2016 Elections
As Americans growing weary of our current political climate, perhaps especially in this election season, I think it would significantly help us to reframe our understanding of activism – and of "the other". My own narrative of activism has changed fundamentally: from a narrative of anger and self-focus to one deep compassion, boundaries, vulnerability, and humility.
Ultimately, what I've learned about activism can be summed up in one sentence: At its best, protest is a form of prayer.
Once I realized this, the jagged edges and the seemingly accusatory statements of activists became more "digestible." Now, I could name the hurt and the struggle without judgment. Now, I could take a deep, life-giving breath and begin to understand a perspective that before was a mystery to me.
At the same time, I have realized that at times, the very point of activism is not to be palatable or digestible. Sometimes, the point of activism is to disrupt, to give us cultural indigestion.
___________________________________________
At its best, protest is a form of prayer.
___________________________________________
To be sure, our culture seeks solutions that smooth things over, cover what stands out uncomfortably: blemish cream to hide our zits, a "morning after" pill or hangover cure to erase our mistake from last night – even the smiles we wear to church on Sunday morning.
And yet, while our culture may represent itself in a way that is palatable and digestible, what we truly crave as individuals in community is the ability to be seen with our wounds and our hurts for who we truly are. In protest as in prayer, we want to be seen, heard, accepted, and loved.
In the face of glaring injustice, erasing imperfection is simply not an option, theologically and ethically. At the same time, in the face of the polarization this election season brings, erasing the critical, one-sided narrative of activism (a narrative I used to believe) is also not an option, realistically and politically. We find ourselves back in that friction, that creative tension that I experienced as a YAV in Tucson. But fortunately for us, that tension is in fact creative.
"They Shall Beat Their Prayers into Protests"
As racial violence erupted once again this past summer, signs at #BlackLivesMatter vigils and protests read, "No Justice. No Peace." These signs echo the words of the Prophet Jeremiah. They refuse to accept as palatable and digestible what should be heart-wrenching and nauseating to us as a people.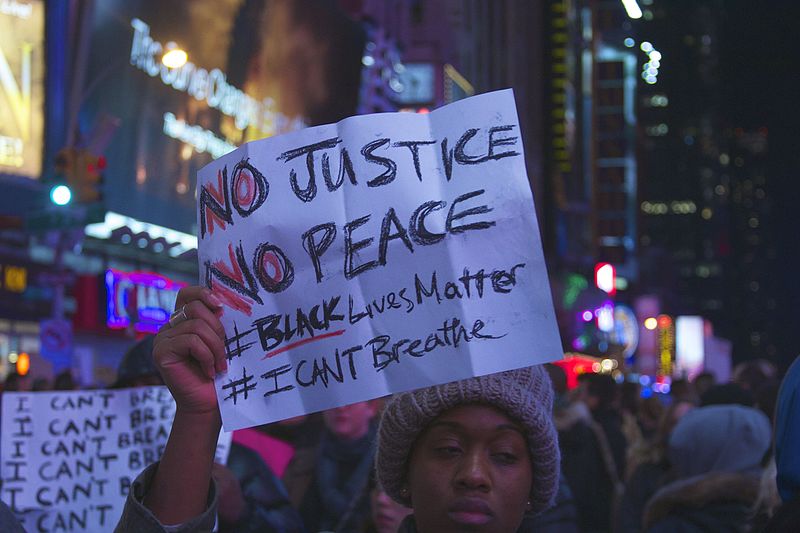 Watching and participating in the protests this summer, I learned that protesting is a prayerful, political, and perhaps even pastoral act of setting boundaries with God, others, the world, and ourselves.
We are calling out, "God, this is still not right! Until Black Lives Matter, all lives don't matter." We are calling out, "Neighbor, see how your street and neighborhood are segregated." We are calling out, "Church, school, and workplace, see how your employees of color are being underrepresented in positions of leadership." And, if we respond honestly to the call to be self-reflective, we are also calling out to ourselves: "Activist, continue to seek out other peoples' voices…not simply just your own."
___________________________________________
Protesting is a prayerful, political, and perhaps even pastoral act of setting boundaries with God, others, the world, and ourselves.
___________________________________________
When we take a step back from calling out for injustice in the streets and outside court houses, we realize that these words have always been there; before, they cried out inside of us and we tucked away in the corners of our hearts and prayers. Now, they are the same prayers, just louder and more public.
Recently, I stumbled across a copy of Thomas Merton's Letter to a Young Activist. The timing could not have been better. It was just hours before my community's NAACP and local Presbyterian Church took a stance on petitioning the sale of the Confederate flag through the presence of our #WayneCountyFairForAll booth at the week-long Wayne County Fair in Wooster, Ohio.
As soon as I started reading Merton's letter, I was hooked. The message was timeless; it could have been a BuzzFeed article reposted to my Facebook timeline by a friend equally as stoked about social justice as I am. Instead, the author was an American Catholic writer and mystic born in 1915. I think Merton would have gotten along quite well with many of us millennials of faith.
Merton tells the young activist that this work of activism is not just about ideas; it is about people. He writes, "as gradually you struggle less and less for an idea and more for a specific people, [this work] gets much more real. In the end, it is the reality of personal relationships that saves everything."
___________________________________________
Our conversation started with a lot of interrupting each other and very little true listening. And then, he started to tell me his story.
___________________________________________
During our experience at the Wayne County Fair, I realized that in this situation, the most important thing to do was to continually humanize the "other." At one point during the fair, a middle-aged gentleman came up to our booth. I could tell immediately from his body language that he was upset by our message. While the front of our booth sported a banner that read #WayneCountyFairForAll, the panel in the back of our booth said, "If all lives matter, then BLACK LIVES MATTER." This man felt our message was too divisive.
As he began to criticize our message, I felt myself tensing up; his defensiveness was contagious. Our conversation started with a lot of interrupting each other and very little true listening. And then, he started to tell me his story. He was a single father, a white man raising two bi-racial children. He looked at me with weary eyes and said, "We all need to stop complaining and just come together." I told him I understood where he was coming from. I also told him that ultimately I want that too, but sadly that is not the current reality. Our conversation continued with a different tone. At the end of the day, we were both struggling for the same thing: we wanted to be heard.
___________________________________________
In conversation, we come to realize that the "other" is not as "other" as we thought.
___________________________________________
This could easily have become a conversation where either I gave up and pushed a white privilege flyer into his face or he got so ticked off that he walked away from the booth. For some reason, we both resisted giving in to that impulse. Instead, we chose to truly engage in conversation and listen to each other, and in conversation, we come to realize that the "other" is not as "other" as we thought, nor are their ideas and feelings as foreign as we might have assumed. In a way, these conversations become another kind of prayer of protest, amplifying our voices as we both express our discomfort with the way things currently are unfolding in our country.
This election season, whether you are voting, lobbying for a presidential candidate over the phone or outside your child's elementary school, or even re-posting an article to Facebook, I challenge you to think about how your "prayer of protest" can create more of a community conversation rather than a personal monologue. How can we get off our soapboxes and really listen?
Remember that personal relationships are what really make the difference. Remember that the "other" is never as far away as we imagine. And finally, remember that even our "prayers of protest" can become an opportunity to reconnect with one another, if we are open to the movement of the Holy Spirit.
*****
AUTHOR BIO: Emily Oshinskie is the Young Adult Peace Worker at Westminster Presbyterian Church, the church-in-residence at the College of Wooster in Wooster, Ohio. Emily enjoys strumming on her ukulele, participating in community home repair, meeting people where they are, and running and biking in Northeast Ohio.