The queer life, as diverse and multifaceted as it could be, holds grief as one of its near universal traits. As a clinical social worker and family therapist, the ubiquity of the grief experience is obvious. Even if it is not named as such, I can almost guarantee that if a queer client with a religious background comes into my practice, that at some point, the torrents of grief will appear in one (or more) of its many forms. The oft-cited model of grief by Swiss-American psychiatrist Elisabeth Kübler-Ross, while out-dated, does give a guide as to some of the ways this grief can manifest. Whether it is in denial ("I'm not hurt, I'm just fine!"), anger ("Screw them!), bargaining ("How can I fix this?), depression ("This sucks, and it hurts really bad"), or acceptance ("I'll be okay eventually"), grief will almost always manifest for queer folks as a result of rejection and pain.
And if we're honest with ourselves, even our queer family itself can be a source of grief for us. Unresolved trauma, unclear expectations, internalized queer-phobia; all of these are often barriers for meaningful and significant relationships in the queer Christian community. And in many ways, these rejections and rebuttals often are even more painful; after all, we as queer folk have come to expect rejection from straight and cisgender counterparts. Rejection from those who we assume share our experiences with can cause a new level of pain and humiliation, pushing us further into shame and isolation.
In reflecting on this grief, the words of Psalm 22, though not a familiar Psalm at first naming, resonate deeply with me as a queer Christian who has experienced these loses. And it is no wonder that upon turning to those words, we find another for whom these words resonated; they were the words of Christ on the cross:
"My God, my God, why have you forsaken me?
Why are you so far from helping me, from the words of my groaning?
O my God, I cry by day, but you do not answer;
and by night, but find no rest." (Psalm 22:1-2, NRSV)
Christ, the physical embodiment of love, crying out in raw honesty – "God, where are you?" How many queer Christians have made that same cry? How many of us have poured out our hearts and our tears before God after Christ's followers have turned on us, rejecting us from our homes, families, and churches? How many of us have then again poured out our hearts and our tears before God after other queer folk have also turned on us?
There is, I believe, a reason why grief, in its many forms, is one of the most universal issues that queer Christians bring into therapy. It is because grief's unique and all-encompassing manifestations are so broad and often presents in ways that Christians have historically been told is wrong. How many queer Christians have heard about how being LGBTQ will lead to depression, isolation, and anxiety? And while being queer, in and of itself, does not make one depressed, the rejection that many of us feel as a result of being non-affirmed certainly bring about those feelings and experiences (For example, research has shown us that lesbian, gay, and bisexual youth are 8.4 times more likely to attempt suicide if they come from rejecting homes.[1]) And even in affirming, queer Christian spaces, clinical terms like "mental illness" and "major depressive disorder" are often met with raised eyebrows and whispered judgments. Our own queer family, despite often having a shared sense of embodied grief and trauma, is often the least understanding of the manifestations of grief like depression and anxiety that are so prevalent.
The comfort I find in Psalm 22 is that Jesus himself drew from those words. If those words are good enough for the embodied Christ, they certainly can be good enough for me to express honestly the hurt from both the church and from queer kin; both spaces that oftentimes don't know how to deal with such raw emotional expressions. But knowing that those feelings of grief are not "too big" for the God of the Universe gives me great comfort in how to wrestle with my own grievings, how ever they might come.
For queer Christians, I would encourage us to be bold and honest about our grief, in whatever form it may manifest. If we need permission to feel angry or depressed or anxious, know that Christ himself experienced these things in his crucifixion, in which he must have been grieving the ultimate rejection of his friends, followers, and of God. But more importantly than even being bold about our own grief, I believe that we must examine how we receive the grief of others. If we are, in fact, called to be the body of Christ, that is, the embodiment of Christ on earth, then we are called to also receive the grief of one another. The beauty (and the pain) of our queer Christian family is that we share many of these experiences together. As such, it can sometimes feel overwhelming; the tendency to push past the pain is real. However, we are called to bear this together. What might it look like if our queer family, rather than trying to hide our griefs, instead became a place where we could honestly wrestle through the pain and help each other heal? I think it might look a little bit like resurrection, this side of heaven.
---
[1] C. Ryan et al., "Family Rejection as a Predictor of Negative Health Outcomes in White and Latino Lesbian, Gay, and Bisexual Young Adults," Pediatrics 123, no. 1 (2009): pp. 346-352.
---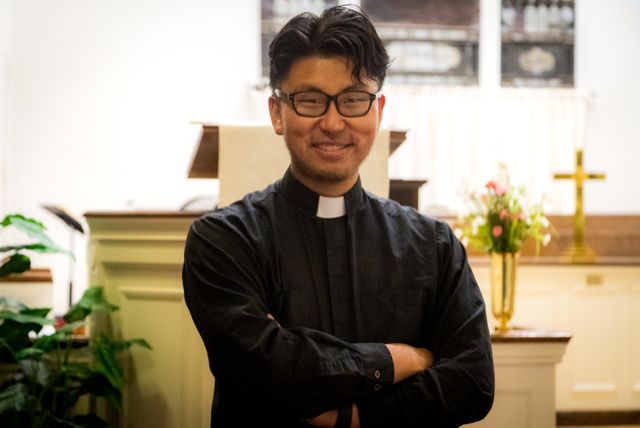 The Rev. Jonathan Vanderbeck, LCSW (he/they) is a licensed clinical social worker in practice at the Samaritan Counseling Center of the Capital Region in Scotia, NY, where he also serves as the Coordinator for Clergy and Congregational Care. They are a (soon-to-be) ordained minister in the Presbyterian Church (USA), transferring their ordination in July of 2021 after serving for five years as the first openly-gay, person-of-color ordained in the Reformed Church in America (RCA), the oldest Protestant denomination in the United States.
Rev. Vanderbeck is currently a doctoral student at the College of Social Work of the University of Kentucky, where he is researching how social workers can be better informed about the impacts of conservative Christian identity on LGBTQ+ people. In their spare time, they self-care in the kitchen where they can be found cooking and canning, as well as traveling around the country on his favorite airline, Delta Airlines (which, rumor has it, he has converted more people to becoming Delta frequent flyers than he has to the church). He is not currently active on public social media platforms but can be reached by email at [email protected].