A NEW GENERATION BEFORE THE WALLS OF JERICHO
By Jill Schaeffer
It took a circuitous forty years for the Israelites to cross over the Jordan to confront and be confronted by the land of milk and honey God had promised them. Moses didn't make it. Martin Luther King Jr. didn't make it, but the second generation did make it, crossing over the river to stand in our day before the walls of Jericho.
A few of us out of the 54 New York Theological Seminary (NYTS) faculty, staff and students who bussed down to Washington on August 24th had been part of that younger second "Joshua" generation; we can remember the violence of the crossing. We had been well dressed, focused and committed on August 28th, 1963. The business of justice demanded passion and decorum. We came to work and to witness. There was a biblical script, of liberation more than conquest. An atmosphere of gravitas permeated that March, made incarnate by King himself. We had seen TV films of police with pork bellies bashing, clubbing blacks and stuffing them into police vans, read and heard of murders and slander surrounding the "morality" of Rosa Parks, The Southern Christian Leadership Conference (SCLC) and King himself. Anybody who thought blacks should vote, go to a decent school and sit where they wanted to sit on the bus was one or two standard deviations from the mean measure of civil society, was a communist, was maladjusted, was untrustworthy, was one of "them." Yet, to the pure red-blooded American question, "But, is it fair?" the trumpet resounding in Washington, August 28th 1963 blared a resounding "No!" and the people agreed. Things began to change.
In Washington, August 24th, 2013, when we got off the bus at the RFK Stadium (not a few leaders were killed in the sixties, remember?) Washington greeted us with perfect summer's day. Walking to the Metro for the ride to the Mall, the first thing I noticed was Tee shirts and flags for sale. The business of justice 50 years later brought enthusiasm and informality and more business. Once out of the Metro facing the Washington Monument, I saw venders hawking their wares on either side of the streets; among them were Black Muslims selling Tee shirts, buttons and banners. One flag flying high among marchers was the LGBT rainbow. Women and men wore whatever they wanted, sometimes less than more. Families carried portable chairs from Kmart or Modell's, coolers and blankets. Their children played on the grass or slept in Daddy's arms. The United
Auto Workers (UAW) and National Association for the Advancement of Colored People (NAACP) were well represented. Tee shirts told you who and how many they were. NYTS had provided us with purple and white bags filled with goodies. We wore white or purple Tee shirts, too. Just like everybody else, we belonged somewhere to some group and let everybody know it. And I imagined: Dan, Naphtali, Asher, Benjamin, Judah, Ruben…." Tribal, we were going tribal, and it was cheery and fun.
We broke up into small groups, and I was with four NYTS folks. We found a shady spot along the Mall, about half way between the Lincoln Memorial and the Washington Monument and settled down to listen to what I had hoped would be our marching orders into Jericho.
But, for me, what happened was a question mark: I heard many issues mentioned, out of which two repeated themselves across the speakers: The Supreme Court's decision to suspend voting rights, and SYG – Stand Your Ground, that permitted the killing of Trayvon Martin. Indeed, Trayvon's mother, Sybrina, gave the closing prayer and appeal to all of us there to change this law.
Yes, comprehensive immigration reform, rebuilding the public school system, job creation, were all mentioned and more than once. The Gay issue wasn't so much highlighted as listed in a commemoration of inclusiveness that King and subsequent work had brought to all people: blacks, women, disabled, the dispossessed and disenfranchised. Holder had said that if it hadn't been for the Civil Rights Movement, neither he nor Obama would be in office. LGBT persons were no longer the untouchables on the list of undesirables. When Bayard Rustin, the black homosexual civil rights leader was mentioned, people cheered. When the President of the American Federation of Teachers, Randi Weingarten, related how she, a woman and a lesbian would not have stood a chance when King gave his speech 50 years ago, people cheered and applauded. This was all good, and all to be celebrated, but there was still so much to do.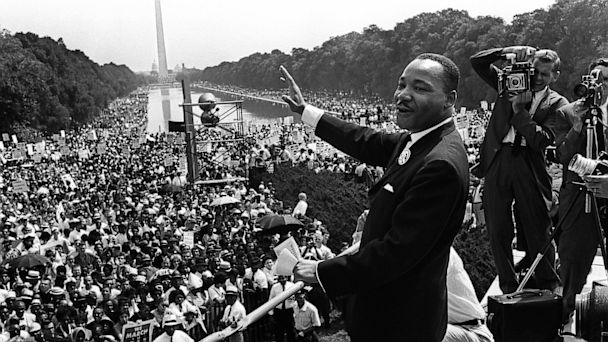 And here, I began to wonder just a bit about the analysis of issues that might yield those marching orders I had hoped to receive. Just what is this "so much" that is still to be done? The walls of Jericho are so very high and so very thick, and their mortar is economics. I was waiting. Yes, we were told to "commemorate in Washington and go home to agitate." On the voting rights issue, "agitation" was clear: Cause that decision to be reverse or be sidestepped state by state. On the Trayvon Martin issue, get that SYG law scratched from the books.
But it was Al Sharpton who alluded to a few lacunae that needed to be identified and addressed with concrete strategies: To the youth: "Don't think that Medgar Evers died so that you could grow up to become a hood!" To those of us who grumble about injustice or anything else: "The most insane thing sick people can do is sit around and decide who is the sickest." It seemed to me that Sharpton had targeted an emerging self-absorption and obsession with self-esteem that often replaces the consensus of concern for the "other" prevalent and effective during the sixties and throughout the seventies. Sharpton talked about "flipping votes." But it was flipping votes for the sake of the other, for the outsider in your midst. Perhaps our tribal mentality has become constituency oriented rather than "other" oriented. The high five is for me and only afterward, for thee.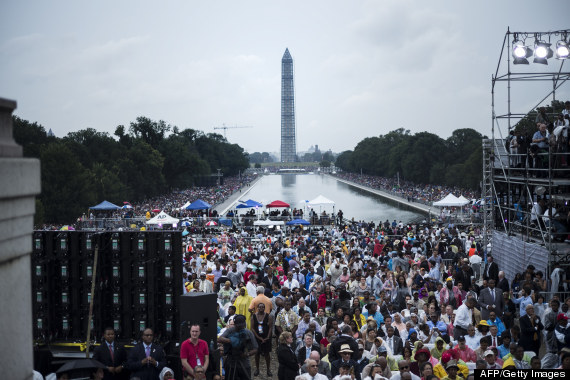 Sharpton also quipped about economic injustice: "In 1963, when we sent in a check for civil rights, the check came back, 'insufficient funds.' Today, when we send in a check for jobs and a living wage, the check is returned for 'stopped payment,' to bail out banks." I wanted him to say more. In fact, I'd have liked an analysis of a system that seems to run over the poor with impunity and tears up the middle class, a system that actually creates poverty and dis-ease. I'm not talking about "Capitalism," per se. I'm talking about oligarchy and a high-tech neo-feudalism. The philosopher Alfred North Whitehead had predicted such in 1924. Somewhere during the commemoration of all that had been accomplished, I had wanted to hear an analysis of economic modalities that increase poverty and dependency upon multi-nationals and banks, credit bureaus and the IRS so that we who came to Washington could go home and "flip votes" on those issues. But, I realized, it wasn't the time or the place for that kind of platform.
So, there were two problems: self-absorption and economics – two matters alluded to but not spelled out by Al Sharpton. Perhaps the churches could work on both: Reviving concern for the "other" and economics.
We were happy and tired on the bus ride back to New York. It was, indeed, a good day, and if the speakers were right, we still have promises to keep and miles to go before we sleep. To God be the glory in the work ahead of us.
______________________
Dr. Jill Schaeffer came to the former United Presbyterian Church in August of 1973, where she worked as a journalist and staff writer for the General Assembly Agencies, then in NY. She earned her M.Div at SFTS in 1984. A year later, in 1985, Jill was ordained by the Presbytery of the Redwoods in a Validated Ministry to the World Alliance of Reformed Churches headquartered in Geneva, Switzerland. Her work consisted of human rights, with a special focus on women's issues and communications. In 1991, she began PhD work at the Graduate Theological Union in philosophical theology, after which she went back to Europe to work as a bi-lingual translator for the CEVAA (Evangelical Community for Apostolic Action). In 1999 she achieved her Ph.D. and was called back for a second tour by the Alliance to work on women's issues, organizing gender awareness workshops in the Czech Republic, Jamaica and Togo. She returned to New York City, where she served as Coordinator of the Interfaith recovery task force after 9/11. Since 1993, while serving as half -time pastor successively in three churches, Jill has been adjunct teaching in the Masters of Professional Studies program at Sing-Sing for New York Theological Seminary and also teaches philosophy at LaGuardia College in Manhattan.