Red Letters: Ain't Nothing But the Truth
Isaiah 61:1-4, 8-11
The spirit of the Lord GOD is upon me, because the LORD has anointed me; he has sent me to bring good news to the oppressed, to bind up the brokenhearted, to proclaim liberty to the captives, and release to the prisoners;to proclaim the year of the Lord's favor, and the day of vengeance of our God; to comfort all who mourn; to provide for those who mourn in Zion– to give them a garland instead of ashes, the oil of gladness instead of mourning, the mantle of praise instead of a faint spirit. They will be called oaks of righteousness, the planting of the LORD, to display his glory. They shall build up the ancient ruins, they shall raise up the former devastations; they shall repair the ruined cities, the devastations of many generations. For I the LORD love justice, I hate robbery and wrongdoing; I will faithfully give them their recompense, and I will make an everlasting covenant with them. Their descendants shall be known among the nations, and their offspring among the peoples; all who see them shall acknowledge that they are a people whom the LORD has blessed. I will greatly rejoice in the LORD, my whole being shall exult in my God; for he has clothed me with the garments of salvation, he has covered me with the robe of righteousness, as a bridegroom decks himself with a garland, and as a bride adorns herself with her jewels. For as the earth brings forth its shoots, and as a garden causes what is sown in it to spring up, so the Lord GOD will cause righteousness and praise to spring up before all the nations.
A friend I had not seen in years met me for lunch recently. In our conversation, she said during COVID, she participated in a Bible Study. She committed to reading the Bible in a year. She had never done that before and was appalled at the violence and corruption. Quoting Psalm 137:9, "Happy is the one who seizes your infants / and dashes them against the rocks," she leaned back in her chair, looked at me, and said, "what in the world?" I nodded in agreement and said, "I decided to just read the red letters of Jesus in the four gospels because I didn't want nothing but the truth."  
"Ain't nothing but the truth" was a saying I heard my parents, and their friends say when they tried to express something intangible, beyond words, but right and pure like a sermon, jazz rift, gospel solo, peach cobbler, or a starry black night. Nothing but the truth. 
And didn't Jesus say I am the way, the truth, and the life? All who come by me will be saved? John 14:6 (red letters). What we need in this Advent season is nothing but the truth. Reading Isaiah 61, Jesus announced his mission statement in Luke 4:18. The Spirit of the Lord is upon me because he hath anointed me to preach the gospel to the poor; he hath sent me to heal the brokenhearted, to preach deliverance to the captives, and recovery of sight to the blind, to set at liberty them that are bruised, To preach the acceptable year of the Lord…This day is this scripture fulfilled in your ears. (red letters)
Jesus made public that he intended to preach, teach, heal, inspire, empower, give hope, protect, and comfort. He tells us, I will show you how to live, treat others, and pray. And then I will pass the Spirit to you so you can strengthen, restore, and repair what has been weakened, destroyed, or broken. If you follow me, model your life after me, and treat people with love and compassion, you will find your way to eternal life.
Have you ever seen a starry black night in person? I have. Unless there is a major power outage, you must go somewhere away from the blinding artificial lights on houses, cars, parking lots, billboards, and buildings. Somewhere rural, or out at sea, or in the mountains, or in the desert. Any isolated place where Creation can be seen in all its glory, where the sky is pitch black with millions of stars showing themselves so thick and close you feel like you can touch them. So many that it takes your breath away, and you feel at one with the Universe.
Quantum physicists tell us the Universe is made up of energy that vibrates. Everything, from the molten rock in the depths of this planet to the furthest galaxy, everything. The Universe, visible and invisible, is pulsating energy. Music therapists tell us that specific frequencies and energy vibrations will heal our emotions and bodies. Music is considered the universal language for a reason.
In keeping with the womanist emphasis on self-authored divinely inspired knowledge aimed at uplifting individuals and society simultaneously, Layli Maparyan, in The Womanist Idea, defines LUXOCRACY: Rule by Light, as "the potential of human spirituality to constitute a highly illumined form of social organization that does not require external mechanisms of control." She envisions intentionally putting spirituality at the center of human life using the womanist social change method of harmonizing and coordinating through creativity, ingenuity, improvisationality, and making a way out of no way. 
LUXOCRACY takes as fundamental that all persons are a unique manifestation of the One, the All, the Source. The optimal purpose is to simultaneously foster, facilitate, nurture, protect, and coordinate the expression of every person's Innate Divinity. When we become aware of the sacredness of Creation, our neighbors, and ourselves, our mindset changes, and we become capable of operating within a frame of reverence. Reverence, she writes, evokes our most generous and respectful feelings and behaviors. In other words, she sees the world working at a higher frequency and vibration.
Jesus is energy who became human matter to teach us how to ignite the Innate Divinity lying dormant or neglected in us. The Spirit is pulsating energy, a vibration, a frequency that heals, inspires, empowers, protects, comforts, and precipitates hope. The scriptures speak tell us that in Isaiah 61/Luke 4 (red letters).
Jesus, our role model, mentor, and spiritual director, reminds us of our potential. He said, "Very truly, I tell you, the one who believes in me will also do the works that I do and, in fact, will do greater works than these." John 14:2 (red letters) implies we can make all things new, too. Rev.21:5 (red letters)
These are weary times. We are living with international and domestic wars and rumors of war, mass shootings, inflation, out-of-touch politicians, and inadequate health care. Advent tells us again to celebrate the joy of his coming to give us life more abundantly. John 10:10 (red letters) and evoke the Spirit He gave us to heal a weary, war-torn world until he returns. John 14:16-21 (red letters)
Starry black nights are pinpoints of light energy held together by Dark matter. Dark energy. Dark flow. Under that starry black night, I felt swaddled in an eternal blanket of protection, comfort, and love. Its cosmic presence reminded me that one of the stars came to grace us in the night to light our path back home. And that's the truth.
---
Reflection:
Read the red letters in one of the four gospels.
Where are the red letters of truth in your own life?
What energy do you feel during this time of Advent?
---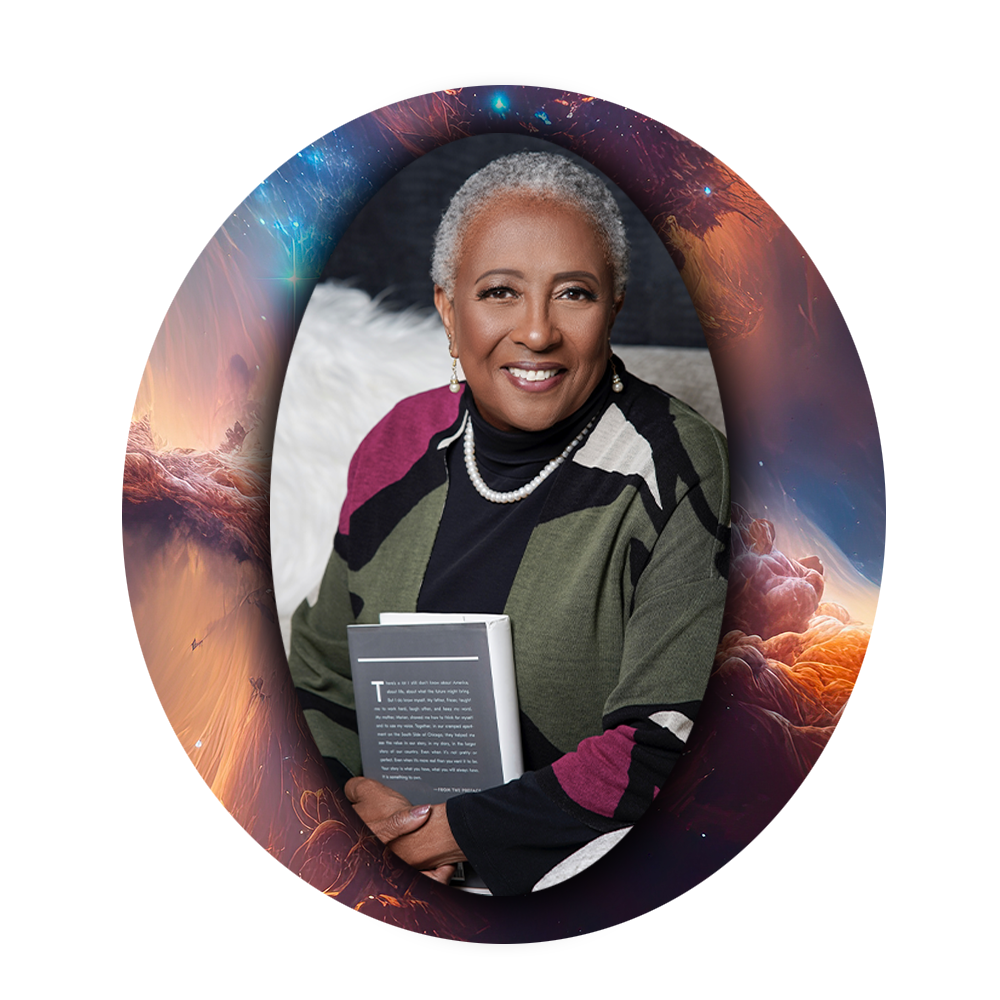 Rev. Dr. Paula Owens Parker is passionate about womanist mysticism, spirituality, and healing generational trauma in the African American community. She has spoken at conferences, retreat centers, churches, and in classrooms nationally and internationally. Her mission is to illuminate, validate and inspire healing and wholeness for individuals, families, and communities.
A Presbyterian minister (PCUSA), she is the senior program developer of Roots Matter LLC and the former program associate for the Katie Geneva Cannon Center of Womanist Leadership at Union Presbyterian Seminary, Richmond, VA. Dr. Parker is a spiritual director and a Spiritual Directors of Color Network board member. She earned her DMin from San Francisco Theologi-cal Seminary, MDiv from Union Presbyterian Seminary, and BA from Fisk University.
Dr. Parker is the author of Roots Matter: Healing History, Honoring Heritage, Renewing Hope (2016) and has contributed articles to Christian Century, Interpretation: A Journal of Bible and Theology and chapters in Kaleidoscope: Broadening the Palette in the Art of Spiritual Direc-tion (2019) and Walking through the Valley: Womanist Explorations in the Spirit of Katie Ge-neva Cannon. (2022)
Dr. Parker's ancestral roots are in Princess Anne County (Virginia Beach), Norfolk County (Chesapeake), Virginia, the home of the Powhatan, the Piscataway, and the Nanticoke and Cur-rituck County, North Carolina, the home of the Yeopim. Her DNA reveals relatives in South Carolina, Nigeria, Cameroon, Congo & Ghana, England, Scotland, and Ireland.
She currently lives in Richmond, VA, the former capital of the Powhatan Federation and is the mother of two sons and has eight grandchildren. Her favorite quote: "Trauma travels through family lines until someone is ready to heal it. Your ancestors and descendants celebrate every time you do the work."