1 Samuel 16:1-13 – Psalm 23 – Ephesians 5:8-14 – John 9:1-41
It is difficult to get away from our beginnings.
I'm thinking about this a lot lately. The experiences and places that exist within our foundational years are deeply embedded in the fabric of who we are and how we approach the world. I am looking back on my beginnings and letting them teach me in new ways.
I was raised in an old rock house that sat on 400 acres in Hughes county, Oklahoma. My mother inherited the land from her grandmother. The house was built from large limestone blocks quarried from the land by Native Americans removed there in the 1800's. Our home was originally used as a Native American schoolhouse and the acreage was a part of my families original land allotment. The land was a tangible connecting point between me and my ancestors and I will always be grateful that this was the place of my beginnings.
As a child, I had free roam of that land. It was expansive, seemingly without border. I explored every inch of those 400 acres as if it was my full time job. I was a wide-eyed little girl, taking in the created world with awe and reverence. Everywhere I looked the land was constantly evolving, dying and being reborn in a cyclic persistence that I would learn early in life. I discovered the limestone creek bed dry to the touch one day, overflowing and swiftly moving the next. The ponds, frozen over and thick enough to walk on would soon give way to a swimming hole in the summer months. The fields full of Indian Paintbrushes, glowing red and swaying in the Oklahoma wind one day, but soon barren and empty. Nothing stayed the same, every day looked different but was all incredibly interconnected. As a child, I saw the world as whole, connected, always in relationship with something else.
I received all that information, wisdom and beauty through my eyes and my experience. I learned that creation was always speaking, always revealing a greater mystery. I uncovered deep wisdom that existed within every living system surrounding me. The things I saw with my physical eyes, on that land, in those early years developed something in me. I'll never be able to separate my adult self from that curious little girl finding incredible delight in creation. What my physical eyes saw in my beginnings formed my spiritual sight to this day.
But this is the way it is, isn't it? In our lives, there is a profound connection between what we see and what we believe. What we see dictates how we interpret the world in which we live. Our vision dictates how we embody our lives on earth. Simply put, it matters what we see. It matters where we are looking. It matters how we are looking. And it matters that Creator transform our physical sight so that we may truly see.
In John 9, we read the story of a man born blind. Jesus encounters the man, heals his eyes and restores his vision. As the Pharisees greet the healed man, they were suspicious and concerned. They did not know Jesus or understand how he had healed the man's eyes. The Pharisees repeatedly ask questions, "How did your sight return to you? How were you healed? How do you now see? What did he do to open your eyes?"
The blind man responds, "all I know is that I was blind, but now I see."
As the Pharisees are hurling insults and mocking the healed man, Jesus tells them: "I came so that the blind may see."
Jesus came so that the blind may see. Jesus came so that we may experience.
What is it we see or experience? How does our spiritual sight direct our lives? Are we truly seeing/experiencing? Does our spiritual vision need healing? Where do we look for wisdom?
From my beginnings, God was teaching me that creation was God's first message. Christ is deeply embedded in all things and the incarnation is a process unfolding throughout time. God seems to have chosen to manifest the invisible in what we call the visible. As people of "the book", we often overlook the first discourse of God: creation. As a child, this discourse was teaching and guiding me in wisdom, beauty and inspiration, much like it had my ancestors before me. I am grateful for this gift and the way it has formed me.
Jesus came so that the blind may see. What we see matters. What we experience matters.
"No one longs for what he or she already has, and yet the accumulated insight of those wise about the spiritual life suggests that the reason so many of us cannot see the red X that marks the spot is because we are standing on it. The treasure we seek requires no lengthy expedition, no expensive equipment, no superior aptitude or special company. All we lack is the willingness to imagine that we already have everything we need. The only thing missing is our consent to be where we are."
― Barbara Brown Taylor, An Altar in the World: A Geography of Faith
Creator, we know that wisdom sits in places. Show us where to look or where to be.
---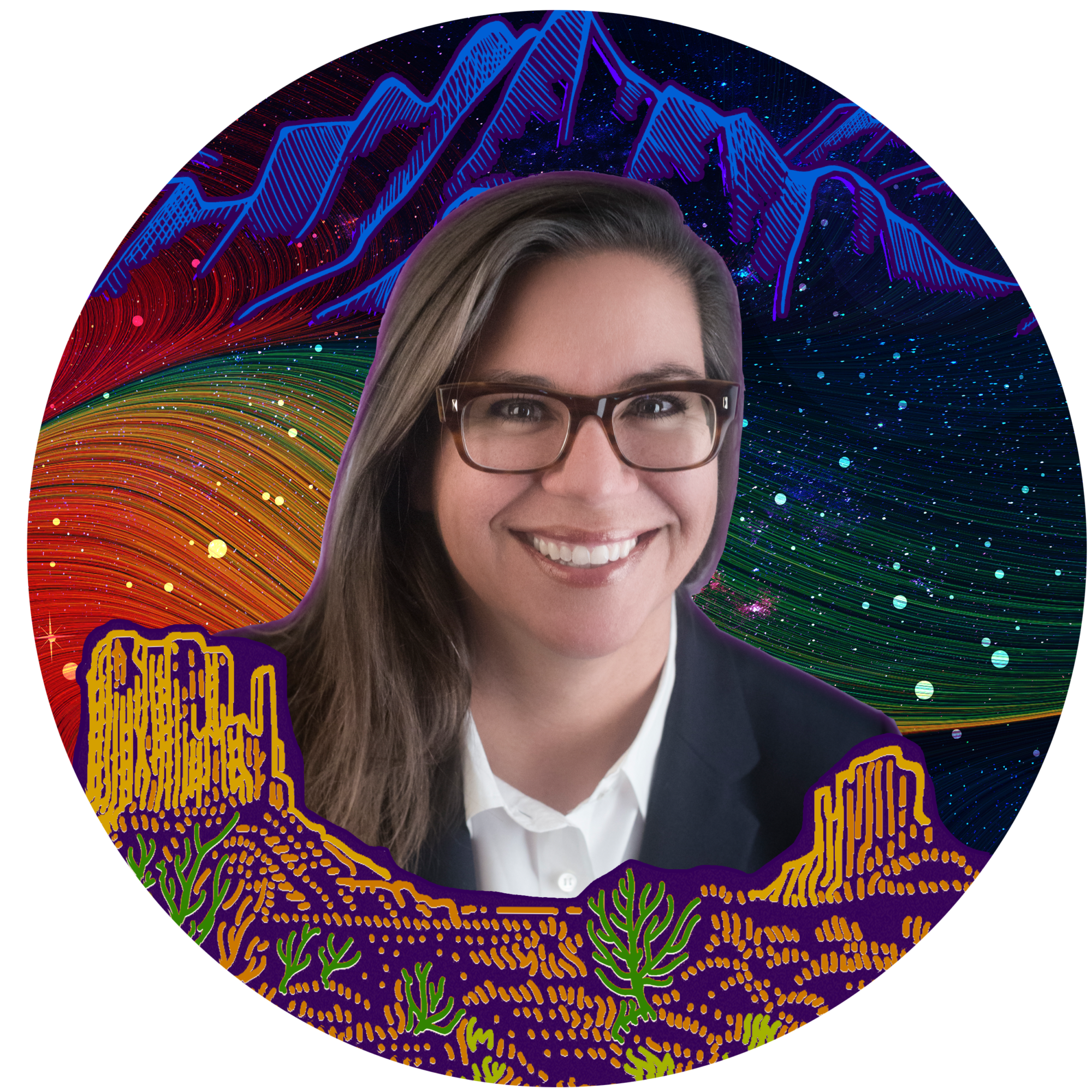 Erin Shaw is a painter of borderlands, the spaces between worlds. As a visual storyteller, the child of an Oklahoma farm, Shaw tills the rich soil of dichotomy through her masterful uses of color, iconography, and story. As a Chickasaw-Choctaw artist, she creates in a state of tension, suspended between two worlds where both solemnity and humor pervade her art. She finds that truths are revealed in unanticipated ways, and trickster often appears throughout her work. The artist earned her BFA in studio art from Baylor University and her MFA from the University of Oklahoma. She is Assistant Professor of Visual Arts at John Brown University in Siloam Springs, AR, an international speaker, and a featured artist in Visual Voices: Contemporary Chickasaw Art, among other exhibits in the U.S