Rhymes & Reasons returns to Unbound with a gentleman who ties hip-hop closely to his Christian faith.  Rev. Julian DeShazier is the Senior Minister at University Church Chicago in Hyde Park–and an accomplished rapper who goes by the name of "J. Kwest."
(Graphic language and adult themes are contained in some of the following links) In this interview, Julian discusses OutKast's "13th Floor/Growing Old," Common's "Retrospect for Life" featuring Lauryn Hill, and Wu-Tang Clan's classic, "Triumph," while remembering the spiritual journey that led to his becoming a pastor.
Julian's eloquence supports Rhymes & Reasons's core belief that beneath hip-hop's often gritty exterior lies something beautiful.  Hip-hop embraces the flawed nature of human existence as it sheds light on the lives of people whom society is structured to ignore.  Julian's interview points to why hip-hop should matter to the professed Christian, as Julian is able to relate the redemptive nature of the Gospel to his experience as an artist.
Here are excerpts of the interview, discussing Julian's perspective on life and hip-hop and where they intersect.
Introduction to Rhymes and Reasons and to Julian "J. Kwest" DeShazier: https://justiceunbound.org/wp-content/uploads/2013/05/JKIntro.mp3
---
"At 13 I wanted to hear music that connected with pain . . . music that connected with raw and real experiences, because that was what I was going through."  https://justiceunbound.org/wp-content/uploads/2013/05/JK13thfloor.mp3
More about 13th Floor/Growing Old: https://justiceunbound.org/wp-content/uploads/2013/05/JKRetro.mp3
---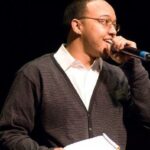 "In this song, without any Christian, biblical ideas around abortion, you hear the word of God." On Retrospect for Life: https://justiceunbound.org/wp-content/uploads/2013/05/JKChurch.mp3
---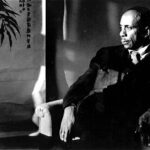 "Hip-hop gave people a voice who had no voice; the poor, the oppressed; what Howard Thurman called the disinherited.  It's a massive tool of empowerment." On church, risk and hip-hop: https://justiceunbound.org/wp-content/uploads/2013/05/JKRisk.mp3
  Notes: Images courtesy of 
http://www.jkwest.com/
Howard Thurman courtesy of Wikimedia