Rev. Bojangles Blanchard, Gay Baptist Minister, Tells the Story behind His Arrest after Applying to Marry His Partner
By Rev. Maurice "Bojangles" Blanchard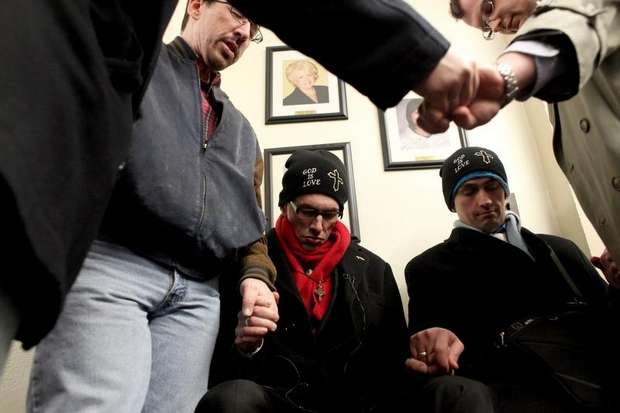 I'm Rev. Bojangles Blanchard and I was arrested, along with my partner, Dominique James, for holding a peaceful sit-in after being denied a marriage application. But this story begins elsewhere.
It begins with True Colors, an inclusive and affirming LGBTQ ministry, which I lead at Highland Baptist Church, in Louisville, Kentucky. About a month ago, Buster, one of the members of True Colors, was struck and killed by a car while walking along one of our city's busiest roads. His devoted and loving partner of 5 years, Kevin, with whom he'd lived for some time, was at work that evening. Upon returning home and finding their apartment dark, Kevin anxiously called and texted Buster's phone continuously until finally a woman answered. She told Kevin that she worked at University Hospital and that Buster had been in a serious accident. Kevin rushed to the hospital and explained to the doctors that he and Buster were partners and had been together for over five years. Instead of informing Kevin that Buster had passed away two hours earlier, the hospital staff scuttled him between nurses, doctors, and then finally to a chaplain who still refused to inform him of the death. A few hours later, one of Buster's sons arrived at the hospital and was told that his father had passed away. It was at this point, over four hours after Buster had passed, that his partner Kevin learned that he was gone.
Take one moment and imagine yourself in Kevin's shoes. The love of your life, your soul-mate, your spouse and partner has been in a terrible accident and you rush to the hospital to be by his side. When you arrive, you're asked if you're family and must explain to nurses and doctors that you are family but have no certificate of marriage to prove it. You must explain to them that you and your partner have lived together for over five years in hope that that somehow validates your status as family so that you can be with your loved one. Yet nothing you say convinces the staff that you are worthy of being informed that your spouse has already passed away. Instead, you are shuffled around for several hours as your mind races and your anxiety mounts. You sit, waiting for someone the hospital considers legitimate family to arrive so you can know something. Can you taste the humiliation? Can you feel the panic? What about the helplessness? Now can you feel the rage?
It was after telling me this gut-wrenching story that Kevin said to me, "Reverend, you have to do something about this. This isn't right." Many of you will say, "Well wait, isn't there a federal law allowing hospital visitation for domestic partners?" There certainly is. Yet, just because something is law doesn't necessarily mean it is followed or acknowledged. Kevin most definitely has a case against the hospital for denying him his right to be with his partner and learn of his condition. Of course, we must keep in mind that it takes money to hire an attorney and challenge such a crime in the courts. It also takes risk. I'm talking about the risk of losing your job when your sexuality becomes public knowledge. The little money you have could be gone and you would be on your own. This is oppression and discrimination and it inflicts wounds upon a person's soul that can last a lifetime.
Knowing the United States Supreme Court would be deciding the constitutionality of the ban on gay marriage in March, I had been praying for God's guidance on how I and others could witness through love and nonviolence against this unjust law. After learning of Buster's death and what Kevin had endured, I knew then and there that direct, nonviolent action must be taken, and soon. I returned to the works of Mahatma Gandhi, Bayard Rustin, and Rev. Dr. Martin Luther King Jr. that I'd studied for the past twenty years. Their faith-based use of nonviolent resistance to bring about social change was inspiring and I developed a strategy we would use in our own particular setting.
After some long nights of prayerful discernment and talks with my partner, Dominique, we decided to issue a press release explaining that we and other people of faith would rally for marriage equality in front of the Jefferson County Courthouse on the day after our nation celebrated Martin Luther King Jr. Day. Following the rally, we'd enter the County Clerk's office and apply for a marriage license. Knowing we would be denied the license due to the Kentucky constitutional amendment banning gay marriage, we intended to hold a peaceful sit-in/pray-in as a spiritual witness of nonviolent resistance against our and thousands of others' discrimination. This was all planned in spiritual conversation with God knowing fully well that by following God's will, we would be risking public humiliation, arrest, our employment, and our very lives. We knew that by inserting our bodies into such a public space, we would be exposed to possible violent response—our bodies further twisted into sites where power inscribes itself and dictates the meanings ascribed to our physical and psychological selves.[i]
The question one would naturally ask is, "Why risk all that by applying for a marriage license you know you will not get?" The answer is simple, to show the world what discrimination looks like up close. We are morally called by God to give spiritual AND physical witness against oppression and discrimination. Dr. King used this same strategy to nonviolently resist voter discrimination, segregation, and many other inequalities suffered by African Americans during the Civil Rights Movement. The public must be able to see and hear discrimination taking place so that it hits home. If they never witness it, if they are never given the opportunity to empathically feel the sting of humiliation when seeing a couple denied their civil rights, then their indifference is never challenged. By using faith-based, nonviolent resistance, our goal is to apply dogged and determined love to the cause of marriage equality so that the hearts of those who oppose us will be moved by our peaceful acts. We have faith that God will work through our witness, and the witness of many others, to reveal the greater moral truth that LGBTQ couples are entitled to the same civil rights as heterosexual couples.
In the wake of the rally, our nonviolent resistance, and our subsequent arrests, Dominique and I are enduring many of the negative consequences we anticipated but have found tremendous spiritual renewal in God. Our physical and mental faculties are exhausted and worn but our souls are strengthened as we follow what we know is God's will for our lives. It is similar to the quote of an elderly, African American woman who had walked miles while boycotting the city buses in Montgomery, Alabama, in 1955. When asked by a reporter how she was feeling, she replied, "Since I been walking, my feet are tired, but my soul's rested." This is how Dominique and I feel and, although we will readily admit to being scared and unsure at times, we know that God is with us and has always been with those seeking equality and resisting injustice. This timeless promise carries us even when our feet are bruised and weary.
Communities and individuals of faith who are feeling led by God to organize similar witnesses of faith should first consult folk with experience in these types of demonstrations for guidance. They should also devote themselves to prayer and honest discussion with each other concerning the goal of their action. Everyone involved must agree on the objective. This serves as a spiritual focus for each participant while in the midst of the witness of nonviolent resistance.
If you think you might be called to take this action, you will want to consider the possible consequences, which could be significant and severe. The consequences could easily extend beyond you as an individual to include your church, family, and the community. After weighing the likely costs against the opportunity to further equality, everyone participating must agree to a covenant of strict nonviolence during the entire witness and subsequent actions. It is important to note that adherence to nonviolence includes one's spiritual, mental, and physical being. A single negative outburst, whether verbal or physical, from you or anyone involved in the nonviolent demonstration, will destroy the witness of love that is being given. Self-control, emotional intelligence, and prayer are essential to successfully completing your demonstration.
Let me conclude by saying it takes considerable faith to step up and be counted as one who opposes the discrimination of LGBTQ people. In the moments of isolation and fear, know that you are surrounded by a cloud of witnesses. The agents of social and spiritual transformations throughout history stand with you. Your witness of love will be blessed and God's eternal truth that all humanity holds an inherent right to equality will endure.
Follow Rev. Blanchard on Facebook. He will be regularly updating this page with protest news, nonviolent strategies, and marriage equality developments.
---
Notes

[i]
See Judith Butler's "Foucault and the Paradox of Bodily Inscriptions" in
The Journal of Philosophy
, Vol. 86, No. 11, pp. 601-607, Nov 1989.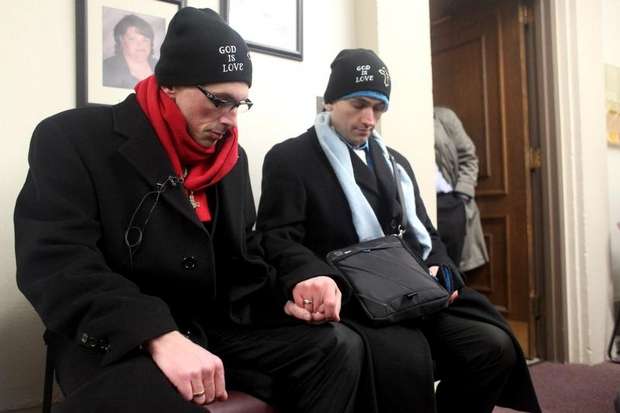 Rev. Blanchard was born in Greenwood, South Carolina and raised in the Southern Baptist Church. After coming out as a gay man, God led him to Highland Baptist Church, Louisville, KY. After two years, he began True Colors Ministry at the church as a welcoming and affirming LGBTQ ministry for the community. Currently, he attends Louisville Seminary and serves in leadership roles with several local civil rights organizations in Louisville, Kentucky.