Your Mission Field Is Around You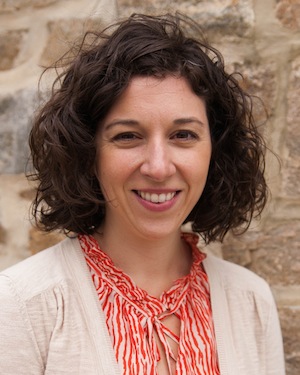 When I was in college, I felt a clear call to work in East Africa. This call directed every decision I made, from choosing a major at Vanguard University to spending my summers in Kenya. In 1999, I had the opportunity to work with a professor on a research grant testing a rapid, 20-minute HIV test. (Little did I know that it would eventually become standard practice!) Just a few years earlier, Magic Johnson had announced he was HIV+. At the time, I remember associating HIV with fear, stigma, discrimination, and death. I can now freely admit that as I started working on the study I was scared. Ashamed as I am to say it now, I associated HIV with sin and held that same stigma in my own heart.
After graduating, I moved to Kenya to do community health education and development work. I spent much time in urban shantytowns with open sewage and no running water. I began to see death everywhere, but HIV/AIDS was never mentioned. It was tuberculosis, cancer, or dehydration caused from diarrhea, but never HIV/AIDS. As I began to learn, the stigma and discrimination led to silence, and the silence led to death. Parents passed away, and small children were left to run the streets. This exposure to death shaped me, but so did the Church's response. Organizations like ours, World Relief, and World Vision were training churches not just to provide education but also to surround our Kenyan brothers and sisters, so that they may die in dignity. Those were the days when medication was not readily available.
___________________________________________
We are not called to do everything, but we are called to do something. Our mission field is all around us.
___________________________________________
Fast-forward a few years. I moved back to the States, got married, and moved to Baltimore. My husband and I only planned on being there 2 years before heading back to East Africa. As a result, I I mentally checked out of Baltimore. I simply refused to see it as my home. I commuted to DC, and while we lived in the city, we never left the Inner Harbor corridor except to drive up Charles Street to church. I didn't know how to engage in the city where I lived, worked, worshiped, and played…so I didn't.
As a colleague of mine says, "You can fake caring, but you can't fake showing up." I said I cared about Baltimore, but I didn't engage in Baltimore. I was ignorant, and I even held stigma and discrimination in my heart toward our brothers and sisters living in our city. One day at dinner with friends, I was asked a challenging question: What happened to the passion I had while serving in Africa, and why couldn't I do that here in Baltimore? They asked why I couldn't – or wouldn't – engage in my own city. In that moment, I felt God stirring in my heart, calling me to repent, to cry out to God, and to seek justice in my own city.
Just weeks later, I heard about the work of HopeSprings. I was shocked to learn that 1 in 40 people living in Baltimore was HIV+; in 4 zip codes, that number is closer to 1 in 20. I had spent all this time questioning why God wasn't moving us back to Africa instead engaging here in my own backyard. I wanted to go to "the ends of the earth" – to achieve the "missionary status" – instead of what seemed to me to be the harder thing – walking with Christ and the cross toward Jerusalem.
God taught me an important lesson through this process: We don't need to GO somewhere to be missionaries. We are not called to do everything, but we are called to do something. Our mission field is all around us.
___________________________________________
"Hands reaching out – not family, friends, or lovers, but strangers." This, my friends, is the role of the Church: to be the incarnational hands of Christ.
___________________________________________
I once heard an HIV+ brother say, "I am one of the multitudes who must be invisible. Yet in the midst of illness, rejection, isolation, and probably death—out of the darkness—hands reaching out—not family, friends, or lovers, but strangers."
This HIV+ brother's statement illustrates 2 powerful points: First, he still feels invisible. He is still being defined by a virus rather than by his true identity. And he still can't speak out.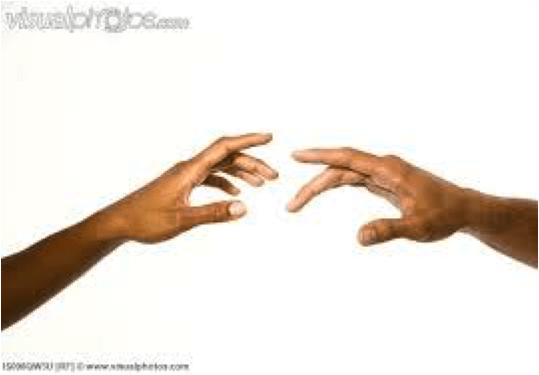 But secondly, this statement is also indicative of his hope. Hope of a stranger—becoming a friend—accepting him as he is. Touching him, reaching out to him, and then making a commitment to build a relationship. Does this remind you of anyone?
Scripture is filled with instances where Jesus reaches out and touches someone. We see Jesus' power released when he touches the eyes of the blind, when he touches those with leprosy, when he touches the disciples to erase their fear, and when the woman with the flow of blood touches his cloak.
"Hands reaching out – not family, friends, or lovers, but strangers." This, my friends, is the role of the Church: to be the incarnational hands of Christ.
That is our call as Christ followers. To, as Micah 6:8 puts it, "seek justice, love mercy, and walk humbly before God."
Seeking justice requires engaging in relationships, for God's Kingdom is a Kingdom where we are in right relationships with God, with all of our neighbors, and with this beautiful creation. We are called to love people where they are, as they are.
How We Serve
At HopeSprings, we help people put that call into concrete action. HopeSprings is a faith-based 501(c)(3) that awakens, equips, and engages the Church by developing networks of faith communities in the Baltimore region and beyond. These networks train congregants as volunteers in order to build human resource capacity within HIV Service Provider Organizations. Our goal is to reduce the spread of HIV and its stigma and provide hope and healing to those impacted by HIV and AIDS. We seek to do this through the power of relationship.
With cuts to funding in the HIV field, organizations are relying more on the assistance of volunteers. At HopeSprings, over 450 volunteers have been trained and engaged from more than 70 religious institutions since 2008. Between 2010 and 2013, volunteers served over 20,400 hours, averaging 450 service hours per month. This has saved hundreds of thousands of dollars in staff hours alone in addition to thousands of dollars in meeting tangible needs like furniture, food, and clothing. Volunteers assist testing and linkage to care, meal delivery and assistance, and life skills and mentoring to people living with HIV. By building capacity within existing HIV service provider organizations, churches are able to engage in mighty ways.
A Holistic Model of Service
In early 2013, HopeSprings began wrestling with the larger, holistic question of how to address the social and economic needs of our HIV+ brothers and sisters.
Despite medical and programmatic advances in the field of HIV, retaining people living with HIV in care and achieving viral suppression is a tremendous challenge. National data indicate that only 19-25% of persons living with HIV in the US are virally suppressed.[1] [2] [3]The implications of this for the HIV epidemic are more important than ever, with data to prove that early diagnosis and early HIV treatment bring great benefit to the individual patient, their sexual partner(s), and the entire community.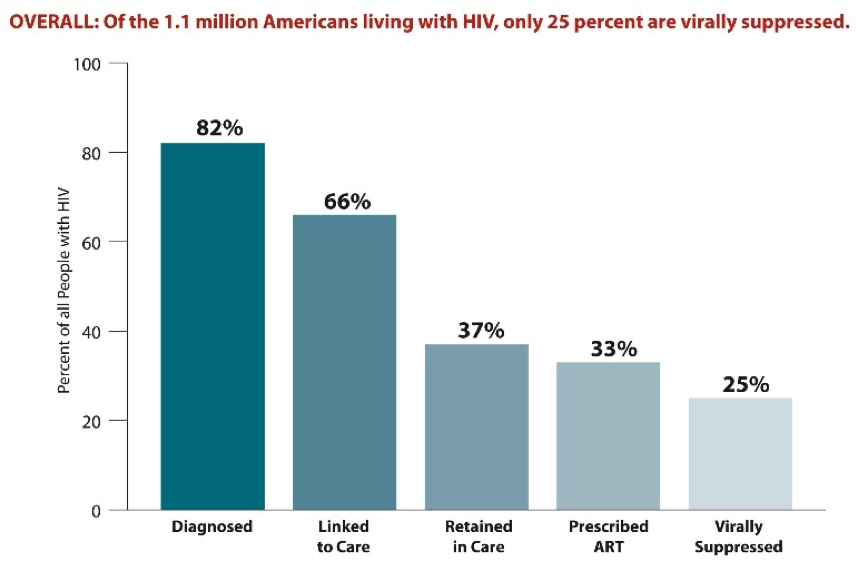 In the field, we frequently speak about health disparities faced by our positive brothers and sisters, yet often, we still look at eradicating this epidemic simply by treating the medical needs of those we serve. With the uncertainty in the future of Ryan White Funding and how it will relate to the Affordable Care Act, it is time to look at new and innovative approaches that will assist in retention in care and viral suppression by addressing social and economic disparities as well.
New research continues to show that the poor are more likely to become infected. [4]We also know that stress and poverty are predictors of treatment adherence among people with low-literacy living with HIV/AIDS. [5] CDC researchers recently reported, based on interviews of more than 9,000 people not considered at high risk of HIV/AIDS who live in high-poverty areas of 23 U.S. cities, that 2.1% of that population was infected with HIV. That figure is more than double the 1% considered the threshold for a generalized epidemic. The CDC states that this is the strongest evidence yet of a link between poverty and HIV infection.
HopeSprings' Live Well Demonstration Project radically shifts the discussion of retention in care, viral suppression, and living up to human potential by addressing the poverty related issues our HIV positive brothers and sisters face. If we address the social and economic disparities (poverty), will someone live better with their HIV?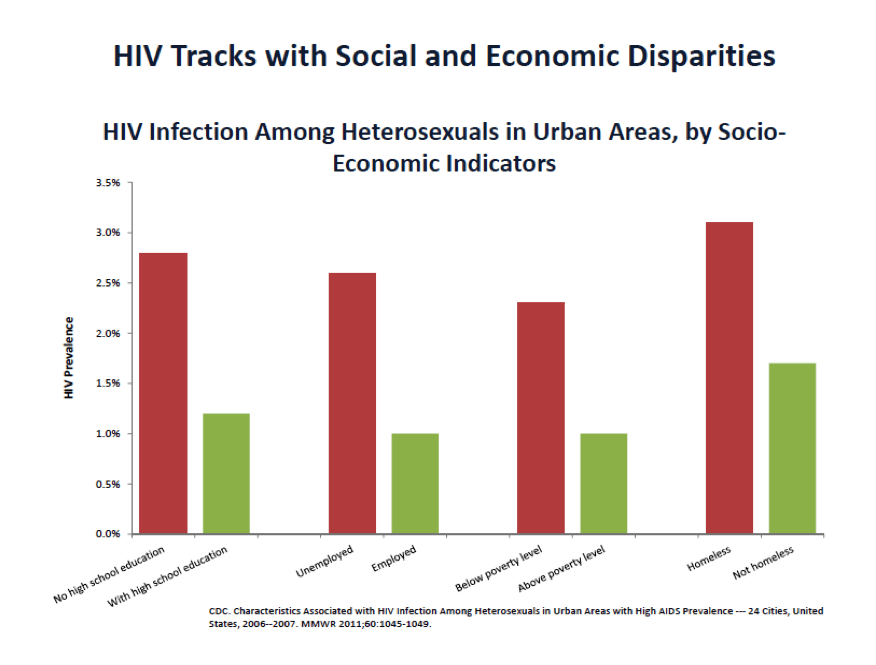 Getting Back to Relationships

Restoring justice takes place through the power of building relationships, including relationships with our HIV+ brothers and sisters. Oscar Romero states, "We cannot do everything, and there is a sense of liberation in realizing this. This enables us to do something, and to do it very well. It may be incomplete, but it is a beginning, a step along the way, an opportunity for the Lord's grace to enter and do the rest."
I challenge you today to find your something. If God can use a sinner like me, He can use anyone. Where is God leading you?
---
[1]
Gardner EM, McLees M, Steiner J, del Rio C & Burman W. The spectrum of engagement of HIV care and its relevance to test-and-treat strategies for prevention of HIV infection. Clinical Infectious Diseases 2011;52(6):793-800.
[2]
US Centers for Disease Control & Prevention. 2012. HIV in the United States: the stages of care. CDC Fact Sheet. July 2012.
[3]
See more at:
http://blog.aids.gov/213/07/focusing-the-national-hivaids-strategy-the-hiv-care-continuum-initiative.html#sthash.QnnGoDSI.dpuf

[4]
Kreuger, Leigh E., Robert W. Wood, Paula H. Diehr, and Clare L. Maxwell. "Poverty and HIV Seropositivity: The Poor Are More Likely to Be Infected."
AIDS
4 (1990): 811-14. Print.
[5]
Winslow, Ron, and Betsy McCay. "Study Looks at HIV and Poverty." The Wall Street Journal. N.p., 18 July 2010. Web.
AUTHOR BIO: Erin is the Executive Director of HopeSprings, the Chair of Johns Hopkins Center for AIDS Research Community Participatory Advisory Board, a member of the Mayor's HIV/AIDS Commission for the City of Baltimore, and a member of the Board of the Presbyterian AIDS Network, a network of the Presbyterian Health Education and Welfare Association (PHEWA). Prior to her work at HopeSprings, Donovan served in the public and private sectors for 11 years, 3 of which she spent living in East Africa. Erin has a wonderful, supportive husband named Brian, and 2 rambunctious kids, Keegan (5) and Kaylee (3). When not at work or at home with her children, you can find her leading worship at Central Presbyterian Church, running on the streets of Towson, or cooking for friends and family!
Check out the rest of this week's articles here.

Read more articles in this series.