Langston Hughes
Reading poetry is one of the ways some of us nourish our faith, a way we set or reset our inner compass and stay focused on the big picture, on the spiritual journey. I know that is true for me. In this monthly column, 'Setting the Inner Compass' I share some of the poems I find nourishing to the soul.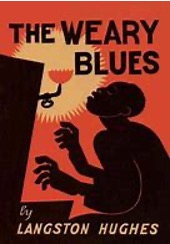 This Black History month column focuses on the poetry of Langston Hughes. Hughes was born in Joplin, Missouri in 1902. He died in New York City in 1967. He is best known as a leader of the Harlem Renaissance. Langston Hughes' first published poem "The Negro Speaks of Rivers" appeared in the nationally known magazine CRISIS in 1921. His first book, The Weary Blues, was published in 1926.
Langston Hughes had a unique blues/jazz approach to his poetry. In his 1926 manifest, The Negro Artist and the Racial Mountain, he wrote that he rejected the idea that "The Negro Artist had to put his best foot forward in writing, or uplift in any easy sense.[1]" Contemporary poet Kevin Young in his introduction to the 2015 reprint of The Weary Blues describes Hughes' poetry this way, "The Weary Blues represents the start of a newfound and profound blues and jazz aesthetic. Hughes was in fact the first to write poetry in the blues form. He was the first to realize that the blues are plural and to see in their complicated irony and earthy tones the potential to present a folk feeling both tragic and comic, one uniquely African American which is to say American …. Hughes made the blues his own, and ours too.[2]"  As someone who has worked with blues music for nearly 25 years, Hughes' poetic form speaks to me.
Some of Hughes' best known poems include "Harlem (A Dream Deferred)", "The Negro Speaks of Rivers" and "Dream Variations". For this column, I chose other poems of Hughes'. I love the fun and playfulness in the first poem I selected, "Harlem Night Club". The second poem, "My Loves" is a sweet and simple love song. In the last poem, "Our Land" each of the three stanzas ends with a harsh but true line that reminds us of what has not changed and the change that still needs to take place.
Peace,
Dave
THREE POEMS BY LANGSTON HUGHES (1902-1967)
Harlem Night Club
Sleek black boys in a cabaret.
Jazz-band, jazz-band, —
Play, plAY, PLAY!
Tomorrow. . . . who knows?
Dance today!
White girls' eyes
Call gay black boys.
Black boys' lips
Grin jungle joys.
Dark brown girls
In blond men's arms.
Jazz-band, jazz-band, —
Sing Eve's charms!
White ones, brown ones,
What do you know
About tomorrow
Where all paths go?
Jazz-boys, jazz-boys, —
Play, pLAY, PLAY!
Tomorrow. . . . is darkness.
Joy today!
MY LOVES
I love to see the big white moon,
A-shining in the sky;
I love to see the little stars,
When the shadow clouds go by.
I love the rain drops falling
On my roof-top in the night;
I love the soft wind's sighing,
Before the dawn's gray light.
I love the deepness of the blue,
In my Lord's heaven above;
But better than all these things I think,
I love my lady love
OUR LAND
We should have a land of sun,
Of gorgeous sun,
And a land of fragrant water
Where the twilight is a soft bandanna handkerchief
Of rose and gold,
And not this land
Where life is cold.

We should have a land of trees,
Of tall thick trees,
Bowed down with chattering parrots
Brilliant as the day,
And not this land where birds are gray.

Ah, we should have a land of joy,
Of love and joy and wine and song,
And not this land where joy is wrong.
CREDITS
All three poems are in the public domain
Harlem Night Club and My Land are found inFrom The Weary Blues (Alfred A. Knopf, 1926) by Langston Hughes.
My Loves is found in The Collected Poems of Langston Hughes published by Alfred A. Knopf/Vintage.
---
[1] From the Foreword to "The Weary Blues" ( Knopf 2015) written by Kevin Young.
[2] IBID
---
Rev. Dave Brown is a poet, writer, creator/host of Blues Vespers, one of the PNW Interfaith Amigos. He serves on the national PCUSA Self-Development of People Committee and the Education Roundtable. In 2021, he published his first collection of poetry, "I Don't Usually but…"  He can be contacted at [email protected]