ACTION ALERT: Sign the letter of conscience to USDA Secretary Vilsack, calling on the federal agency to purchase its tomatoes through the Fair Food Program and to support the highest standards for addressing modern slavery.
By the Rev. Noelle Damico of the
PC(USA) Campaign for Fair Food
in partnership with the
Coalition of Immokalee Workers
Dear Friends:
As our nation marks the 150th anniversary of the Emancipation Proclamation, it is appropriate to renew our commitment to ending modern slavery in our own nation. Since 1997 Florida agriculture itself has seen nine prosecutions of cases of forced labor, involving over 1,200 people.
The Fair Food Program is a comprehensive, proven model created by the Coalition of Immokalee Workers, 11 corporate food buyers and the vast majority of Florida tomato growers that is addressing modern slavery and eliminating the conditions in which it flourishes.
The U.S. Department of Agriculture has lauded the Fair Food Program but has yet to commit to buying its tomatoes for market stabilization and school lunches from this established, effective program.
You are invited to join national religious leaders, including the Rev. Gradye Parsons, Stated Clerk of the General Assembly of the PC(USA),  the Rev. David Beckman of Bread for the World, Rabbi Jill Jacobs of T'ruah (formerly Rabbis for Human Rights-North America), in signing onto a Letter of Conscience urging the USDA to purchase its tomatoes from the Fair Food Program.
In Deuteronomy 24:18, God implores the Hebrew people individually and intimately saying, "Remember that you were a slave in Egypt and the Lord your God redeemed you from there." Remember, says God. This faith imperative to remember has been handed through the generations to us; not in a facile way of cheap identification, but as a persistent, urgent reminder that God works for freedom and wholeness in every generation. And that we are invited by God to give shape to this work in our own time and place.
Learn more and sign-on to the Letter of Conscience to ensure our federal government upholds the highest standards for human rights and stays true to its commitment of liberty and justice for all.
Peace,
The Rev. Noelle Damico, PC(USA) Campaign for Fair Food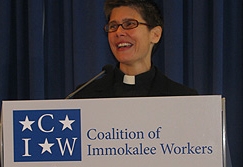 The Rev. Noelle Dam­ico is the Asso­ciate for Fair Food within the Pres­by­ter­ian Hunger Pro­gram, where she assists Pres­by­te­ri­ans in edu­ca­tion and action that ensure food, human rights and just social rela­tion­ships. She facil­i­tates the denomination's involve­ment in the Cam­paign for Fair Food, our part­ner­ship effort with the Coali­tion of Immokalee Work­ers to advance human rights and socially respon­si­ble pur­chas­ing in the food indus­try, and sits on the Gen­eral Assem­bly Mis­sion Coun­cil human traf­fick­ing round­table.